I May Destroy You (created, written, and starring Michaela Coel as Arabella) landed at #2 on our Top 10 Shows Of 2020 So Far list. The series revolves around the subject of sexual consent but manages to find dark humor in places, and much of that tightrope maneuvering is down to Coel's gift for layered writing and the performances of her co-stars. That includes Weruche Opia, who portrays Arabella's best friend, Terry, whose own experience with sexual consent isn't what it seems at first.
Unlike other characters in this series who experience clear-cut sexual assault, Terry's situation is, well, complicated. While in Italy, she has what initially appears to be a consensual threesome with two men who appear to not know each other. After meeting them (separately) in a nightclub, she takes both of them home, and it's pretty clear by the end of the encounter that she's feeling less liberated than she expected to feel. It begins to dawn on her that she's been manipulated and coerced into consenting to the threesome, and Terry's got some processing to do in the aftermath. This is only one of many examples in this series where Coel weaves a textured backdrop while continuing to seek justice for Arabella after she's drugged and raped in the first episode.
Terry and Arabella also have their own issues to work out with each other (Terry left Arabella alone on the night of her rape and feels terribly guilty), but they've always got each other's backs. Weruche was kind enough to speak with us about I May Destroy You as the stellar season continues to impress the HBO audience.
This show's audience can't get enough. Over on Twitter, I noticed that you noticed Seth Rogen raving about it. How does it feel to witness this reception?
It's definitely amazing. It's quite impressive, a bit surreal, to think that those people have seen my face.
And seen you doing all sorts of things: dancing, sexual things, and so on.
Seeing me do the madness of it all! It's exciting and daunting but brilliant to know that I'm part of a piece of work that's being recognized as something really different and poignant and timely and everything right now.
Well, I would like to have a friend like Terry.
Everyone says that!
She'd be great to have in your corner. How did you conjure up your aura for her?
It was all in the script, but I do relate to Terry and Arabella's friendship. It's somewhat reflective of my best friend and I. When they say, "Your birth is my birth, your death is my death," and I read that, I was like, "Oh my god." That's actually reflective of my relationship, so it was brilliant to see that reflected on the script, and to have it come to life was even more exciting.
If you could put Terry into another TV show, where would you like her to go?
Insecure! Oh my god, if there was like a crossover.
So, just a massive block party, basically?
A block party in South London, that would be incredible.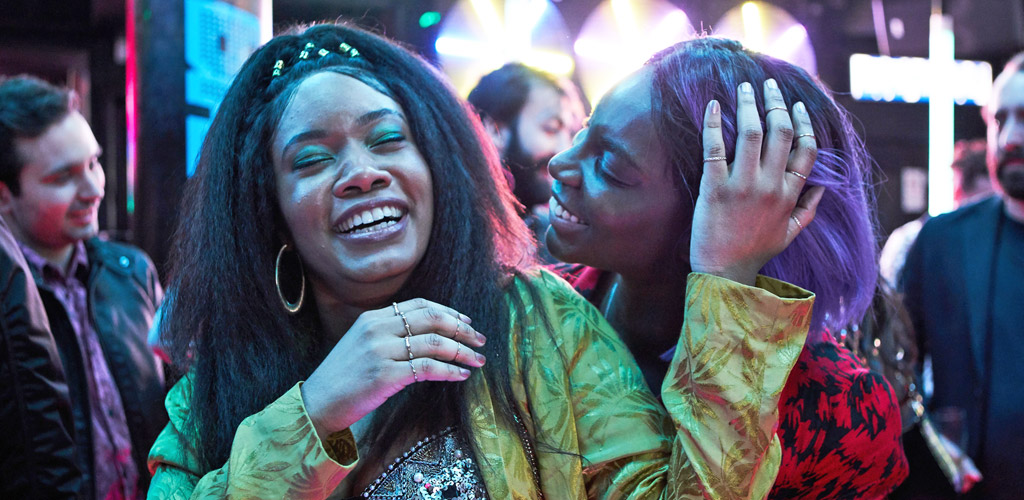 Later on this season, Terry has some input into Arabella's ultimate "plan" that turns out… quite well, but we won't spoil.
I definitely enjoyed the fact that there was some sort of redemption for Terry to make up, to an extent, for her part of what happened to Arabella. And I think it gave some sort of closure for her feelings for it, the guilt, being there for her friend. And it's great that she had the opportunity to make up, if you can say that, for her part in Arabella's trauma.
Lots of layers exist in this show's portrayal of trauma. Terry's threesome was not what she initially believed it to be.
I think it was great to see and to portray and to open discussion about that because there are so many grey areas when it comes to consent and sexual assault. What counts as sexual assault? How you determine consent? But it was enlightening and also challenging as an actor to be able to portray that grey area, to show the thought process of Terry feeling, at first, empowered and then questioning her experience in the same breath. And I think it's relatable, where there are a lot of these grey areas that people have been in and haven't been able to quite put their finger on where they stand. It's quite poignant and shown in the show that these are things that happen. Grey areas are real, and people are in those areas.
I keep going back to that early audition scene where casting directors ask Terry about a freeing experience, and she mentioned the threesome.. halfheartedly?
I mean, I think she felt that it was… well, I've never actually that about it that much, but saying it now…
She maybe felt like she should count that as a freeing experience?
Yeah! Exactly. And something that would be seen as free. So it's interesting to see how that was what she came to for her most freeing experience.
Back over on your Twitter page, you recently wrote that you're "[s]lowly releasing myself from survivor's guilt." Is that relevant to the show or current events?
It was just in terms of the current climate with the Black Lives Matter movement and the response to the unjust killing of George Floyd. It felt very heavy and it still does that Black people and people with the same skin color as me are being treated differently because of the color of their skin, and it was, in terms of the fact that I have this incredible show, to celebrate. But at the same time, I'm mourning and feeling the angst that my brothers and sisters all over the world are feeling. So I was trying to release myself from survivors guilt in the sense that I can celebrate what I'm going through without feeling like I'm neglecting my brothers and sisters. So it's a learning experience to find some balance in life and navigating where we with humanity right now.
Do you ever feel the pressure to speak out due to having a platform?
The pressure is there, but I control what I say, and everyone's entitled to their opinion. But I also understand that, especially since my platform is more out there, so I believe that I will say what I want to say and what I'm comfortable with saying.
What would you say to people who are pushing back on the Black Lives Matter movement?
I believe that it's a lack of education and choosing to be ignorant, to say that and be of that train of thought. And I can hope that people will educate themselves.
We can only hope. We're almost out of time, and I know you can't say much about a second season, but what do you want Terry to do next?
I have no idea!
It's hard to tell what Michaela would have up her sleeve.
Nobody knows, and I don't know if Michaela knows. I am proud and happy with what we have right now, and time will tell!
'I May Destroy You' airs on HBO at 10:00pm EST on Mondays.