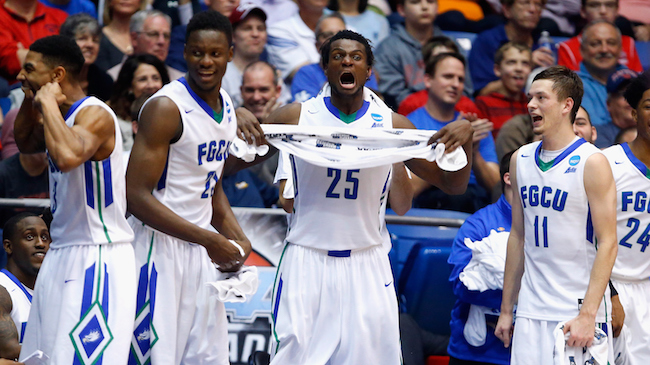 March Madness
(3) Miami vs. (14) Buffalo — TNT, 6:45 p.m.
(5) Indiana vs. (12) Chattanooga — CBS, 7:00 p.m.
(1) North Carolina vs. (16) Florida Gulf Coast, a.k.a. Dunk City — TBS, 7:15 p.m.
(6) Arizona vs. (11) Wichita State — TNT, 9:15 p.m.
(4) Kentucky vs. (13) Stony Brook — CBS, 9:30 p.m.
(8) Southern California vs. (9) Providence — TBS, 9:45 p.m.
Scandal (ABC, 9:00 p.m.) — Olivia's shadowing Jake, life on the campaign is a little tense for Susan and Mellie, and Abby can feel it in her bones that Cyrus is up to no good.
Workaholics (Comedy Central, 10:00 p.m.) — The guys have become desensitized to videos of people having sex, so they begin a quest to find "epic" porn. Sounds like a valuable way to spend your free time, no?
Portlandia (IFC, 10:00 p.m.) — Lance gets more smart (S-M-R-T) when he gets himself a pair of glasses, because that's how learning works.
Vikings (History, 10:00 p.m.) — Odo should beware the ides of March, 'cause people be plottin'.
Grey's Anatomy (ABC, 8:00 p.m.) — It's musical attendings when Richard swaps the pairings at the hospital and Arizona has to make a tough call while treating a patient who's with child. Well, with children (four, to be exact).
You, Me and the Apocalypse (NBC, 8:00 p.m.) — Layla and Jamie try the two birds, one stone shebang to get Frankie back and kick Ariel in the pants at the same time.
American Idol (FOX, 8 p.m.) — And then there were five.
How to Get Away With Murder (ABC, 10:00 p.m.) — Frank's conscience is eating at him and Annalise is feeling the pressure in the season two finale.
Baskets (FX, 10:00 p.m.) — Mime fight? Mime fight!
Shades of Blue (NBC, 10:00 p.m.) — Happy heist day, y'all. Harlee's tryin' to get the gang immunity and Loman accidentally witnesses the whole thang go down.
Colony (USA, 10:00 p.m.) — Season one wraps up with the Resistance snatchin' up a high-value target and L.A. going on lockdown (but not love lockdown).
Idiotsitter (Comedy Central, 10:30 p.m.) — Some poignant teacher-student metaphor goes here because Gene's taking her GED and Billie's trying to be a college professor.
Late Night Guests:
The Late Show With Stephen Colbert — William H. Macy, Melissa Rauch and Isaac Mizrahi
The Daily Show — Theo James
The Tonight Show Starring Jimmy Fallon — Clive Owen, Nia Vardalos and Jimmy Carr
Jimmy Kimmel Live — Henry Cavill, Gabourey Sidibe and Flogging Molly
Late Night With Seth Meyers — Jennifer Garner, Thomas Middleditch and Melissa George