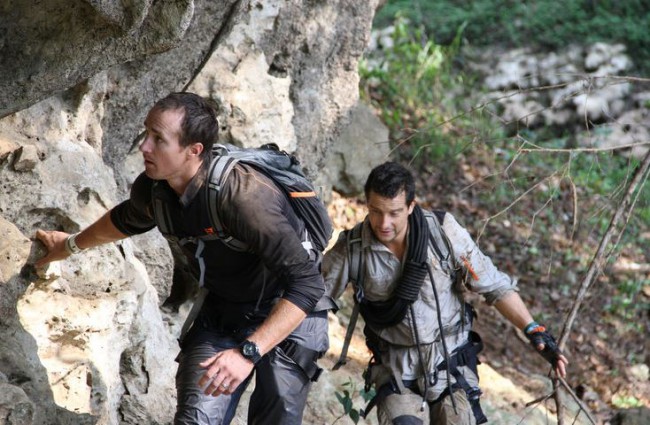 Running Wild With Bear Grylls (NBC, 10 p.m.) — The Season 2 finale has Bear recruiting Drew Brees for a special trip into the Panamanian jungle. Creepy caves, bats, and wrestling crocodiles are on the agenda.
American Ninja Warrior (NBC, 8 p.m.) — We head to Vegas where what's left of the competition takes on the first of the four-stage course.
So You Think You Can Dance (Fox, 8 p.m.) — We've (almost) reached the end. Part one of the two-part finale airs tonight and the remaining four dancers will compete for the ultimate prize — being the winner of the second most popular reality dancing competition.
CBS Fall Preview (CBS, 8:30 p.m.) — CBS has roped Jane Lynch into giving us a sneak peek of their new Fall lineup. We're not complaining.
Awkward (MTV, 9 p.m.) — Matty deals with the consequences of his confrontation with former bestie Jake and Jenna is responsible for a big accident at school.
Fast N' Loud (DSC, 9 p.m.) — Aaron takes a '78 Cutlass (which is a type of car apparently) and turns it into a low rider. Pretty interesting stuff. "The Obvious Choice"
Bachelor in Paradise (ABC, 9 p.m.) — Season 2 closes with four couples still remaining. One couple breaks up at the rose ceremony, one bachelor decides he'd rather hold on to his rose and (just a guess here) none of the relationships formed while living in a house with total strangers and having your every moment captured for national television make it longer than a week outside of the show.
Faking It (MTV, 9:30 p.m.) — Karma and Reagan pal it up while Lauren exacts some good ol' fashioned revenge on Theo, with Shane and Amy's help.
LATE NIGHT GUESTS: Fallon, Kimmel, Conan, Corden and Meyers are all repeats.