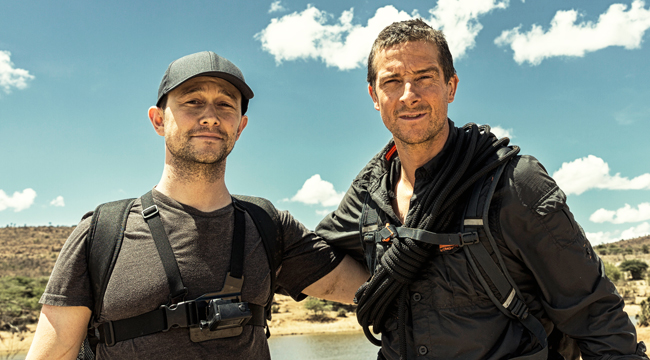 Running Wild With Bear Grylls (NBC, 10:00 p.m.) — Joseph Gordon Levitt appears in the Season 4 premiere as he and Bear Grylls attempt to conquer Kenya's cruel terrain. The Golden Globe-nominated actor shall be seen rappelling and hydrating by, uh, milking a camel.
Supergirl (CW, 8:00 p.m.) — After all three Worldkillers unite, Supergirl and her team must brace for the ultimate battle, and the revelation of Lena's secret threatens to upset her relationship with the Guardian.
Elementary (CBS, 10:00 p.m.) — Holmes and Watson investigate a stolen plutonium shipment before it can be made into a dirty bomb, and Watson and her half-sister have mixed feelings after losing their estranged bio dad.
Kevin Can Wait (CBS, 8:00 p.m.) — Kevin reunites with his old band, Smokefish, while dreaming of hitting the big time, while Vanessa realizes the band changed her life's course.
Man With A Plan (CBS, 8:30 p.m.) — Adam and Don film their first commercial after realizing they need to reel in more business while Andi pushes for a raise.
Dancing With The Stars (ABC, 8:30 p.m.) — The second week of competition sees Tonya Harding and Adam Rippon continue to bring their ice-skating skills to the dance floor.
Lucifer (FOX, 8:00 p.m.) — Lucifer receives a tragic phone call after making a massive confession, and he and Chloe discover that they're fingering the wrong suspect.
Superior Donuts (CBS, 9:00 p.m.) — Franco must compete with his girlfriend, Tavi, while competing to spend a semester studying in Italy.
The Resident (FOX, 9:00 p.m.) — A hero, who aids criminals in getting their lives back together after prison, checks into the hospital while suffering from mystery symptoms.
iZombie (CW, 9:00 p.m.) — Liv recklessly chows down on a vice detective's brain after he doesn't play by her rules, and Major may soon discover her secret.
The Voice (NBC, 8:00 p.m.) — The top 11 contestants continue on teams led by Adam Levine, Blake Shelton, Alicia Keys, and Kelly Clarkson.
The Crossing (ABC, 10:00 p.m.) — Jude confronts his past when traveling back to Oakland, and Caleb notices heightened security and quizzes Jude.
The Terror (AMC, 9:00 p.m.) — An officer dies under mysterious circumstances, causing paranoia while some crew members are already considering mutiny.
A Dangerous Son (HBO, 8:00 p.m.) — Slice-of-life stories follow three families whose children are struggling with severe mental illness.
LATE NIGHT GUESTS
Jimmy Kimmel Live!: Melissa McCarthy, Luke Bryan, Cody Bellinger
The Tonight Show Starring Jimmy Fallon: Michael Shannon, Andrew Rannells, Father John Misty
The Late Show With Stephen Colbert: Jim Parsons, Alexis Ohanian, Lake Street Dive
Conan: Natasha Lyonne, Wajatta