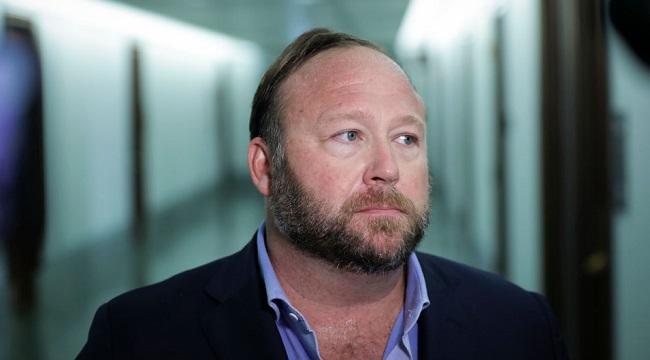 After nearly a month of user complaints and temporary suspensions, both Alex Jones and his conspiracy theory website, Infowars, have been permanently banned by Twitter. According to BuzzFeed News, the social media platform relented on Thursday when, according to a spokesperson, the controversial figure and a cameraman from his outlet harassed a CNN reported on Capitol Hill.
The incident occurred the same day that Twitter CEO Jack Dorsey testified before a congressional hearing. Many tech, business and political reporters, including CNN's Oliver Darcy, were present to cover the occasion. Jones and other right-wing, Internet-based figures were present to press their own questions and generally harass the proceedings, but the Infowars founder's apparent targeting of Darcy was especially noticeable. After all, Darcy was the first of many reporters who provided Twitter with multiple examples of Jones and Infowars' abuse of the platform's policies.
BuzzFeed News posted the full statement from Twitter concerning Jones and Infowars' permanent ban, which also extends to either's attempt to create new accounts to tweet from older ones:
Today, we permanently suspended @realalexjones and @infowars from Twitter and Periscope. We took this action based on new reports of Tweets and videos posted yesterday that violate our abusive behavior policy, in addition to the accounts' previous violations.

As we continue to increase transparency around our Rules and enforcement actions, we wanted to be open about this action given the broad interest in this case. We do not typically comment on enforcement actions we take against individual accounts, for their privacy.

We will continue to evaluate reports we receive regarding other accounts potentially associated with @realalexjones or @infowars and will take action if content that violates our Rules is reported or if other accounts are utilized in an attempt to circumvent their ban.
(Via BuzzFeed News)