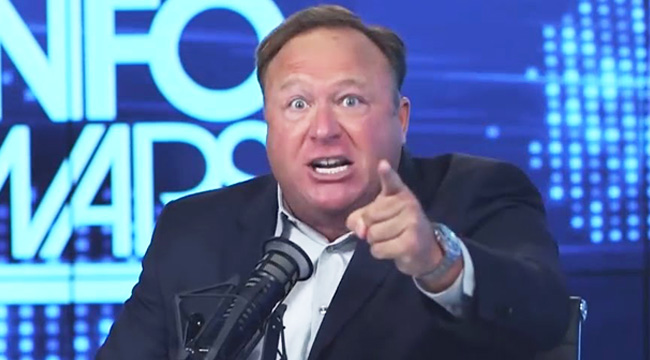 Six years after Alex Jones began to attack grieving parents of Sandy Hook victims, consequences are afoot. The InfoWars' host has made a career out of accusing mass shooting victims and families of being "crisis actors" (employed by the government to take down Second Amendment rights through "false flag" operations), and perhaps Jones' latest stunt — asking for his legal fees to be paid by parents who have been threatened and harassed by his followers — was a step too far. To that effect, Jones' content is being dumped left and right with Apple, Facebook, and Spotify offloading him to varying degrees.
Variety is reporting that Apple has removed every episode from five out of six podcast series that were available on iTunes, due to repeated violations of "hate speech policies." For almost identical reasons, Facebook started dumping Jones' pages as of early Monday:
Facebook said it removed four pages run by Infowars founder Alex Jones for "repeatedly posting content over the past several days" targeting transgender people, Muslims and immigrants that contravened the social-media company's standards prohibiting hate speech and content glorifying violence.
Amid all of the ongoing conspiracy-laden chaos, people have been threatening to boycott Spotify for hosting Jones' podcasts, and Spotify has also now taken action. Mid-Monday morning, the streaming service announced the removal of hundreds of episodes of "The Alex Jones Show" from its roster, and it's not looking good for the Internet snake-oil peddler from here on out.
CNN Money reveals that InfoWars has yet to respond to a request for comment to these latest developments, which represent an increasing crackdown from digital-and-social-media platforms regarding the conspiracy website's spreading of misinformation and incendiary content. Recently, YouTube issued a penalty "strike" against Jones and InfoWars, and given that Jones usually can't help but combatively respond, more developments should soon arise from this story.