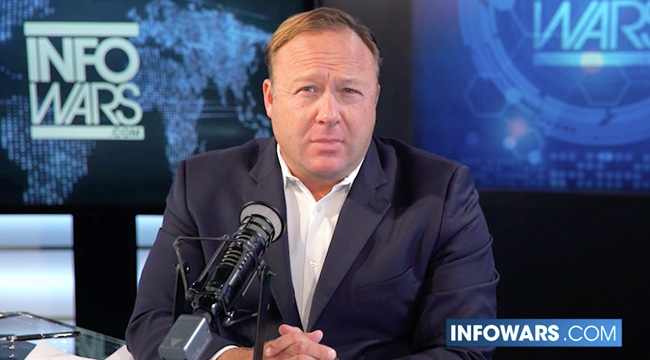 A few weeks ago, InfoWars host Alex Jones was banned by nearly every digital platform, including YouTube as well as Apple, Facebook, and Spotify, but Twitter didn't make a move in the same direction. CEO Jack Dorsey was widely criticized for his explanation that Jones "hasn't violated our rules," but Dorsey promised that rules would be enforced if broken, and it seems that the time has now arrived.
Twitter has suspended (but not banned) Jones due after he posted a show that violated rules about violent threats, and the punishment shall last a week for the offending post from the far-right chili lover. Curiously, Twitter also asked Jones to delete the post in question (the platform doesn't do so as part of the process, apparently), as the Washington Post reports:
Twitter said Jones — whose Infowars shows have been banned by Facebook, YouTube, Spotify, Apple and others in recent weeks — had posted a new show that violated the company's rules prohibiting violent threats.

On the show, which was published on Twitter's video-streaming service Periscope, Jones told supporters to get their "battle rifles" ready against antifa and the mainstream media, as well as Chinese communist operatives, which he described using a disparaging term.
So, Jones can only browse but not post on Twitter for seven days, but he can continue to use the Periscope video platform, which is owned by Twitter. And in response to Twitter's ban, Jones trotted over to Periscope and published a 13-minute rant about censorship. And then he tweeted out the link from the (unverified) InfoWars Twitter account. It's a bold move, but one expects no less from ragey Jones.
(Via Washington Post)