Online sellers and shipping warehouses are not infallible, so chances are if you've ever ordered from a seller on eBay, Amazon, or even a major retailer, at some point in your life you received the wrong item in the mail. It happens! What Noeleen Green, a woman over in the UK who recently placed an order from a seller on Amazon, was not expecting was for a "Vaginal Intercourse Anal Sex Weapon" to turn up on her doorstep instead of the belly ring bar she had ordered.
Incensed, Green aired her grievance on Amazon's Facebook page — instead of just, say, going directly to customer service — because apparently there are people who do this. Green made it clear that aside from being put off by not receiving her item, the mix-up caused her embarrassment with her family. (Which, again, she's compounding by posting about it in a public forum, no?)
Now, all joking aside, you can clearly see this is not a belly bar! Nor a belly ring as stated on the outside packaging! I have young children in my house whom are now questioning the item and asking when we can set the game up and play!? Imagine if one of these young children got hold of any of these small parts of the anus weapon it would be horrifying for all involved!!! Could you give me an explanation as to what I am supposed to say to them? And also to my horrified mother n father who now think I am some sort of sadistic fun loving anal obsessed human being ( I'm not, but it's each to their own for those who are!)
Being that the complaint was a little, shall we say, over-dramatic, whoever runs customer service on Amazon's Facebook page decided to have a little bit of fun with it, with hilarious results.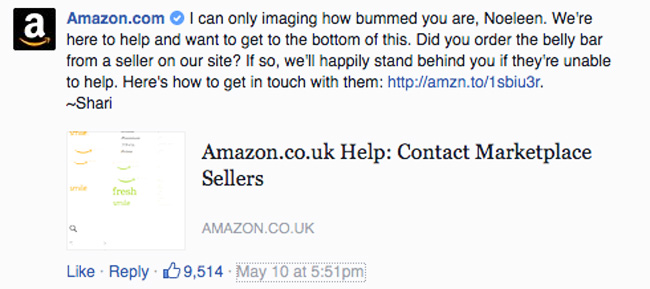 Amazon is reportedly investigating the issue. However, having done a bit of research, I could not find an item with the product name "Vaginal Intercourse Anal Sex Weapon" anywhere on the company's website, much less on the internet at large. Either way, it seems like the whole thing can be chalked up to an exercise in learning to take ourselves much less seriously. It's something I think we can all "get behind."
(Via The Sun)