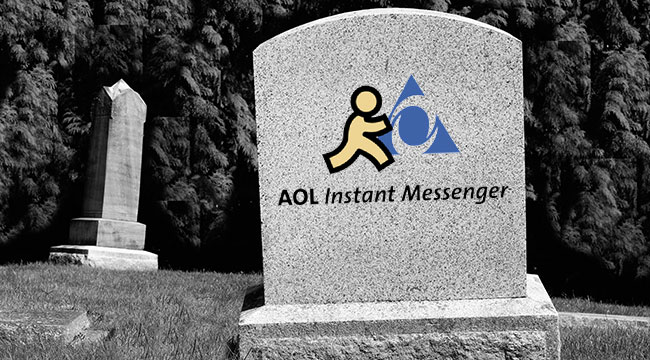 Before there was Twitter, before there was Facebook, before there was, uh, Peach, there was AOL Instant Messenger. It was a way for bored middle and high schoolers to stay in touch, ask each other A/S/L (the answer was always an 18-year-old girl from "nearby"), and share their favorite Dashboard Confessional and Bright Eyes lyrics. AIM reached peak popularity in the late 1990s and early 2000s, but once MySpace came around, the number of users swiftly plummeted. It's still around, though, but not for much longer.
AOL announced on Tumblr (?) that AIM is g2g-ing for good on December 15, so say [AOL voice] goodbye to xxxPunkRockDudexxx while you still can.
If you were a '90s kid, chances are there was a point in time when AOL Instant Messenger (AIM) was a huge part of your life. You likely remember the CD, your first screenname, your carefully curated away messages, and how you organized your buddy lists. Right now you might be reminiscing about how you had to compete for time on the home computer in order to chat with friends outside of school. You might also remember how characters throughout pop culture from You've Got Mail to Sex and the City used AIM to help navigate their relationships. In the late 1990's, the world had never seen anything like it. And it captivated all of us.

AIM tapped into new digital technologies and ignited a cultural shift, but the way in which we communicate with each other has profoundly changed. As a result we've made the decision that we will be discontinuing AIM effective December 15, 2017. We are more excited than ever to continue building the next generation of iconic brands and life-changing products for users around the world.
In related news, AIM still exists.
[puts up "I hope you had the time of your life" away message]
(Via Tumblr)