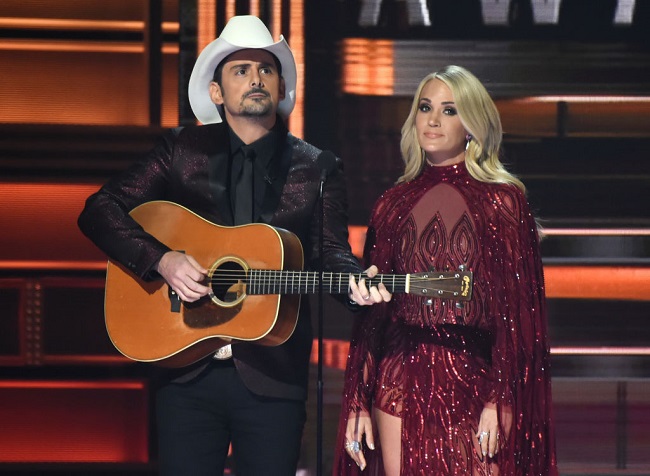 If you missed the Country Music Awards Wednesday night, you missed out on, well, not a whole lot, but there were a few moments worth joking about, and thankfully Twitter is around to be the peanut gallery every awards show needs. Most of the best parts seemed to take place outside of the show itself, with Sturgill Simpson busking outside the arena and several stars reading mean tweets on Jimmy Kimmel Live!
The show itself opened with Brad Paisley and Carrie Underwood taking a light jab at Donald Trump — and at the award show's speech guidelines Paisley previously called "ridiculous" and "unfair" — with a "Before He Tweets" parody based on Underwood's "Before He Cheats."
And some enjoyed the opening for reasons other than the "before he tweets" parody:
We're not going to embed the many comments from suspicious-looking accounts saying they're going to boycott all country music now just like they're boycotting the NFL. Those tweets are funny in a different, sadder way. Instead, let's joke about everyone's clothes.
People were glad to see that some folks from the '90s were still performing at the CMAs:
Niall Horan, formerly of One Direction, performed, to the surprise of some who didn't expect to see him going country after One Direction:
And some were confused about Taylor Swift being everywhere these days:
This one isn't a joke or reaction, per se. We just wanted you to be aware this GIF of Garth Brooks now exists.
Overall, people seemed to agree that Carrie Underwood was the best part:
And some people loved how much the performers seemed to support each other:
While others pined for the old days of country music artists not supporting each other quite so much…
I take it back. Carrie Underwood isn't the best part. Johnny Cash is. Always and forever.