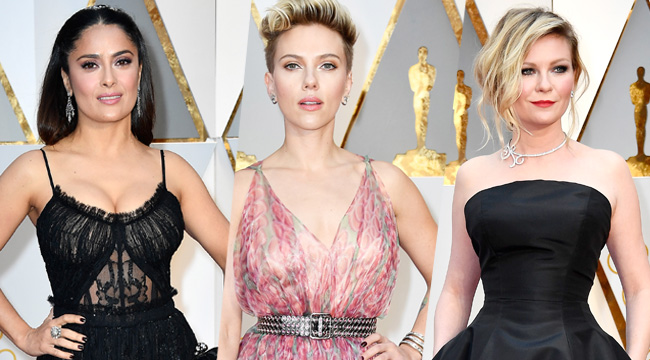 The 2017 Oscars crowned many literal winners with golden statuettes galore. Yet on the (even more) superficial side of the evening, plenty of contenders made their presence known on the red carpet. Of course, fashion is a highly subjective thing, and you and I can sit and make calls while wearing yoga pants, which is an inconsequential practice, but nonetheless, a fun one.
Several of the evening's attendees wore blue ribbons to Stand with the ACLU. Otherwise, there was plenty of flash and cash on display. Some ladies went for the more adventurous and playful vibe while others comfortably oozed old-Hollywood glamour. Anyone who grabs attention can technically qualify as a winner in fashion, but still, it's a worthwhile distraction to toss them into a few categories. So, let's get down to business.
Best – Halle Berry: This Oscar winner never fails to make an impact, but this blush-and-black, one-shouldered Atelier Versace dress hugged in all the right places and funneled into shimmering goodness. Berry told Vogue that the dress inspired her to let loose on top: "With this look, I celebrate my natural hair by allowing it to be wild and free."
Worst – Alicia Vikander: Generally speaking, Vikander fares well with an adventurous vibe on the red carpet, but this Louis Vuitton dress didn't strike the right vibe. The lacy tiers evoked a Deadwood-esque vibe on the bottom, while the top of the dress seemed made for opera-going goodness. All in all, this was a confusing look.
Best – Brie Larson: Much of the audience could feel Larson's palpable pain when she announced Casey Affleck as a winner, but at least the rest of the evening went off without a hitch for her. This black velvet, custom Oscar de la Renta dress put a very sophisticated spin on a train of ruffles. Gorgeous.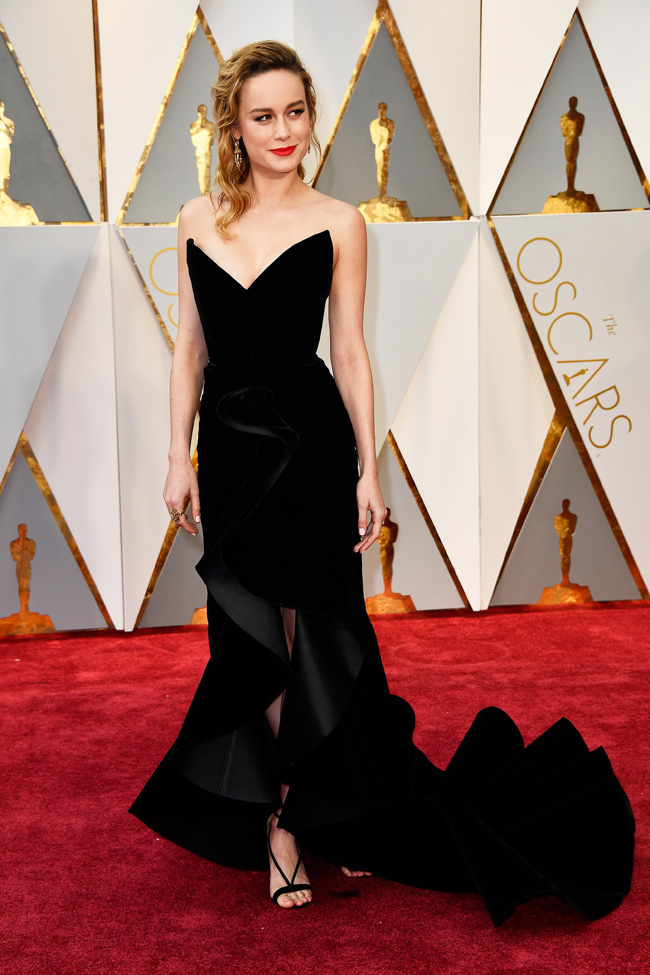 Worst – Felicity Jones: This tea-length, beige Dior dress was a little too precious and not nearly "eventful" enough for the biggest awards show of the season, and it didn't qualify in either the old-glamour or sophisticated categories either. However, this would have been a decent film premiere or Golden Globes dress.
Best – Scarlett Johansson: This voluminous Alaia gown landed on many worst-dressed lists, but the ensemble scored points for taking Johansson out of her usual comfort zone. The fabric was at once sheer, purple, and floral but also slightly reptilian. In fact, this dress was so offbeat and dramatic that it almost qualified as punk rock in a sea of bland Oscar looks. That's certainly where Johansson's going with the hair and jewelry.
Worst – Michelle Williams: Speaking of bland, Michelle Williams played it completely safe with this Louis Vuitton dress. The fashion house even managed to frump up a halter neck with a severely plunging neckline, which was probably down to odd tailoring in the waist and skirt. A few changes could have spruced this dress up.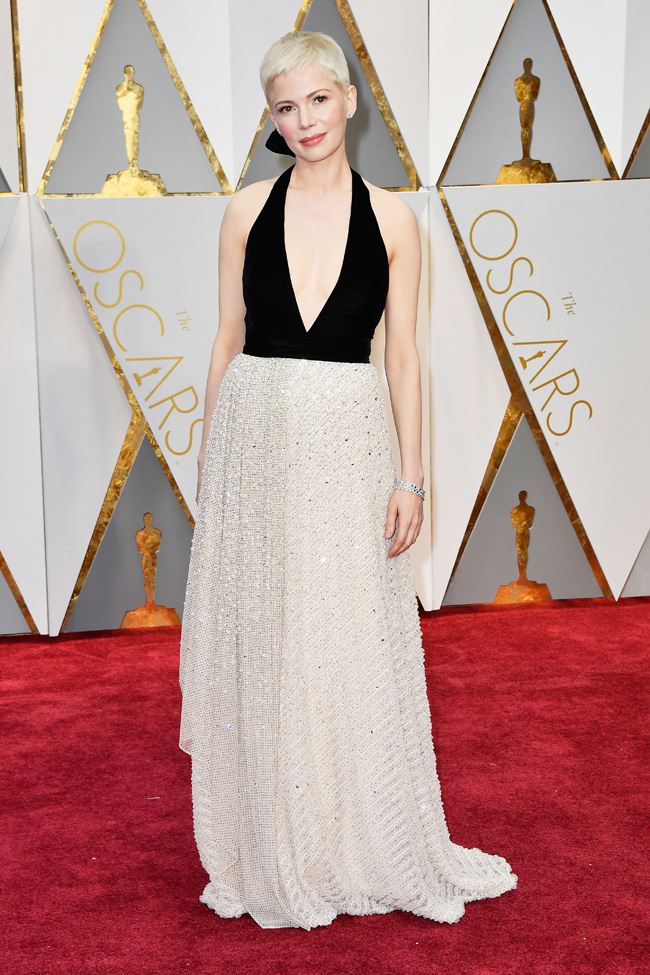 Best – Emma Roberts: Oddly enough, this vintage Armani Prive dress wasn't all that different from Williams' red carpet choice, but the execution was so much different. Different fabric, tailoring, and styling made Roberts' look very polished and glamorous in comparison.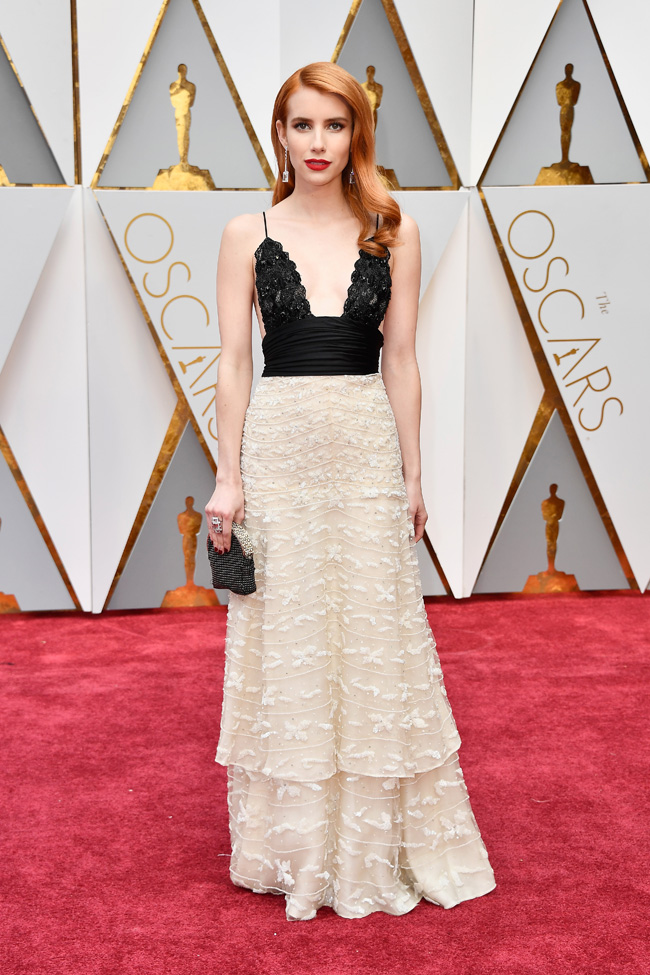 Worst – Cynthia Erivo: This Paolo Sebastian gown went a little too over the top and did the star of Broadway's The Color Purple no favors. Although this was a bold selection and a statement dress, reeling in that pattern on half the dress would have worked wonders.
Best – Leslie Mann: This flouncy Zac Posen gown also brought the drama, and theoretically, the ensemble shouldn't have fared so well, considering all of the Beauty and the Beast comparisons to be had. Any hint of a pattern on this gown would have been too much, but the solid yellow color downplayed the structural bows and translated into an irresistibly fun look.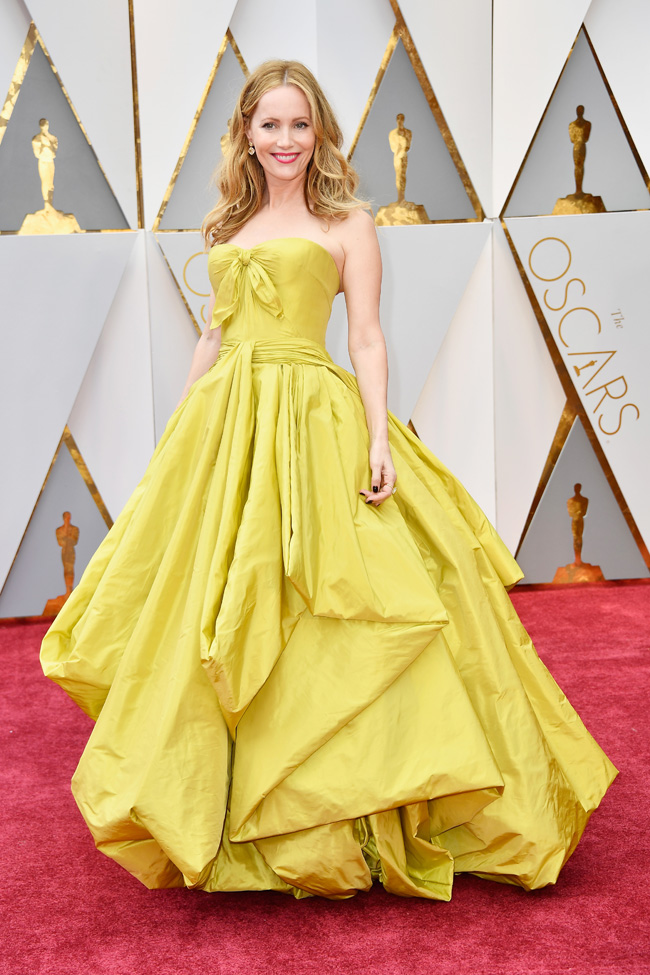 Worst – Dakota Johnson: This Gucci look couldn't have been much more different than Johnson's effortlessly glamorous 2015 dress, and really, what happened here? She often wears Gucci, but somehow, they chose to swath her in a long-sleeved dress with a weird apron bow and an ultra-conservative high neck. The explanation for this dress shall likely remain one of the great red-carpet mysteries of all time.
Best – Auli'i Cravalho: She's only 16 years old, but Cravalho had a phenomenal evening. Before crushing her performance, she hit the red carpet in a glorious white Rubin Singer gown with a golden structural pattern and cascading panels that only added to her shimmering presence.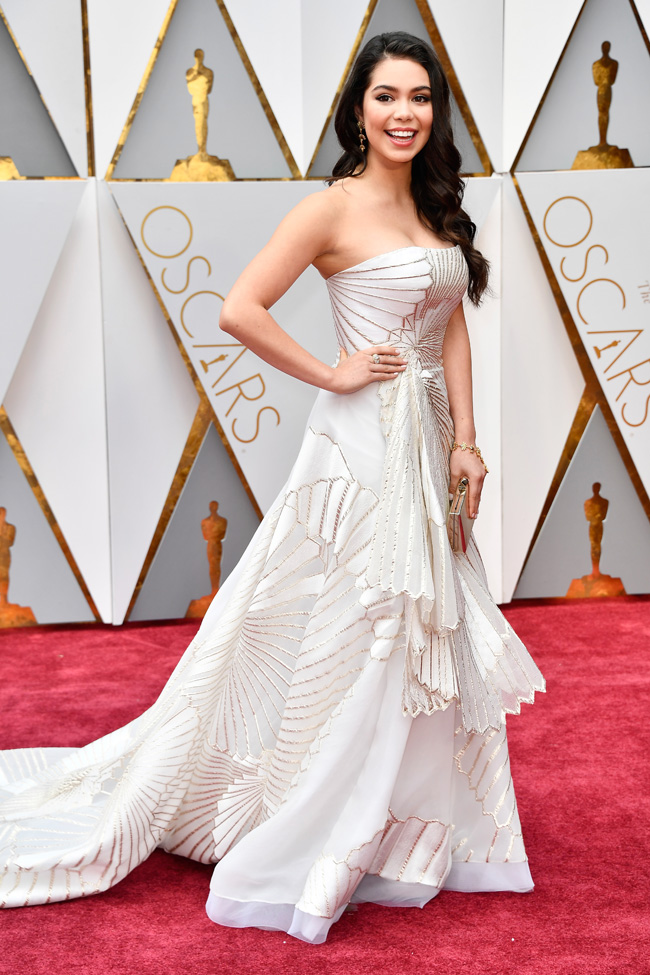 Worst – Jessica Biel: However, there's such a thing as too much sparkle, which Biel illustrated in this golden KaufmanFranco ensemble. It's difficult to ascertain where this dress dove over the edge of oblivion. Was it the distressed fabric, which led to a "shredded jeans" effect? Maybe it was the collar or the golden clutch. This very much a case of too much.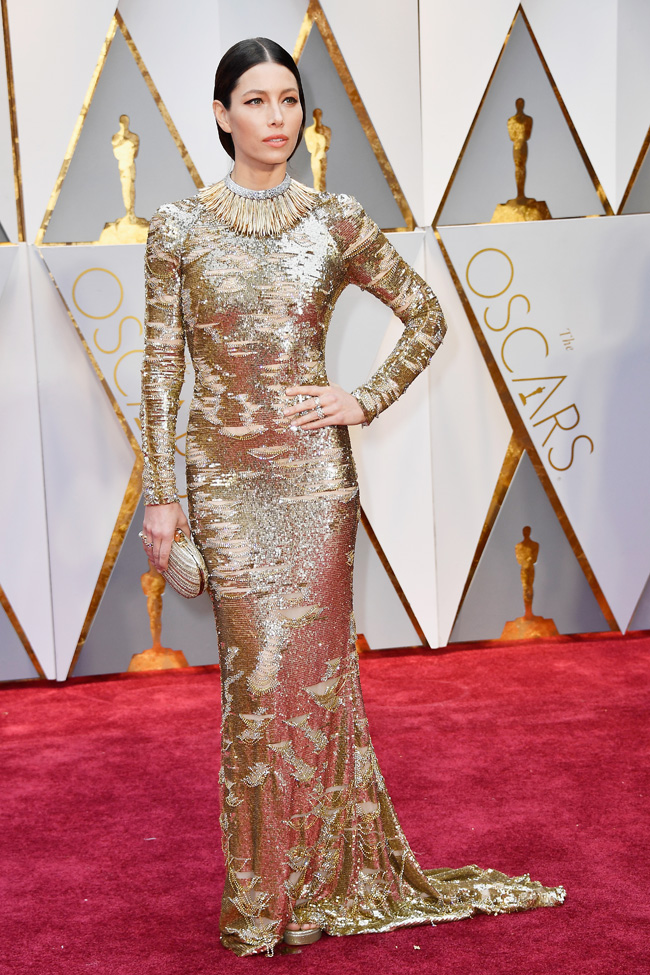 Best – Emma Stone: In contrast, the Best Actress Winner (La La land) brought simple glamour in a Givenchy Haute Couture gown by Riccardo Tisci. Undoubtedly, her look was meant to evoke shades of the film that swept much of awards season, and although Justin Timberlake tried to steal her thunder, Stone favored a simple silhouette in a slip of a dress with plenty of formal details.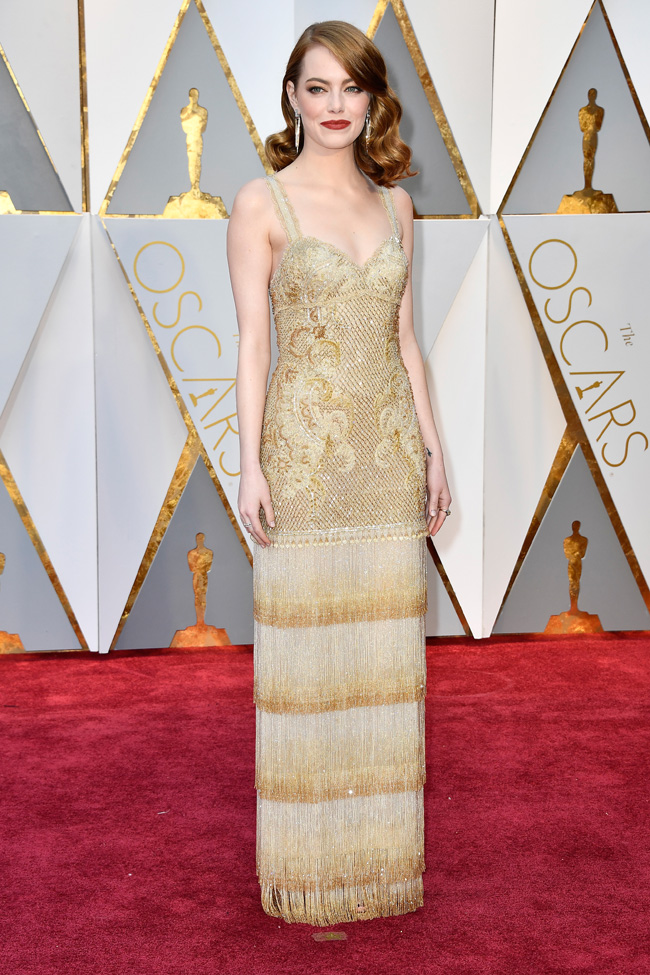 Worst – Gennifer Goodwin: This Zuhair Murad gown was a whole lot of dress for such a petite woman, and Goodwin never had a chance. The bold, red dress was complicated by a series of horizontally-striped, sheer panels, and the fashion house truly produced a baffling product.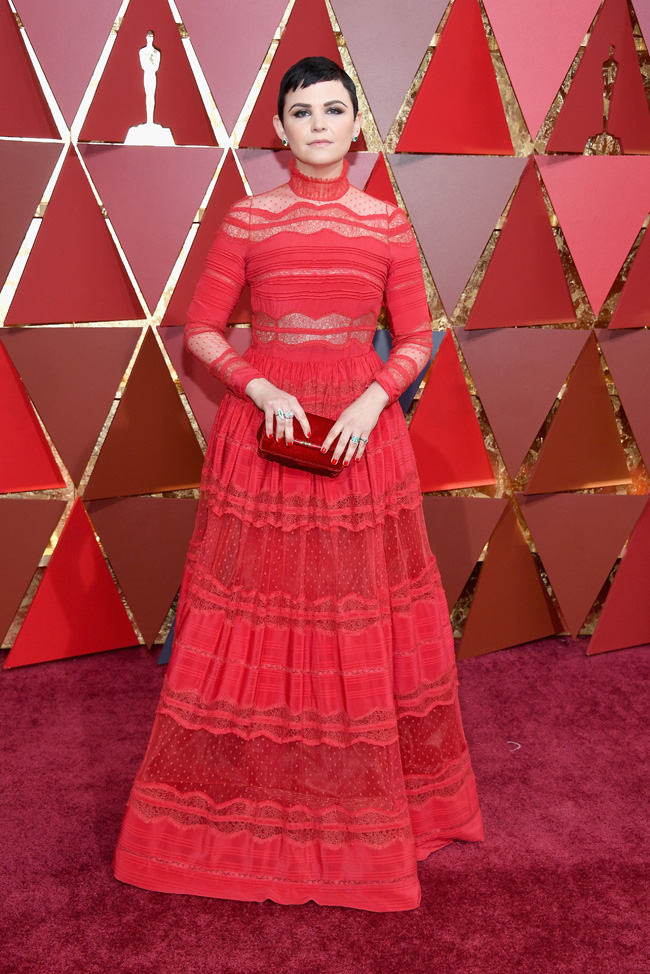 Best – Janelle Monae: This Elie Saab ball-like gown qualified as a big hit on social media and served as a sequel to Monae's Golden Globes gown. Not too many ladies could confidently pull off so many contrasting fabrics and shapes all at once. Monae continues to be one to watch in the fashion realm.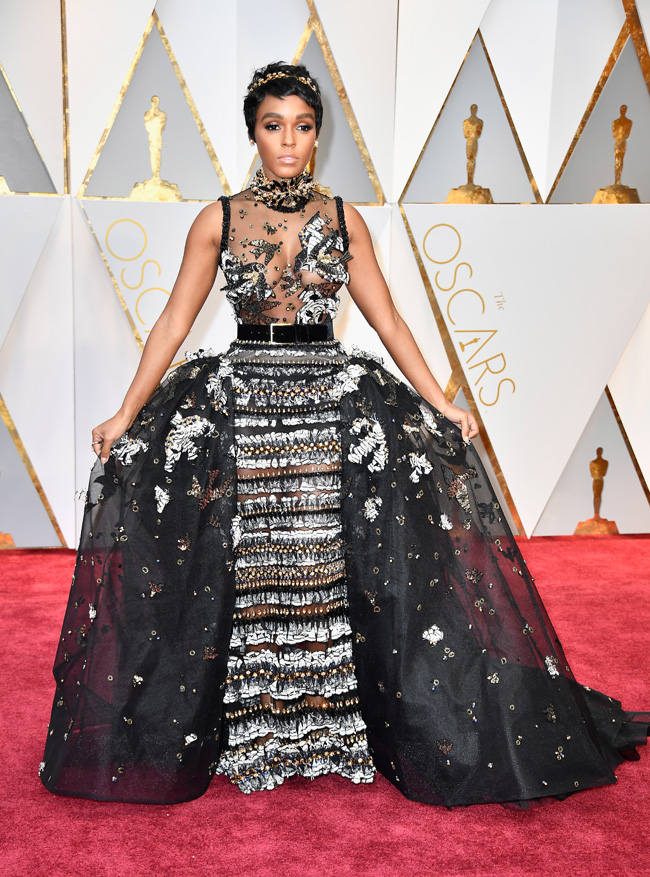 Worst – Hailee Steinfeld: Although this lovely lady hilariously pretended to steal a statuette, she did not sweep the red carpet. Too many ruffles and iridescent embellishments dwarfed what should have been a sleeker dress with a nude-overlay effect. However, Steinfeld's stellar smokey eyes made a good effort at redeeming the look.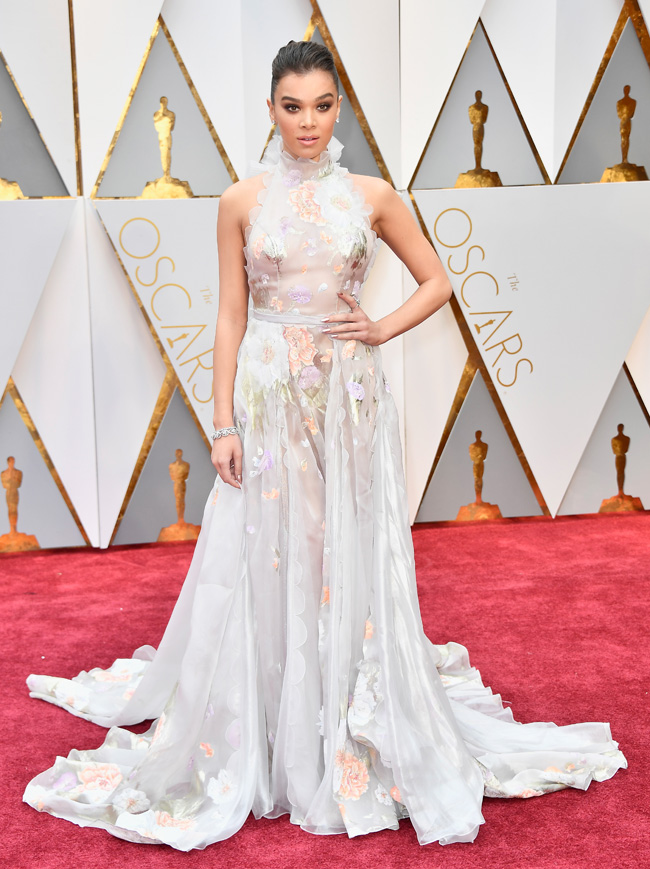 Best – Chrissy Teigen: Something about Teigen's infectious spirit allows her to pull off the most daring and conservative looks. This Zuhair Murad dress landed in the latter category (at least, for someone who spends a great deal of her professional life in swimsuits). The high leg slit brought plenty of drama, as did Teigen's red carpet fun with John Legend.
Worst – Nicole Kidman: Someone at Armani Prive secretly appropriated a tablecloth and fashioned it into a red-carpet dress that inadvertently landed on one of the most glamorous movie stars of her generation. This was an odd dress to explain away, so it's best to not try.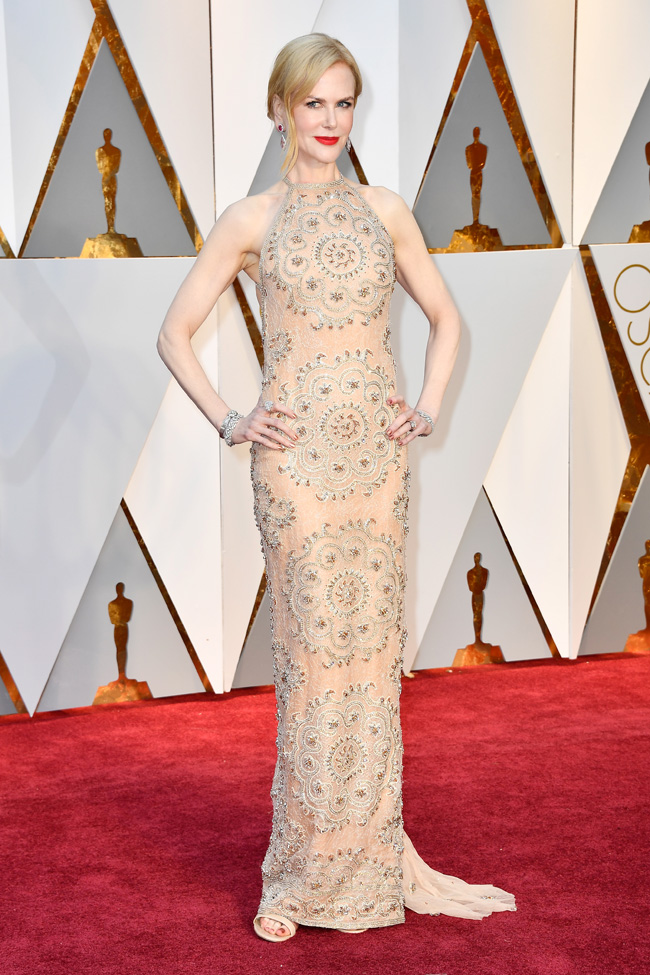 Best – Salma Hayek: Few stars could have pulled off this funky Alexander McQueen gown, which showed off plenty of skin with some additional nude-panel illusions. The dress could have played as too Halloween-y, but Hayek lent a sultry air and wisely kept the hair and makeup simple. Well, other than that diamond headband. Can you believe she's 50 years old? Nope.
Worst – Charlize Theron: While Theron always looks impeccable at any event, she largely rode on autopilot in this Dior couture gown. The Grecian-inspired shape and metallic fabric, somehow, played as rather dull, perhaps because Theron has chosen variations on the same look for years. Undoubtedly, some shall disagree.
Best – Kirsten Dunst: This Christian Dior Haute Couture ball gown stood as a surprising choice for Dunst, who generally favors sleeker, safer ensembles. Yet this dress was simply gorgeous and at once modern and classic with a beautifully feminine shape and goth-girl goodness to boot. She capped the look with diamonds and perfectly mussed up hair and makeup. She killed it.
Worst – Sofia Boutella: Perhaps this Chanel dress patterned itself after a Hershey's kiss that spun upside down upon its head and shredded itself to pieces? This is almost like a little cocktail dress that someone decided to fringe up to the point of no return.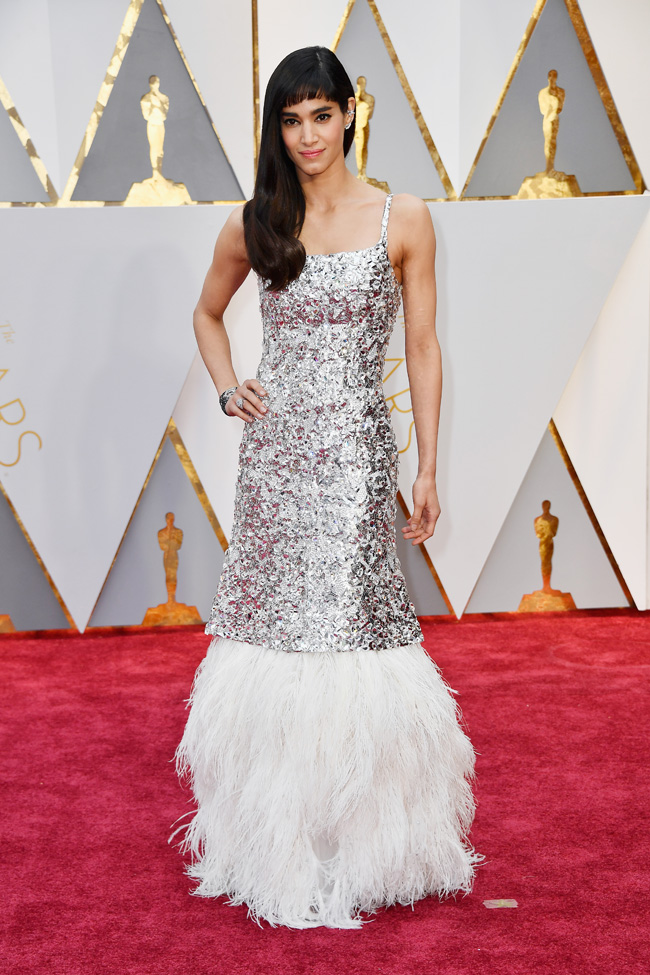 Best – Ava Duvernay: Perhaps the "best for last" concept comes true for this list, which shall end with this custom, long-sleeved gray Ashi Studio gown with lots of subtle, beaded detail. The tailoring here was lovely, and while the sheer volume of fabric and lacy detail would have been too much in a bolder color, balance was everything.