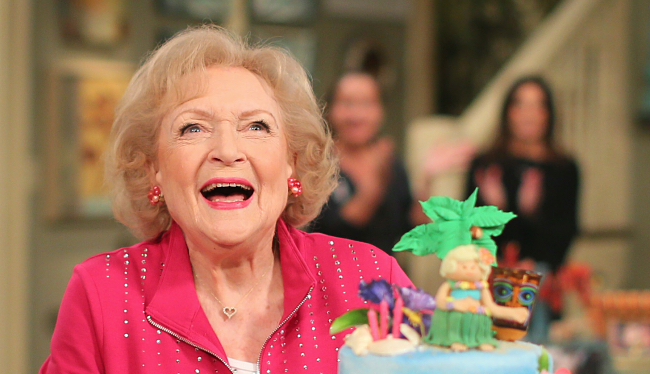 Even if you're #TeamDesigningWomen in the great Designing Women vs. The Golden Girls debate (what, just me?), you have to admit: Betty White — the same Betty White who performs dramatic readings of Queen Latifah songs, reviews Deadpool, and auditions to play Wolverine — is a national treasure.
That's why everyone started freaking out this morning when they saw her name trending on Twitter. Did she…? She couldn't have, right? Then again, it's been a bad year-plus for celebrities… Don't worry. The Hot in Cleveland star — who started working in the 1940s and has been nominated for a ridiculous 21 Primetime Emmy Awards (winning four times for four different shows) — is still alive and kicking. White is trending because today's her 95th birthday.
To put that into context: White was born in 1922, the same year the USSR formed, the Lincoln Memorial was built, and Robin Hood became the first movie with a Hollywood premiere ever. And she's still going strong (last year, she voiced a character on SpongeBob SquarePants; this year, she'll appear on Bones). What the internet would like to say is, thank you for being not dead.
Hankering for more Betty White? The Golden Girls is coming to Hulu in February.