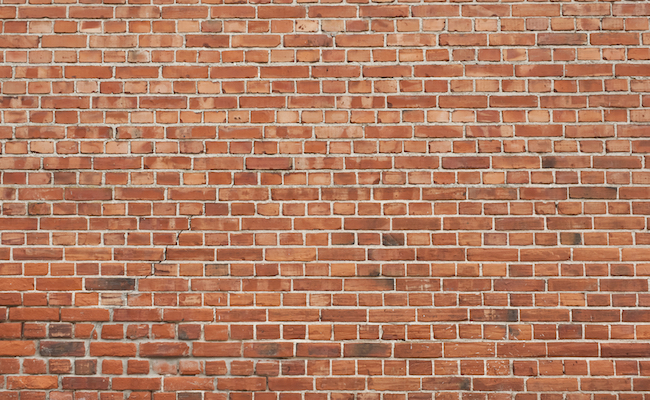 Forget The Dress, the twins, the other twins, and that jacket no one could figure out the color of: there's a new optical illusion in town and it's so incredibly obvious that you will actually slap yourself (as I did) after figuring it out. For real? For real. Because this thing is so obvious you will completely miss what you're looking for. But that's already saying too much. Cleanse your mind, we're going in.
Check out the image below: What does it look like? A brick wall. That's because it is one (I'm going to give you a hint and let you know that the illusion is not that this isn't a brick wall, but what your brain looks like on drugs or something that could only be seen under a microscope. It's a brick wall. Now, what do you see?
[protected-iframe id="2fc4181674bb111fadc86d4d10900df3-60970621-45222086″ info="https://www.facebook.com/plugins/post.php?href=https%3A%2F%2Fwww.facebook.com%2Fphoto.php%3Ffbid%3D487920951403818%26set%3Da.107882866074297.1073741825.100005577520009%26type%3D3&width=500″ width="500″ height="651″ frameborder="0″ style="border:none;overflow:hidden" scrolling="no"]
Nothing? Let's try again. But really look at that wall. Become one with it. Be the wall. Think about what's truly going on here. (Honestly, I'm just trying to mess with you because it took me so long!)
Want the answer? Okay, but look again first! And then scroll down past this very obvious spoiler alert placed here just so no one gets upset!
So what's happening in the photo? Notice that blob in the center? That's actually a cigar. But don't just write it off yet! If you spotted the ash, good for you! It certainly doesn't belong on that wall. But did you notice that the rest of the cigar is there, too? Because most people didn't! And it's a pretty interesting reminder that our brains work in strange and mysterious ways! At first you couldn't see the cigar at all, but now you can't un-see it and are probably wondering why the hell a cigar is there in the first place. And why you didn't notice it when it's so clearly out of place.
Will this illusion break the internet in the same way The Dress did? Probably not, but it's a cool one to send along to your friends on a Thursday and revel as you watch them struggle.
(h/t: The Huffington Post)