Sunday night's Emmys ceremony led to some speeches that were, well, a little political in nature. This result was unavoidable not only due to the characters that multiple winners portrayed but also because it's 2017, and current events have led U.S. political discourse to a more heated level than during any other administration in recent memory.
So, perhaps this awards show grants even more opportunity for escapism than usual for the red carpet. Last year's crop of Emmys dresses presented a more muted roundup, but this year? The ladies let loose a little bit more. Let's be superficial and name the best and the worst, in no particular order.
Best – Kate McKinnon: Not only did McKinnon take home the award for Supporting Actress in a Comedy Series, but she also scored in this Narciso Rodriguez dress. The top part of the dress looked like a fancy crop top, and the sleek white skirt looked fantastic.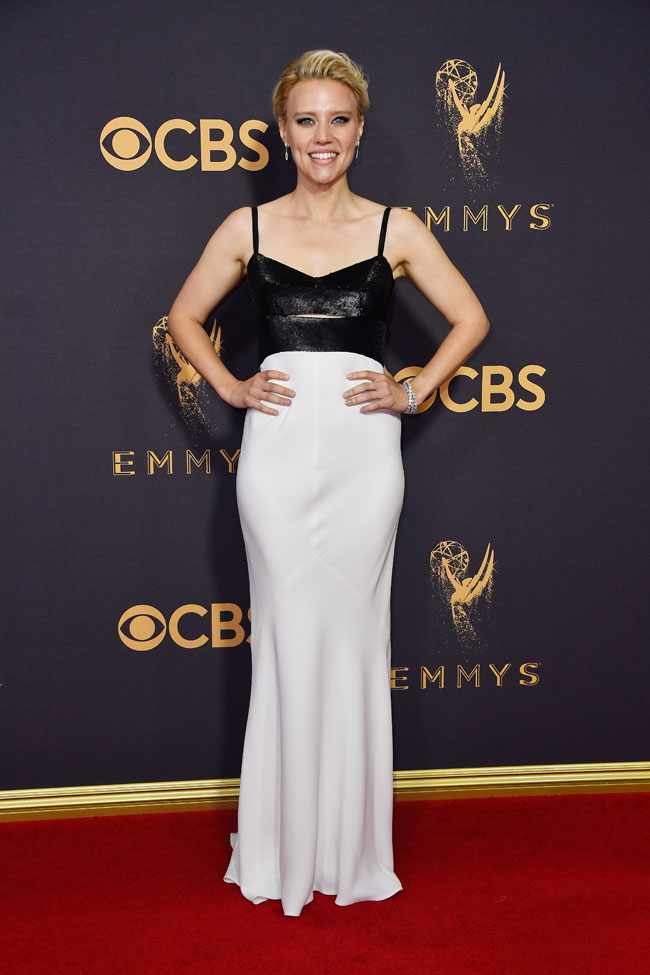 Worst – Mackenzie Davis: The actress went for a major pop of color in this Delpozo dress, and she certainly made an impression that won't soon be forgotten. Sadly, the neon green gown lent a garish effect.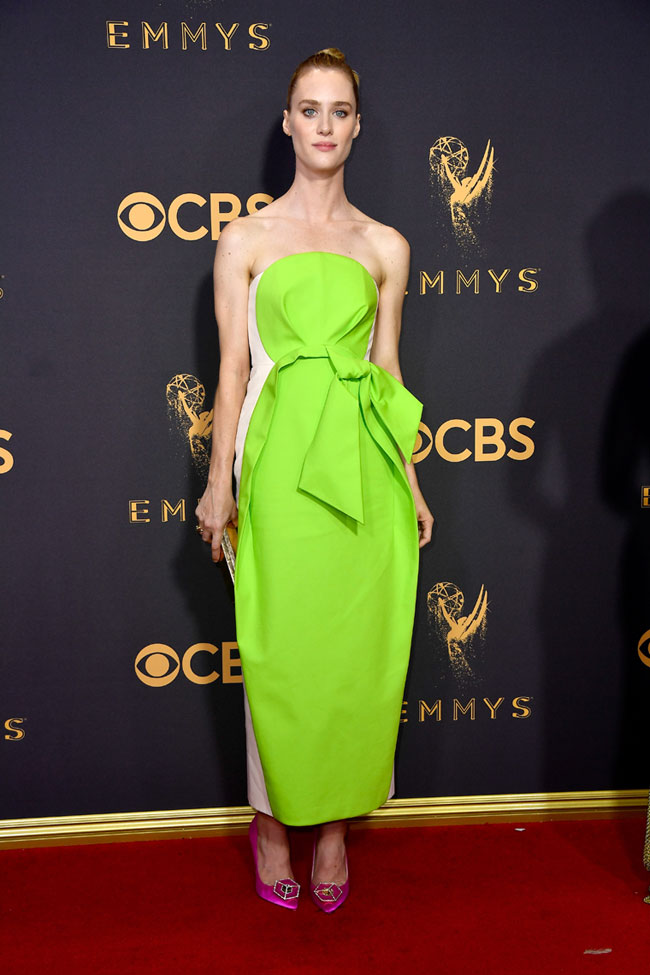 Best – Anna Chlumsky: The Veep star brought some serious glitz to the red carpet in this Sachin & Babi dress. The encrusted top and shimmery bottom of this silver confection were perfectly tailored.
Worst – Sarah Paulson: Unfortunately, silver dresses can go very wrong, as this Carolina Herrera gown proved. This poufy dress very much resembled a Hershey's kiss, and the matchy-matchy shoes were overkill.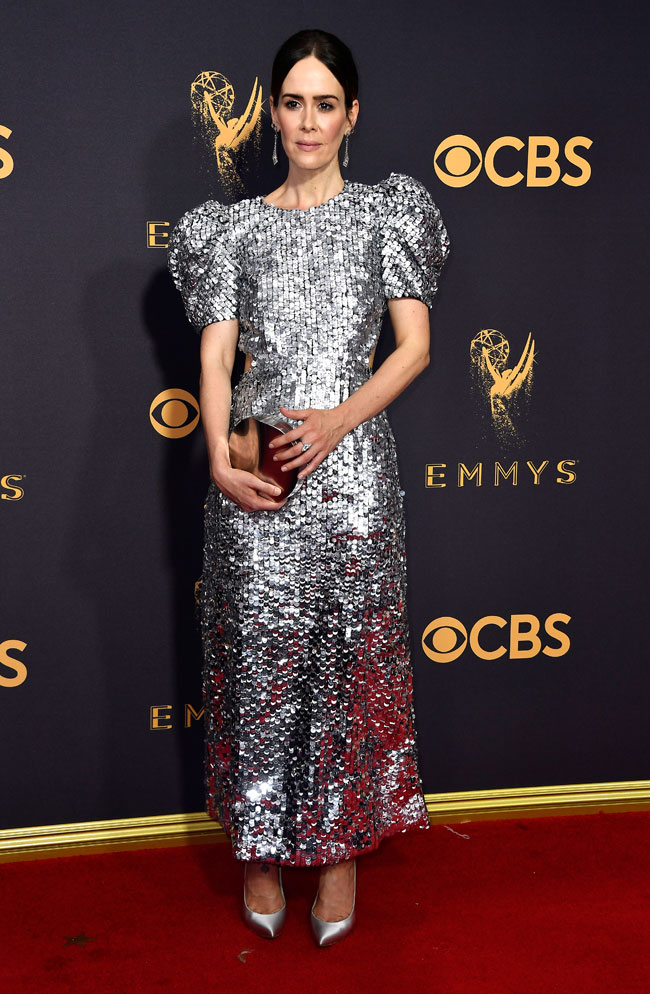 Best – Tessa Thompson: The Westworld actress swooped into the room with confidence in this Rosie Assoulin gown that shimmered when she moved. Somehow, even with all the color detail, the halter top and pleated skirt didn't overpower the whole effect.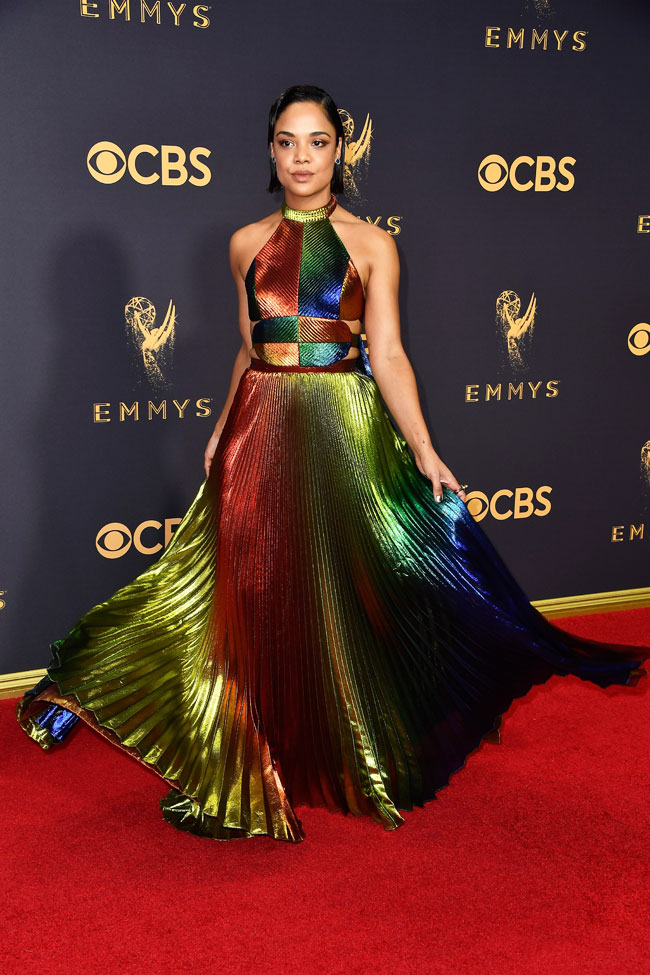 Worst – Zoe Kravitz: Sadly, this mutli-colored Dior Haute Couture gown did go too far in terms of the feathery detail. At least Kravitz kept her accessories simple, but the dress still overpowered her.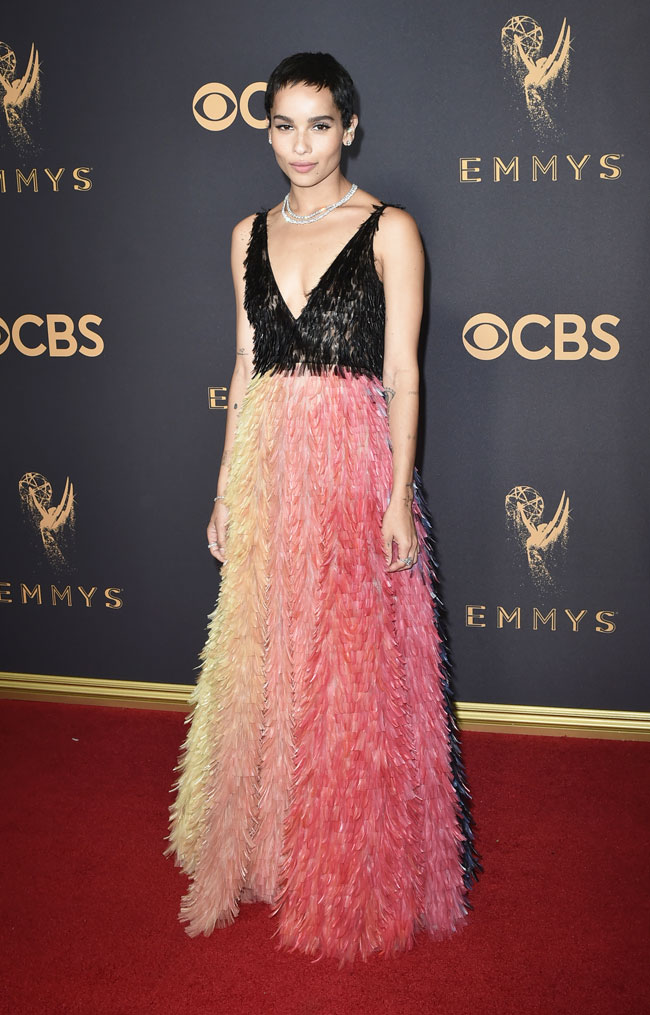 Best – Jessica Biel: This Ralph & Russo Couture getup was a little toga-y, but the tri-color mix and a thigh-high split jazzed up the ensemble quite nicely.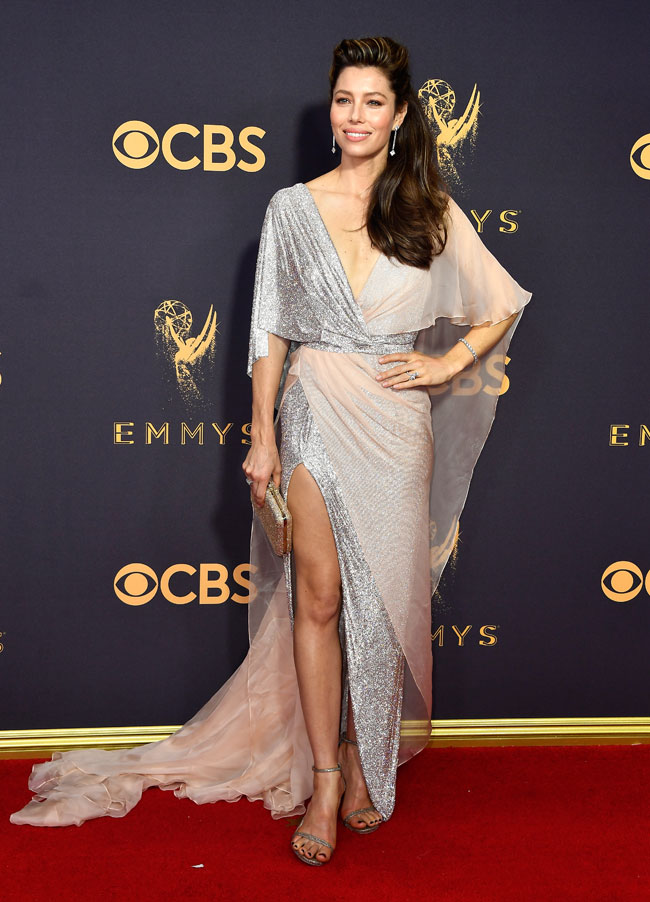 Worst – Sofia Vergara: It's not that the Modern Family star doesn't look good here. She always does, but this Mark Zunino gown is much like any other dress she's worn at any other show. Exhausting.
Best – Sarah Hyland: This isn't a typical look from designer Zac Posen, who tends to favor severe silhouettes, but this dress had some funky fabric and a peekaboo stomach that was both youthful and somehow sophisticated.
Worst – Samantha Bee: The nighttime talk show host wore a confusing Rubin Singer gown that arrived in beautiful green, but the contrasting fabrics felt "off." An all-over satiny flow would have made for a better dress.
Best – Emmy Rossum: The Shameless star classed it up in a very classic, shimmery black ball gown. Another stunning look from Zac Posen arrived with perfect pops of green jewelry.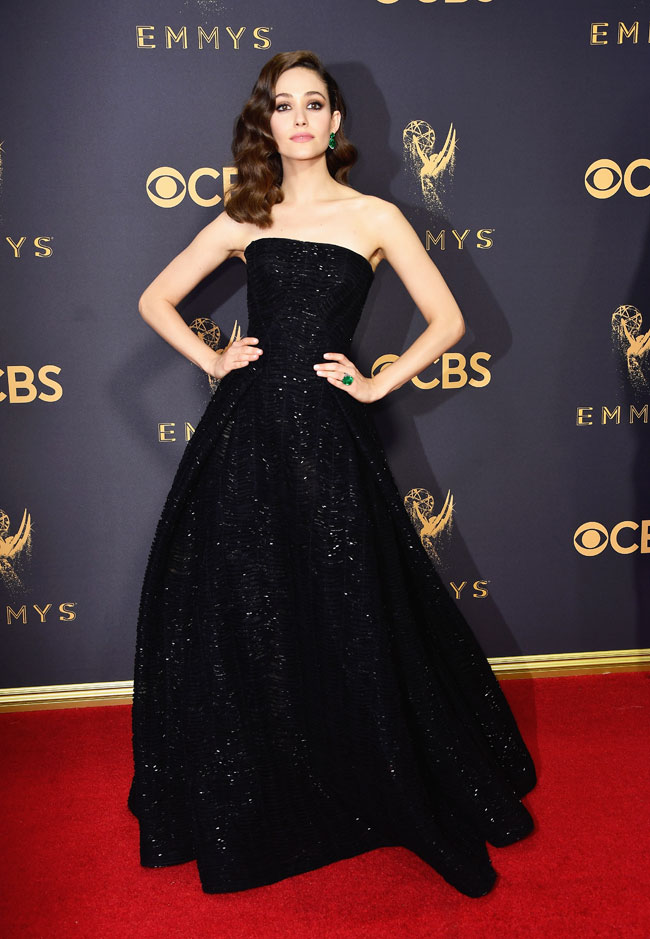 Worst – Mandy Moore: The This Is Us actress also aimed for classic black-and-white in a Carolina Herrera gown. The tiered dress likely began with good intentions, but this was a case of too much tulle.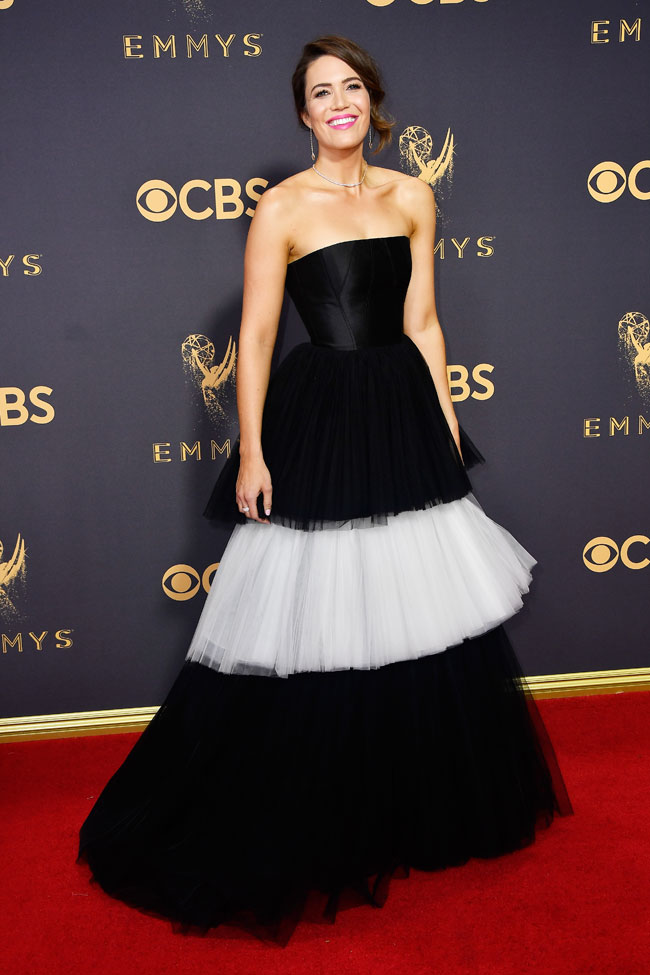 Best – Elisabeth Moss: For her performance in The Handmaid's Tale, Moss took home the award for Outstanding Actress in a Drama Series. And she also wore one of the most glamorous dresses of the night — a cocktail length, pink Prabal Gurung dress.
Worst – Tracee Ellis Ross: This Chanel gown went into severe overload mode — silver, sparkles, fringe, floppy sleeves and a chunky belt? And somehow, the sum is still worse than the parts.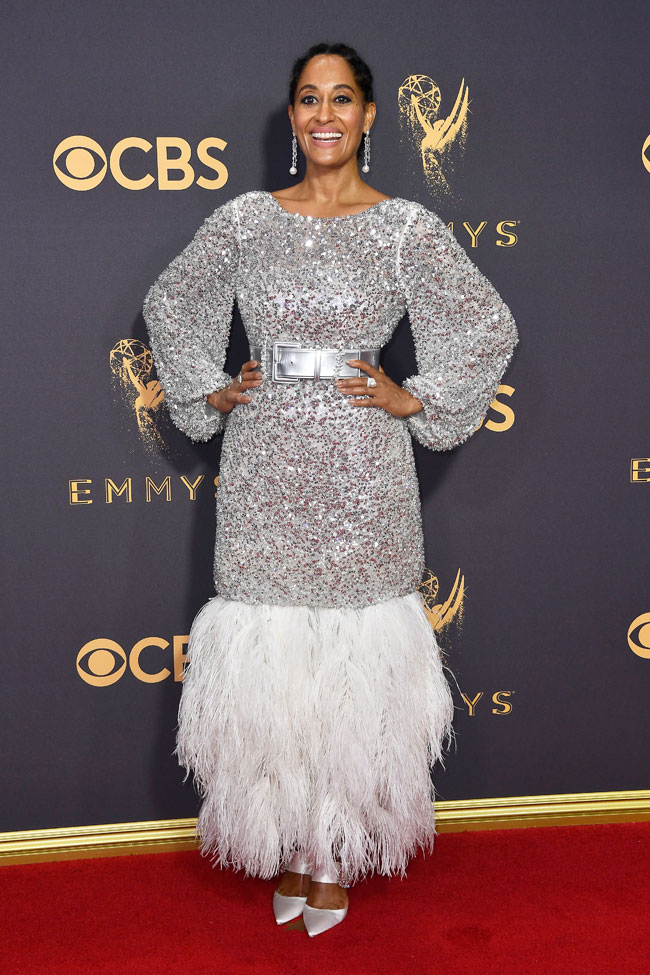 Best – Ellie Kemper: She didn't win for her role in Unbreakable Kimmy Schmidt, but Kemper shone in this Jenny Packham dress that was sort of a cool purple mini dress covered with the right amount of sheer fabric and embellishments.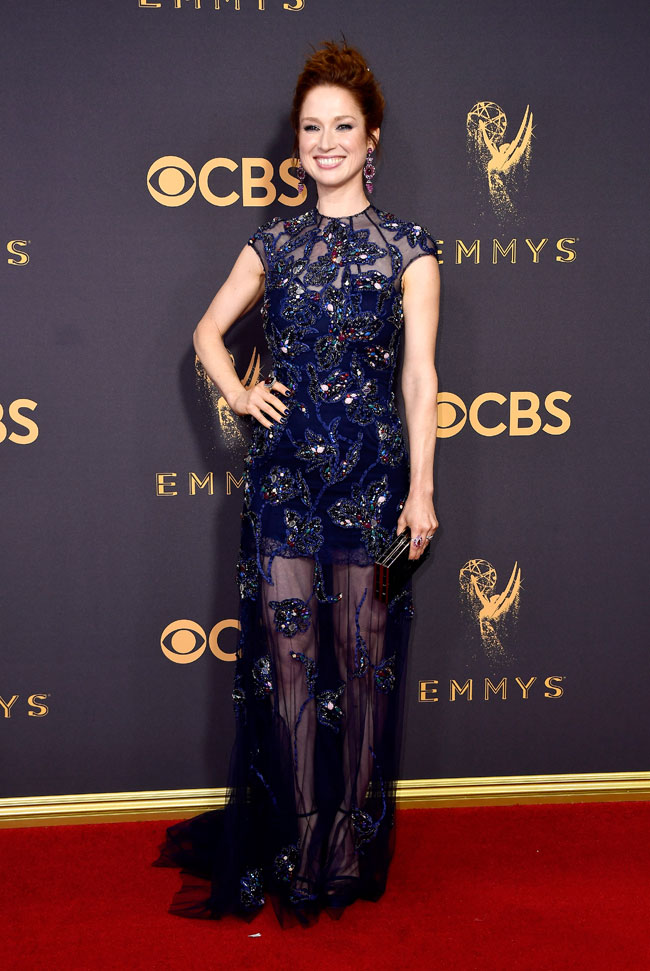 Worst – Debra Messing: Unlike with Kemper, designer Jenny Packham didn't pull off this gown. Messing got swallowed up in a sloppy mess of shiny fabric, and her stylist didn't do her any favors with hair and jewelry.
Best – Lea Michele: This plum colored Elie Saab dress was a rare win from Lea Michele, who tends to favor more princessy looks, but everything about this dress worked, from the shimmering fabric to the thin belt.
Worst – Rashida Jones: This lavender colored dress didn't know what it was aiming for. Sexy? Somber? It was a little depressing.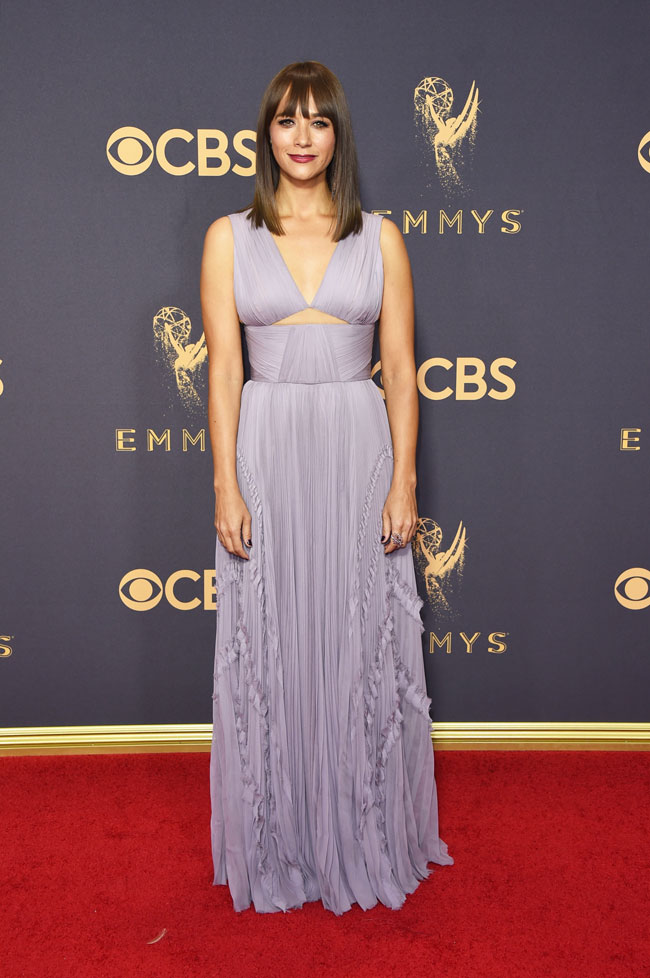 Best – Michelle Pfeiffer: This black Oscar de la Renta gown delivered just the right whiff of vampy goth to ensure that Pfeiffer will always remain an unforgettable red carpet presence.
Worst – Heidi Klum: Once again, Klum has proven that runway model stardom doesn't always translate into great personal fashion taste. This shapeless Peter Dundas gown was a bizarre affair, and all of those chunky bracelets didn't help matters.