The 2016 Emmys struck with plenty of victory for Game of Thrones and some fury on behalf of jilted Beyonce fans, but beyond the legit reason for the awards — the TV shows themselves — a whole other industry worked for months to prepare for the night. Yes, that would be the fashion houses, who jumped at the chance to showcase their work on the red carpet. While many fans of Hollywood artistry don't appreciate the spectacle of the "What are you wearing?" question, others appreciate a distraction from real world concerns.
For the next several minutes, this collection of gowns may provide a welcome diversion from serious matters like the presidential election and the wavering Syrian ceasefire. At the very least, the following dresses provide more shimmer than last year's bunch of dresses. Let's rank 'em in an arbitrary way.
Best – Padma Lakshmi: The Top Chef host opted for a sleek and striking silver Naeem Khan gown. The dress carried enough presence that Lakshmi opted for an understated ponytail and rosy makeup to balance a stunning look.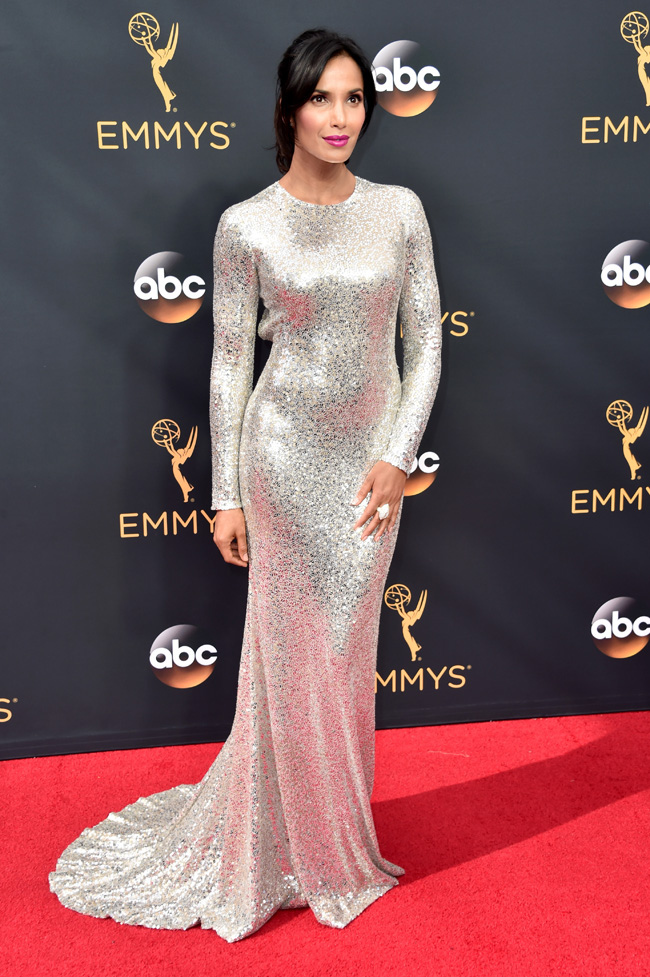 Worst – Mandy Moore: This orange lampshade of a Prabal Gurung dress felt out of place at the Emmys. With several tiers, a halter neckline, and a sheer skirt, the dress appeared to be a throwback to a mystery era.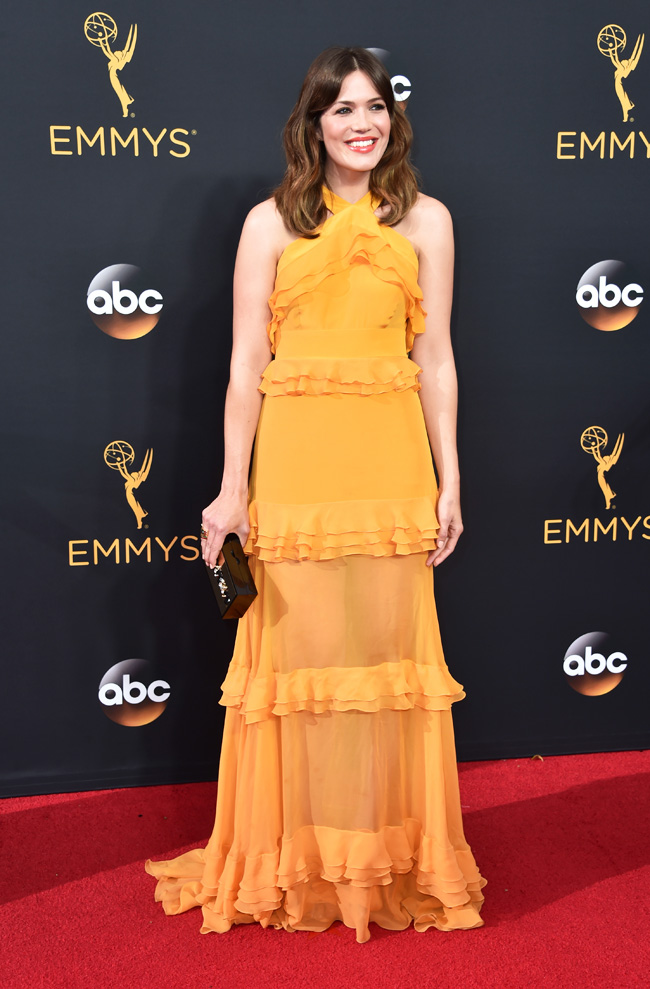 Best – Michelle Dockery: This white Oscar de la Renta gown with black piping exudes pure glamour in a confectionery way. A high-low hem sets off perfectly layered tiers in an offbeat manner while still working a classic vibe.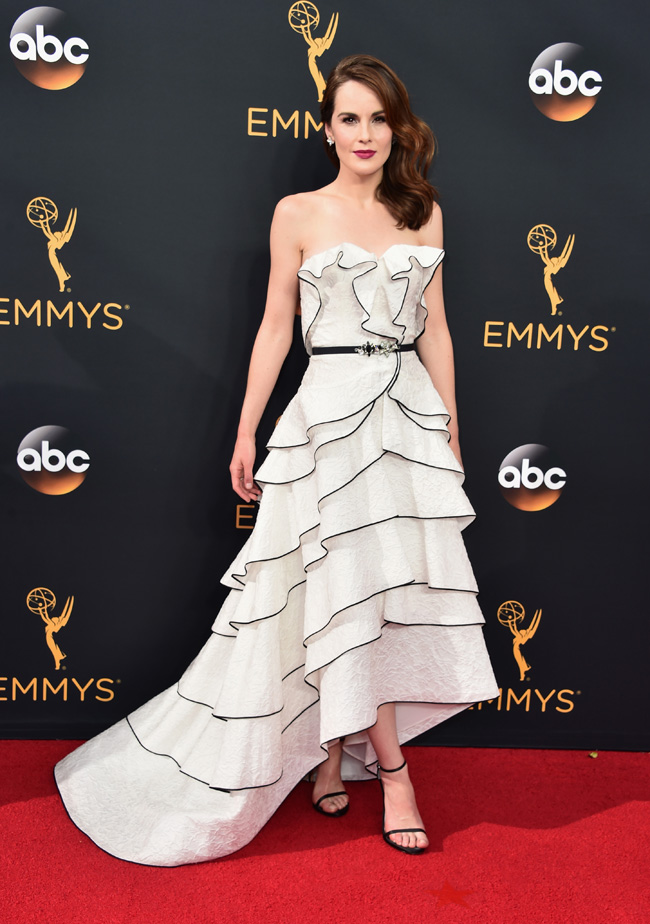 Worst – Gwendoline Christie: Lovers of goth fashion will adore this mini-dress, which is (sadly) not at home on an awards show red carpet. Christie went for a different look, which she accomplished, but this would have worked better at a cyberpunk movie premiere.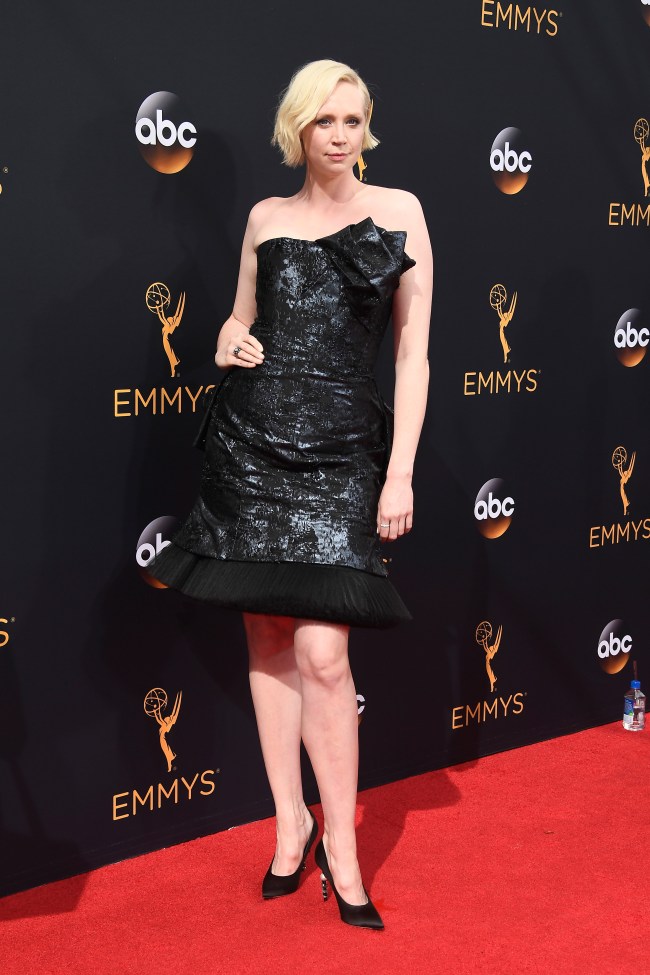 Best – America Ferrera: This look is a tough sell at first, as the tailoring on this Jenny Packham dress isn't perfect (and those red earrings are a bit jarring), but in the end, sparkling simplicity wins the day. Incidentally, Ferrera finished her first triathlon on Saturday, so some "off" styling is permissible.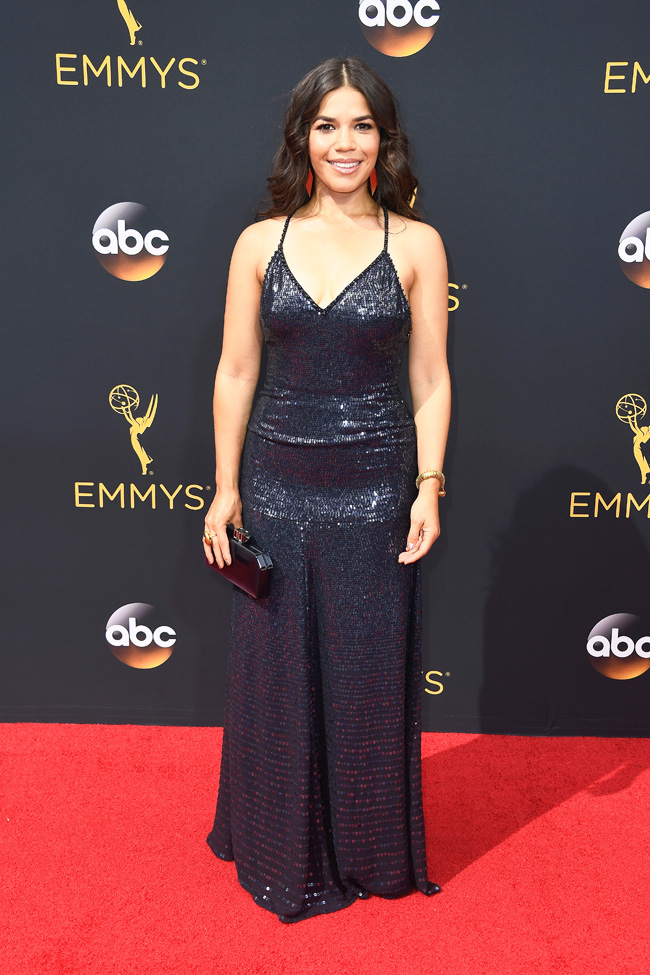 Worst – Regina King: This coral-colored Elizabeth Kennedy stood among the most out-of-place looks at the event. Without the "butt cape," the dress wouldn't have been half bad, but this feels like a bridesmaid's dress selected by a passive-aggressive bride.
Best – Heidi Klum: This gown is an abrupt turn from Klum's usual red-carpet style, which usually lacks in comparison to her supermodel status. This Michael Kors dress flashes the abs and features a half-bra top, yet still manages to hit all the right sparkly notes.
Worst – Claire Danes: This Schiaparelli dress would work well on the Elvira character in a future Scarface remake, but the look is a little too vampy for an Emmys red carpet. Hard pass.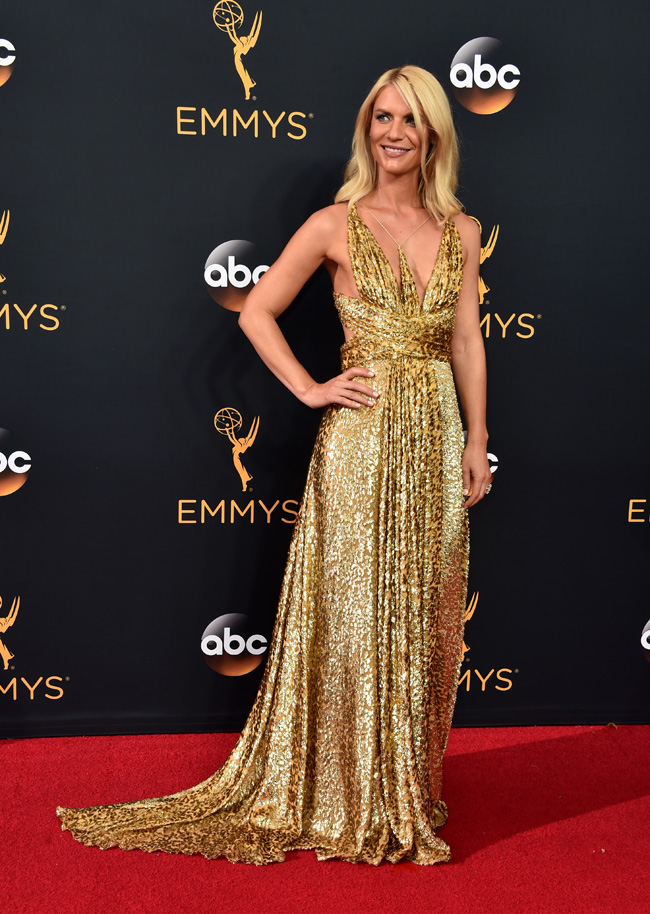 Best – Taraji P. Henson: The Empire actress chose a simple, sunshine-yellow Vera Wang dress with a dash of edginess. It's impossible to tear down this entire look, even down to the monogrammed Edie Parker clutch.
Worst – Emily Ratajkowski: Well, this Zac Posen gown went wrong in just about every way. Posen generally favors a structural look, but this dress completely dwarfs Ratajkowski, and as they say, it's wearing her, not the other way around.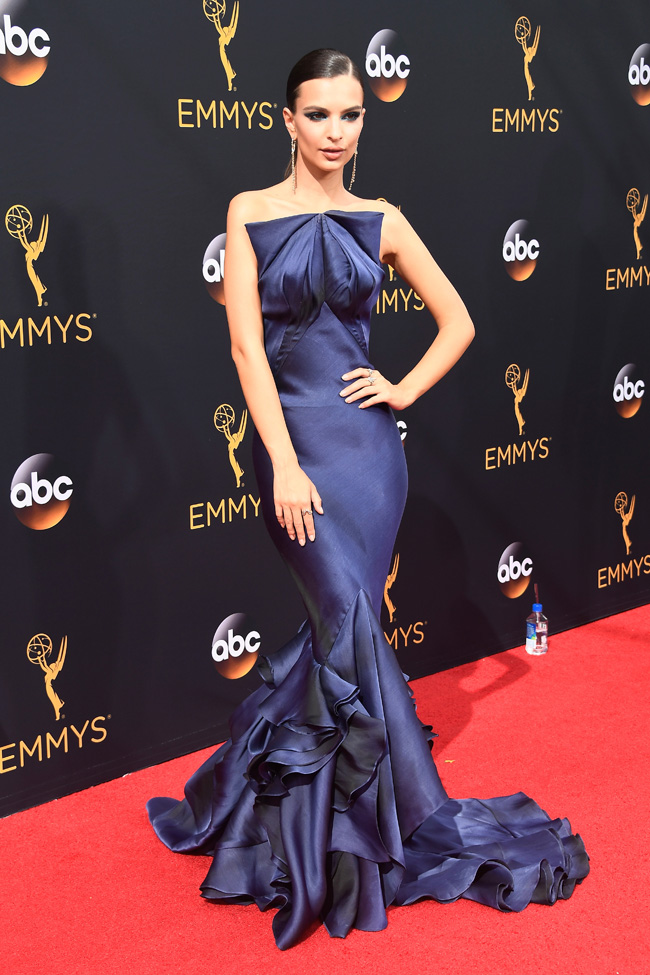 Best – Kristen Bell: This Zuhair Murad Couture gown should never have worked at the Emmys, for it's more of an adventurous Golden Globes type of getup. But damn, Bell somehow pulls off the look and crowns a whimsical gown with voluminous hair to cap off the quirky getup.
Worst – Alia Shawkat: Sometimes, one goes a little too offbeat and lands on "Coachella" instead of a casual red carpet option. Let's not speak further of this dress and keep on moving.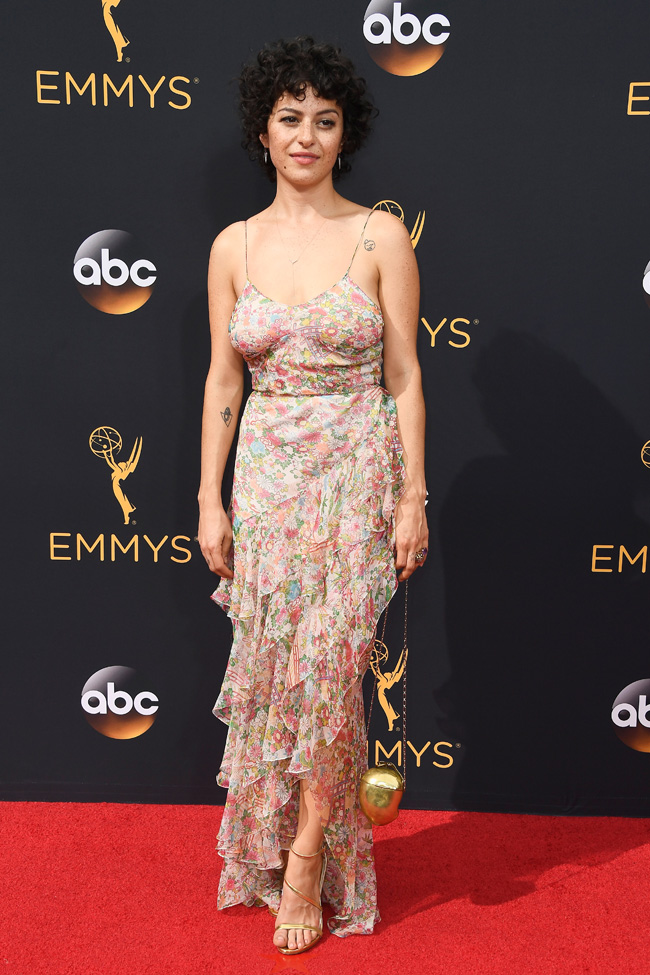 Best – Sophie Turner: The Game of Thrones actress took a gamble with a Valentino dress that manages to be both elegant and funky as a little black lace dress. Mussed up hair and smokey makeup complete the look.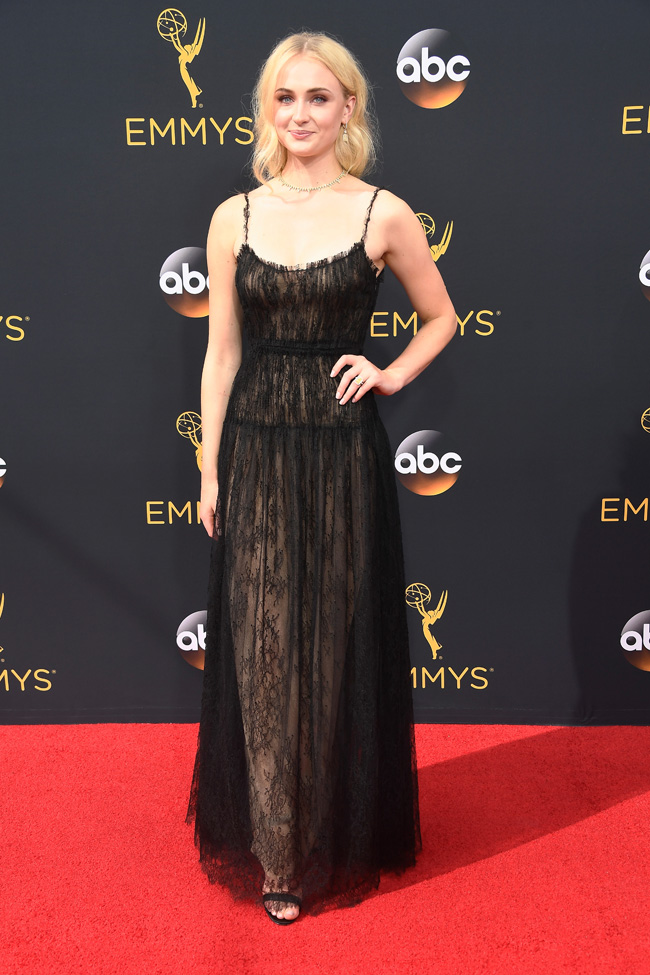 Worst – Constance Zimmer: The peppermint pink pattern on this Monique Lhuillier dress evokes an old-timey china pattern. Overall, the pink clutch and pink lipstick make for a too-matchy vibe, and this look just doesn't hit.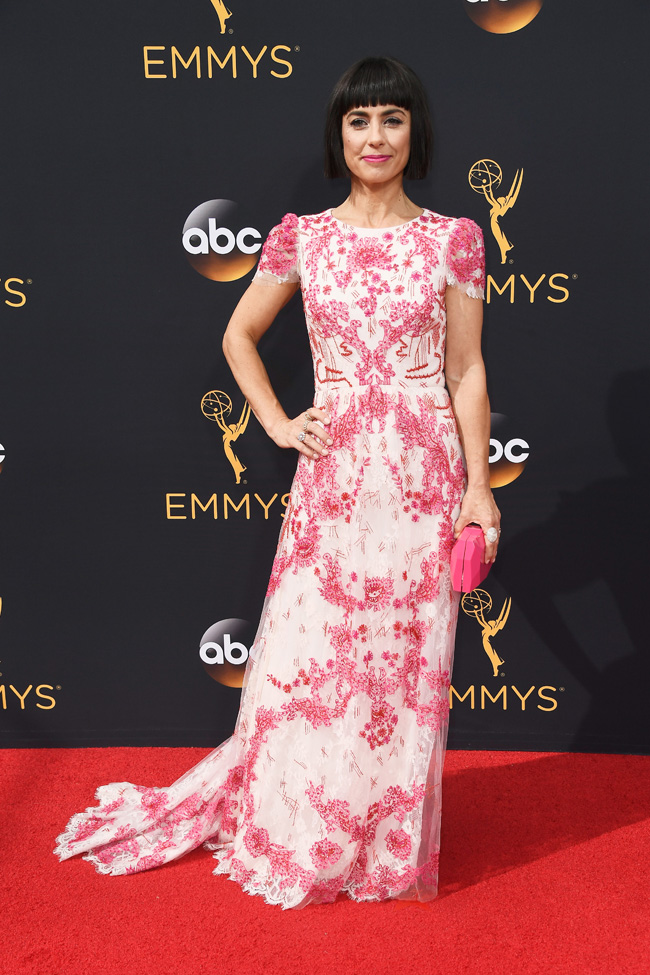 Best – Viola Davis: The combination of a hot-pink dress and a Marchesa creation could have been disastrous on a woman with a less vibrant presence than Davis, but this look is a winning one.
Worst – Amy Poehler: The comedic genius reportedly ordered some extra sparkle on this Pamella Roland dress, but overall, the cape overwhelmed a fairly simple dress and suggested an outfit made of moss.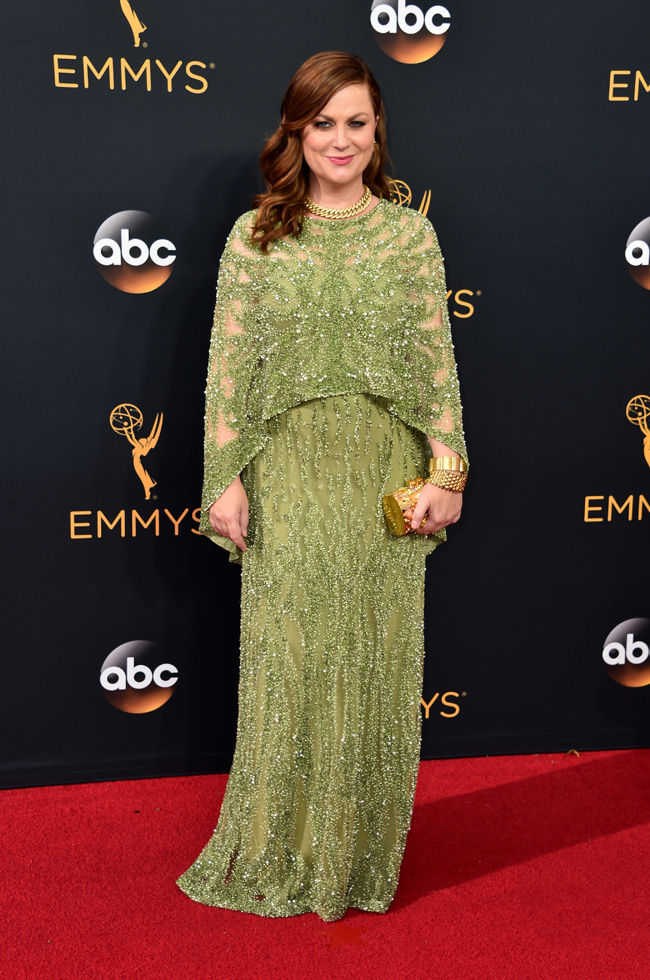 Best – Emilia Clarke: The actress who plays the Mother of Dragons on Game of Thrones wore a nude strapless Atelier Versace gown that was once understated and full of oomph. This is a breathtaking ensemble and one of the greatest of the night.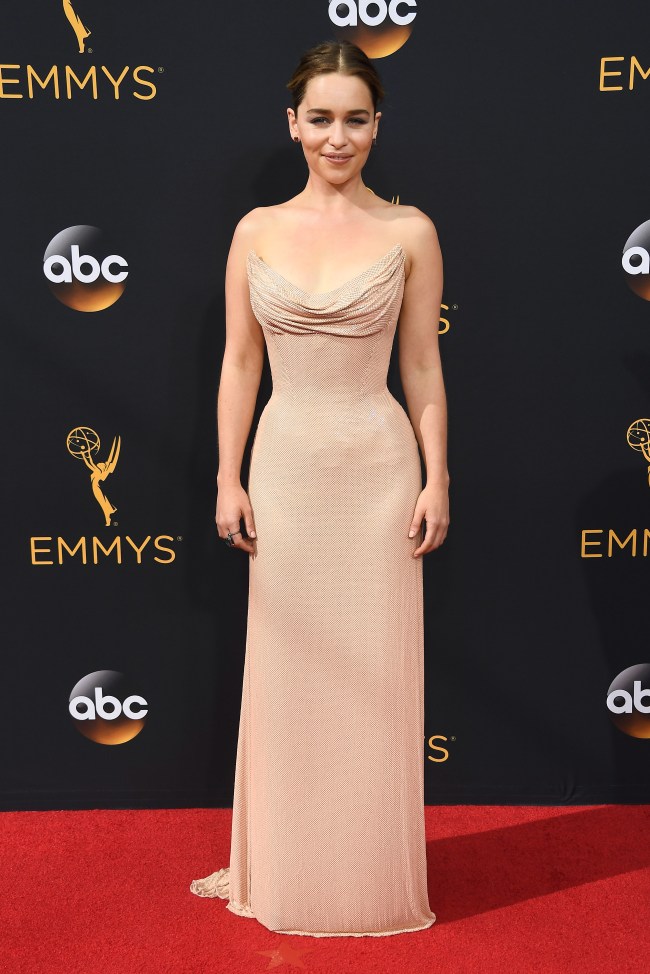 Worst – Neve Campbell: The House of Cards actress went a little too blah in a Christian Siriano gown that would have fared better with less severe hair and makeup. Perhaps even losing the lace "peekaboo" effect on the bodice would have un-frumped this ensemble.
Best – Sofia Vergara: Many of Vergara's award show dresses look like carbon copies, but she knows what works for her. This Atelier Versace gown is no exception and even adds strategic "cutouts" to make life more adventurous.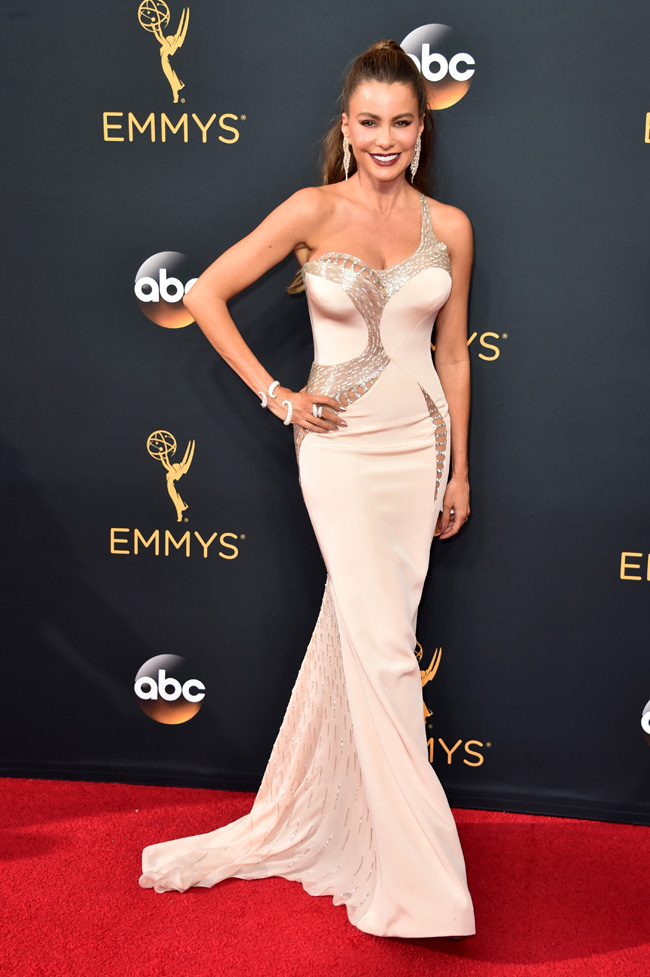 Worst – Ellie Kemper: The rather Unbreakable Kemper tried hard to sell this Jenny Packham dress to the masses, but in the end, a frumpy pattern set off a 1970s vibe. Perhaps the pop of color will save the look for some spectators.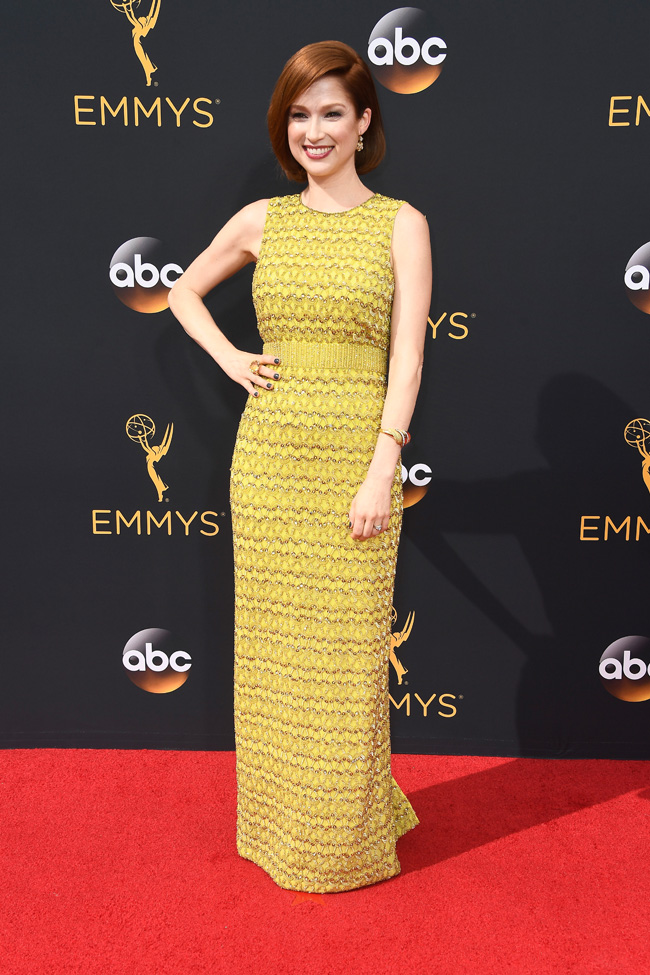 Best – Sarah Hyland: This Monique Lhuillier could have met the same cutesy fate as Zimmer's attempt, but somehow, the black tap pants offset the flowery peplum dress enough to evoke a playful vibe. This look isn't for everyone, but Hyland pulls it off.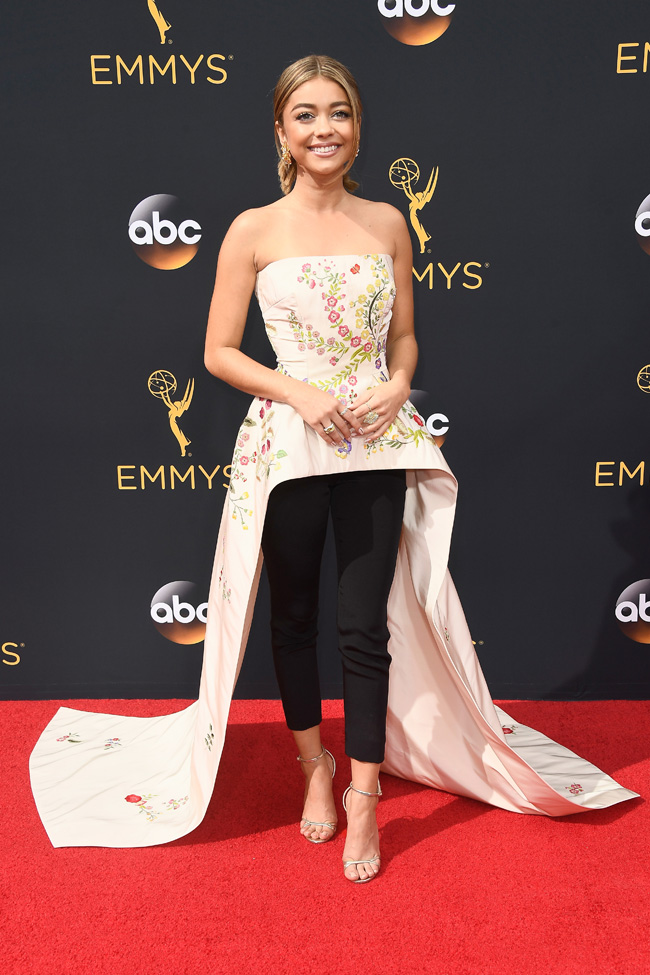 Worst – Sarah Paulson: This green Prada dress doesn't know when to stop with the embellishments. The look is at once too severe, too funky, and just plain too much.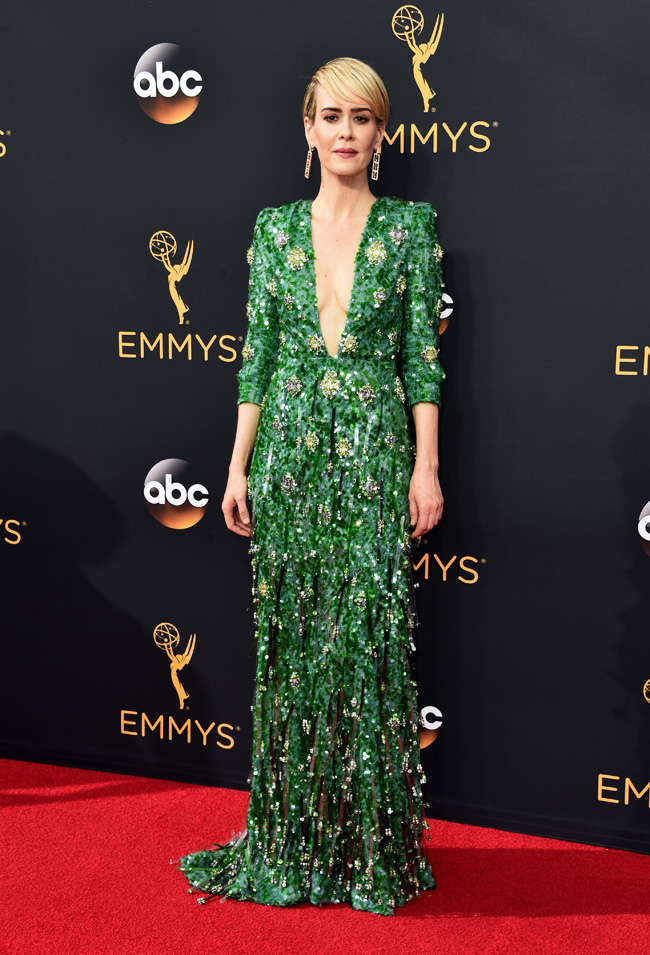 Best – Tina Fey: This luscious green Oscar de la Renta dress counts as one of Fey's best red carpet selections. She looks both glamorous and comfortable, which is a huge achievement in Hollywood.

Worst – Anna Clumsky: There are few words for this ill-advised, lilac-colored gown with a full-on cape. No doubt, there's a designer attached to this dress, but perhaps the Veep star was trolling us?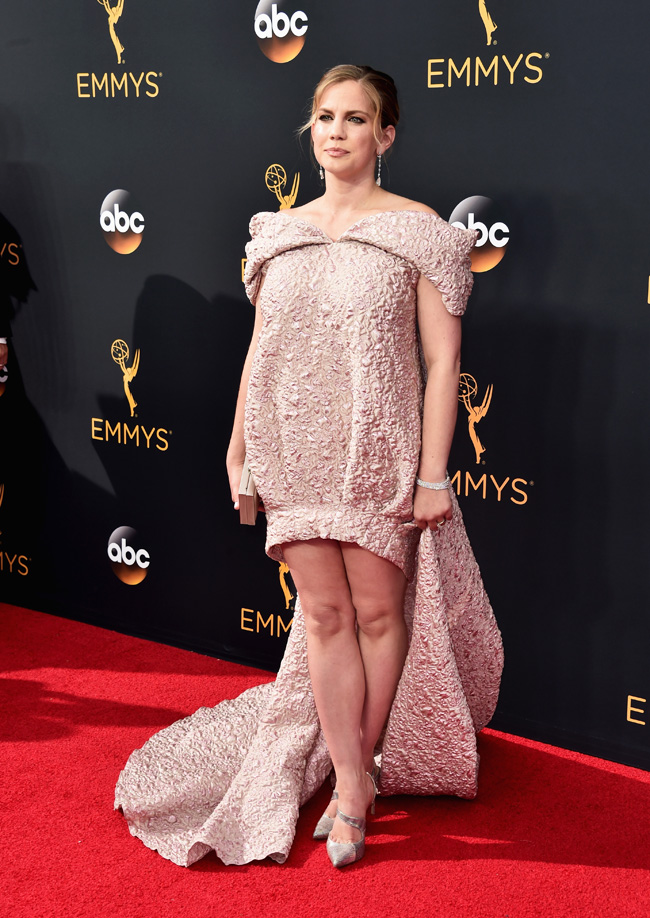 Best – Jessie Graff: The Supergirl stuntwoman easily had the best high-kick on the red carpet, and she showed off her stuntwoman physique to perfection in this flowing red dress. Graff's moves stood as the highlight of the red carpet.