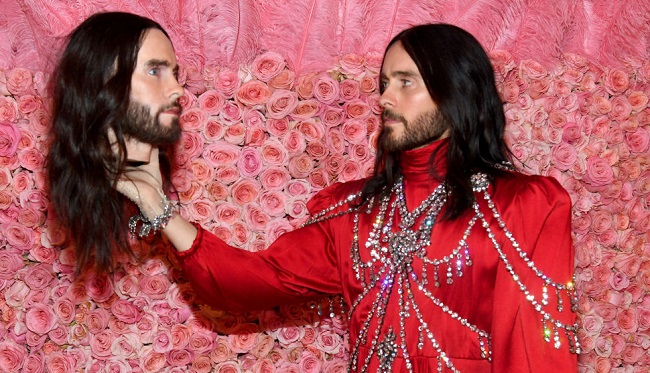 Celebrities were at it again at the Met Gala on Monday night, embodying this year's theme: "camp." Many of those in attendance seem to have outdone even the outlandish looks of the 2018 and 2017 Met Galas. And yes, noted edgelord Jared Leto left the green coat at home and rolled into the Gala with a replica of his own severed head. So extra.
But it wasn't just Jared Leto going above and beyond. Lady Gaga stripped down through four different outfit changes, and as one person on Twitter noted, with photo evidence, "Every person at the Met Gala should be a Mortal Kombat character."
There was even a surprise guest:
Which made for a convenient joke about Cardi B's extravagant, be-feathered dress and train:
People made suggestions for who else should have been invited to the campy event:
Frank Ocean took some flak for not being particularly campy:
While others argued that the celebrities shouldn't find out what the theme's going to be until the day of:
And there were inevitable references to Oceans 8:
But most of the jokes made on Twitter were about this year's "camp" theme:
Well, that last one got depressing. It's probably best to just enjoy the show and not think about how many years of pay it would take us to buy some of these outfits.