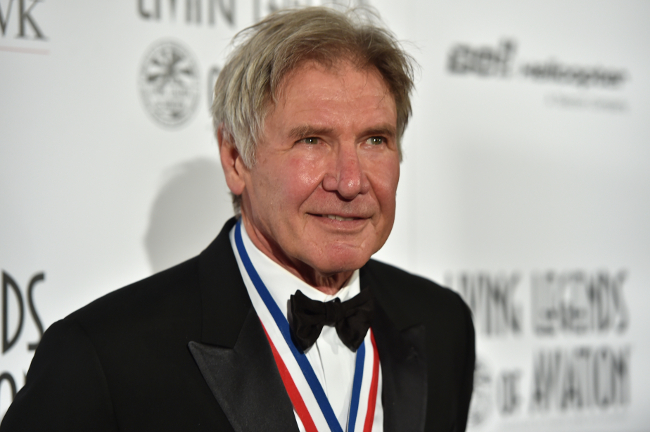 Actor Harrison Ford has reportedly suffered injuries after crashing his small fighter plane at the Penmar Golf Course in Venice, CA today. While reports and eye witness accounts vary, KTLA News reported that at 2:30 PM PT, a man flying solo crashed at the city golf course and "was transported to the hospital in critical condition." That report does not include Ford's name; however, the images certainly reveal that it was the same vintage airplane that TMZ mentions in its own report.
TMZ claims that the actor was "seriously injured," adding in the report that Ford "suffered multiple gashes to his head and was bleeding" before he was immediately treated by two doctors that were presumably playing a round of golf. Additionally, the New York Daily News reports that Ford was "critically injured in a crash at the golf course." As the reports vary, we will continue to update this story and Ford's health.
UPDATE: NBC News spoke with a golf course employee who had direct contact with the actor after the crash:
Ford's injuries were originally described as "critical," but sources emphasized that they are better characterized as serious, including lacerations to the head and possible fractures.

Howard Tabe, an employee at Penmar Golf Course, said, "There was blood all over his face. … Two very fine doctors were treating him, taking good care of him. I helped put a blanket under his hip."
UPDATE 2: Deadline reports that Ford is in stable condition, which is much better news than "seriously injured" and "critically injured."
Law enforcement officials tell Deadline that the actor is in stable condition at a local hospital after the 2:30 PM crash at Penmar Golf Course. Los Angeles Fire Department officials said a witness on the ground told them the vintage World War II trainer plane had just taken off and had some kind of mechanical problem.
UPDATE 3: Ford's son has provided the most important update of all on Twitter…
https://twitter.com/ChefBenFord/status/573649772583591937