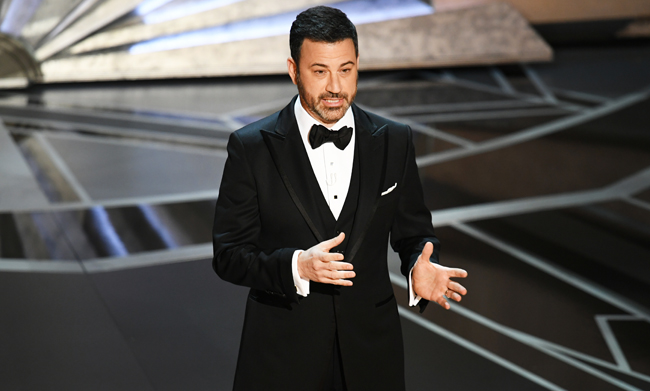 Of the problems facing Donald Trump right now — namely, rumors of chaos behind closed doors in the Oval Office, a former advisor publicly melting down over the Russia investigation, and implications of payments to an alleged former mistress, among other things — one might think that the ratings of the 2018 Oscars would be of little concern to the president. One would be wrong.
On Tuesday morning, after news broke that Sunday's awards ceremony was the all-time lowest rated with just 26.5 million viewers (which, to be fair, still seems like a lot), Trump tweeted, "Lowest rated Oscars in HISTORY. Problem is, we don't have Stars anymore – except your President (just kidding, of course)!"
Charming. Trump then replied to his own tweet with a follow up blaming President Obama for not "fixing the problem" with DACA the eight years he was in office, because he has the apparent attention span of a housefly.
Kimmel, on the other hand, wasn't about to take the shot lying down, tweeting back a succinct, six word comeback, reminding Trump that "ratings" haven't exactly been so favorable to him lately, either. " Thanks, lowest rated President in HISTORY," fired back Kimmel.
At the time of this writing, Trump has yet to dignify Kimmel's burn with a response, but given his tear lately, it's probably only a matter of time.