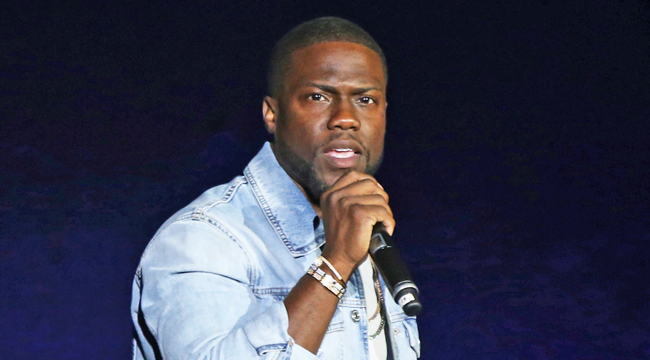 Following the brutal, Chicago-based attack on openly gay actor Jussie Smollett, Kevin Hart is feeling backlash after expressing support for the Empire star. Police are investigating the assault as a hate crime, and Hart is still fresh from dropping out as Oscars host after the resurfacing of past homophobic tweets. He apologized multiple times but then made a pretty messy visit to GMA to promote The Upside. There, he emphatically (and repeatedly) insisted that he's "over it" and wouldn't do anything further to stress that those remarks are in the past, and he's changed, and "I shouldn't have to prove who I am."
Still, The Upside fared well at the box office, so it didn't seem that Hart's career would suffer. Along with many other entertainers who expressed support for Smollett — after he was reportedly assaulted by two men yelling homophobic and racial slurs and who put a noose around his neck — Hart sent prayers to the Empire actor on Instagram whole urging people to "forever choose love."
"Sending prayers your way @jussiesmollett ….This is unbelievably sad. Why are we going backwards….this is disgusting," he wrote. "We as people have to do better. WTF is going on the world???? Why are we falling in love with hate???? God damn it people….Choose love…I repeat…Choose love. I will forever choose love and I will continue to teach my kids how to do the same. Stand strong brother."
Hart linked to the post on Twitter, where users were quick to point out out to him that jokes like the ones he previously made are indeed harmful and can eventually influence people to commit future hate-inspired actions.
After many, many tweets resembling the above, Hart spoke out again. "I stand with a man in his time of hurt and need by giving him heart felt support and u take the time to harp on my 10yr past that I have apologized about and moved on from by being a better person," he wrote. "Do you want change? If so I am an example of what u want people to do…CHANGE!"
Earlier in the day, Hart tweeted (without referencing Smollett), "I don't condone or believe in hate, infact I despise it. Hate makes me sick to my stomach." He also stated, "Operation spread love is in full effect damn it."
There's no set timeline for when folks will allow freshly resurfaced, objectively bad tweets to fade into the past, so perhaps with Hart, his expressed support for Smollett is a case of "too soon," or the damage from his jokes may be seen as entirely irreparable for eternity. Despite Hart's career never missing a beat, there are things that the public will never forgive. Even though Hart feels that he's made enough amends, not everyone agrees.
Meanwhile, the Chicago PD has released a photo of two persons of interest, who they wish to question. Law enforcement also urges anyone with relevant information to call 312-717-8382 or report tips anonymously at cpdtip.com.