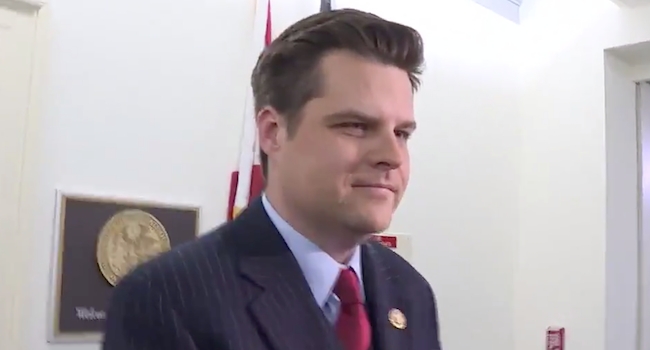 It was a bad night for Trump superfans. An already crazy Tuesday came to a surreal close, first with news that far right social media troll and piss poor serial liar Jacob Wohl had been permanently banned from Twitter after bragging to a USA Today reporter about creating fake Twitter accounts to disrupt the 2020 election. Around the same time a key Trump ally — one Florida representative Matt Gaetz — sent out what appeared to be a cryptic threat to the president's former lawyer Michael Cohen.
Cohen is scheduled to testify on Capital Hill beginning Wednesday; he's reportedly planning to offer documentation proving the commander-in-chief engaged in criminal conduct involving a hush money payment to porn star Stormy Daniels, with whom the president slept. In the late afternoon, less than 24 hours before Cohen's appearance, the relatively little-known Gaetz decided to become an instant viral sensation.
"Hey @MichaelCohen," Gaetz tweeted. "Do your wife & father-in-law know about your girlfriends? Maybe tonight would be a good time for that chat. I wonder if she'll remain faithful when you're in prison. She's about to learn a lot…"
Gaetz offered no proof that he has evidence of Cohen's extramarital affairs, and when asked by reporters to explain his tweet, he asserted that it wasn't intended as a threat. He also insisted he wasn't engaging in witness-tampering" so much as, in his words, "witness-testing."
One would assume social media gadlfies were a little busy pouncing on Jacob Wohl, but it turns out they can multi-task. Twitter became a duel which one would get the most amount of jokes.
Others, though, compared Gaetz to another Floridian.
Professional number cruncher Nate Silver congratulated the congressman on his starmaking moment.
Others reveled in his rank stupidity.
Speaking of stupidity, Gaetz went and repeated his claim on the House floor.
Or maybe it's not funny. Maybe it reminds us that the entire Trump cabal is a bunch of thugs and gangsters and autocrats.
In any case, Gaetz is also a hypocrite.
Let us take a moment to pour one out for Media Matters journalist Matt Gertz, whose name is so similar — but, c'mon, not really — that he wound up hounded by Twitter's least eagle-eyed accounts.
And then there was Nancy Pelosi, who gifted Gaetz with a very loud subtweet.
(Via CNN and New York Times)