Loki goes to high school, Grant Morrison muses on Nazi supervillains, and more in this week's look at notable comics on the stands.
Multiversity: Mastermen #1
"What if Superman was a Nazi?" It's a pretty common story, at this point, but Grant Morrison puts a new spin on it by asking… what happens when Overman, in this case, turns out to be the leader of a worldwide Reich and finds himself wondering whether he in fact deserves to fall? As great as the script is, Jim Lee doesn't feel right for the material, but in the end that's a small matter. The book is just too good to be held back by that.
Silk #1
Robbie Thompson and Stacey Lee deliver on the female version of Spidey, Silk. Yes, this is different from Spider-Gwen. Silk's been in a bunker for ten years, and as a result is… a bit out of the loop and still discovering her superpowers. It's a fairly low-key origin story, largely carried by Lee's art that has just a slight tinge of anime style to it. It's not breaking new ground, but it's a fairly light book and has the potential to be a fun time. Worth reading if you're looking for new superhero books.
Nevada Sparks: Marshal on Mars #1
I know the Nerdist podcast is beloved, and Ben Acker and Ben Blacker are funny, funny guys, but something about this comic doesn't quite click. Part of the problem is, it must be said, that so damn much of this book is written in teeeeeeeeny little type in word balloons: Squinting is the enemy of written comedy. But really, the main problem here is that, yeah, it's a Space Western, and… that's kind of where the concept stops. It's a Space Western! Isn't that amazing?! It's a little too in love with the source material to be its own thing, something the book desperately needs, but J. Bone and Jordie Bellaire handle the art, so at least it's pretty.
Secret Identities #1
We all know that, in reality, superheroes wouldn't be good and pure and noble all the time. They'd be human, and have human flaws. This isn't a new notion and while I'd love to say Jay Faerber and Brian Joines do much interesting with it in their script, so far it's some fairly standard plotting. Fortunately, the art, courtesy of Ilias Kyriazis and Charlie Kirchoff, is detailed and slick superheroics, and it keeps up the pace. There's enough here, in terms of plotline, to possibly make for a compelling book, but it needs to move beyond its central gimmick a bit for that to happen.
Eight #1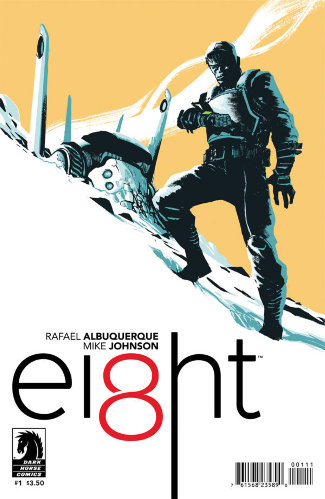 Rafael Albuquerque and Mike Johnson deliver a story of time travel that's a bit more… off-beat than you might expect. Albuquerque is actually fairly experimental here, using a limited color palette to create the book. The fast pace and fantasy style mean it's a brisk, engaging read, and highly recommended.
Plunder #1
Swifty Lang and Skuds McKinley decide to set The Thing on the high seas… and our heroes are the not-entirely stable crew of a Somali pirate ship. McKinley's art is a little loose for the concept, exacerbated by the fact that he shouldn't be his own inker. Similarly, Jason Wordie's colors are a little too bright and clean to really build the right atmosphere. It's a good idea, and the script has some nice touches, but the art team needs to work harder to measure up.
King: Mandrake the Magician #1
You see the name Roger Langridge on a comic book, you buy that comic book. And, truthfully, Langridge brings his charm on full blast here. This isn't just a comic book starring an old comic strip character, it's a discussion on Langridge's part about why we love magic and how that's important to us as people. I'm not entirely sold on Jeremy Treece's art, which feels a bit out of sync with the tone of the story, but it's solid work and he gets in his own flights of fancy. All in all, a book worth picking up.
Burning Fields #2
The occult murder mystery in Kirkuk continues to unfold. Truthfully Michael Moreci and Tim Daniel could stand to put the accelerator down; so far, the slow burn works against the story a bit. Similarly, Colin Lorimer does a good job with the pencils and is a bit too heavy-handed with the inks, with Joana Lafuente's colors largely serving to define the art. It's a cool idea, but it needs to be tightened up in a few places.
Eternal #2
Williams Harms and Stefano Simeone deliver a book that asks just how far we as a society would be willing to go for immortality. Needless to say, pretty far. Still, as interesting as this book is in the ideas, it's a bit bland in the particulars. When a character can just upload into a new clone, you have a limit to the stakes involved, and it's still a solid SF/action book, and an interesting concept, so if that's your taste, give it a whirl.
Ivar, Timewalker #2
The story of the man who can travel through time and the seemingly meek physicist he's trying to keep from turning into a monster continues, with an explanation as to why time travelers can't kill Hitler. In fact, the title of this issue is "Let's Not Kill Hitler." Yes, Fred Van Lente wrote it, how'd you guess?
It's a story that ties itself into various knots, but truth be told, it's a frothy, funny book that wears its Doctor Who love on its sleeve. If you love said show, this is the comic for you.
Rumble #3
John Arcudi and James Harren crash ridiculous high fantasy into the scuzzy modern day in this underrated book. What I love most about it is that Arcudi and Harren relentlessly undercut the pretension and sharply render the characters involved. Even our nominal hero, Rathraq, is kind of petty and his quest turns out to be more about his bitterness over a bureaucratic screw-up than an actual mission. It's witty, well-drawn, and fast-paced; highly recommended.
The Valiant #3
The Valiant mega-crossover gets into gear with a huge fight, but Jeff Lemire and Matt Kindt choose to focus it on a very personal story, as Bloodshot and the Geomancer get to know each other better in a mall. Also, as usual Paolo Rivera's art is beautifully clean and composed, making this book a joy to read even when it's at its most grotesque; there's one splash panel that's a Bosch tribute you won't soon forget. Highly recommended.
Ms. Marvel #12
The entire premise of this book spins around Loki invading a high school dance. If that plot doesn't immediately make you throw money at your monitor, then this probably is not the book for you. Otherwise, as usual, highly recommended.
Unity #15
This issue focuses entirely on Ninjak, and just why he keeps serving as a spy and a brawler when he's an industrial magnate and ladies man. Turns out, he needs the rush… and needs it more than he thinks. A smart and oddly melancholy character study, and definitely worth a read.
The Full Retail List
ACTION LAB ENTERTAINMENT
Fight Like A Girl #3 (Of 4), $3.99
Herald Lovecraft And Tesla #2, $3.99
Pirate Eye Exiled From Exile #1 (Of 4)(Carl Yonder Painted Variant Cover), $4.99
Pirate Eye Exiled From Exile #1 (Of 4)(Carl Yonder Regular Cover), $3.99
Stray #1 (Mike Norton Regular Cover), $3.99
Stray #1 (Khary Randolph Variant Cover), $4.99
ARCHIE COMIC PUBLICATIONS
Mega Man #46 (Justin Harder Brother Vs Brother Variant Cover), $3.99
Mega Man #46 (Patrick Spaziante Regular Cover), $3.99
World Of Archie Comics Digest #47, $4.99
AVATAR PRESS
Crossed Badlands #72 (Christian Zanier Torture Cover), $3.99
Crossed Badlands #72 (Fernando Heinz Red Crossed Incentive Cover), AR
Crossed Badlands #72 (Fernando Heinz Regular Cover), $3.99
Crossed Badlands #72 (Fernando Heinz Wraparound Cover), $3.99
Crossed Badlands #72 (Michael DiPascale Fatal Fantasy Cover), $3.99
God Is Dead #29 (Facundo Percio Enchanting Cover), $3.99
God Is Dead #29 (German Nobile Carnage Wraparound Cover), $3.99
God Is Dead #29 (Jacen Burrows End Of Days Cover), $3.99
God Is Dead #29 (Jacen Burrows Gilded Incentive Cover), AR
God Is Dead #29 (Jacen Burrows Iconic Cover), $3.99
God Is Dead #29 (Jacen Burrows Regular Cover), $3.99
Uber Volume 3 TP, $19.99
BENITEZ PRODUCTIONS
Lady Mechanika #4 (Cover A Joe Benitez), $3.99
Lady Mechanika #4 (Cover B Kenneth Rocafort), $3.99
Lady Mechanika #4 (Cover C Joe Benitez), AR
BONGO COMICS
Simpsons Comics #218, $2.99
BOOM! STUDIOS
Burning Fields #2 (Of 8)(Cover A Colin Lorimer), $3.99
Burning Fields #2 (Of 8)(Cover B Riley Rossmo), AR
Clive Barker's Next Testament Volume 2 TP, $14.99
Eternal #2 (Of 4)(Cover A Frazer Irving), $3.99
Jim Henson's The Dark Crystal Creation Myths Volume 1 TP, $14.99
Lumberjanes #11 (Cover A Carolyn Nowak), $3.99
Lumberjanes #11 (Cover B Emily Hu), AR
Peanuts #25 (Cover A Vicki Scott), $3.99
Peanuts #25 (Cover B Charles M. Schulz), AR
Plunder #1 (Cover A Skuds McKinley), $3.99
Plunder #1 (Cover B Ramon K. Perez), AR
Plunder #1 (Cover C Daniele Serra), AR
Regular Show #20 (Cover A Allison Strejlau), $3.99
Regular Show #20 (Cover B Sonnye Lim), $3.99
Regular Show #20 (Cover C Artyom Trakhanov), AR
Rocket Salvage #3 (Of 6)(Cover A Bachan), $3.99
Sons Of Anarchy #18 (Cover A Toni Infante), $3.99
Suicide Risk #22 (Cover A Elena Casagrande), $3.99
CLASSIC COMICS PRESS
Cisco Kid By Jose Luis Salinas And Rod Reed Volume 2 February 1953 – March 1955 TP, $24.95
COMIC SHOP NEWS
Comic Shop News #1444, AR
COMICMIX
Beardo Volume 3 Til Debt Do Us Part TP, $19.95
DARK HORSE COMICS
B.P.R.D. Hell On Earth #128, $3.50
Buffy The Vampire Slayer Season 10 #12 (Cover A Steve Morris), $3.50
Buffy The Vampire Slayer Season 10 #12 (Cover B Rebekah Isaacs), $3.50
Creepy Comics #19, $3.99
Dark Horse Presents #7 (Cover A Gabriel Ba), $4.99
Dark Horse Presents #7 (Cover B Eric Powell), $4.99
EI8HT #1 (Of 5), $3.50
Groo Friends And Foes #2, $3.99
Lady Killer #1 (Of 5)(Joelle Jones 2nd Printing Variant Cover), $3.50
Strain The Night Eternal #6, $3.99
DC COMICS
Batgirl #39 (Cameron Stewart Regular Cover), $2.99
Batgirl #39 (Cliff Chiang Harley Quinn Variant Cover), AR
Batman And Robin #39 (Emanuela Lupacchino Harley Quinn Variant Cover), AR
Batman And Robin #39 (Patrick Gleason & Mick Gray Regular Cover), $2.99
Batman Blink TP, $14.99
Batman Eternal #46, $2.99
Batman Superman #19 (Ardian Syaf & Danny Miki Combo Pack Cover), $4.99
Batman Superman #19 (Ardian Syaf & Danny Miki Regular Cover), $3.99
Batman Superman #19 (J.G. Jones Harley Quinn Variant Cover), AR
Batman Superman #19 (Joe Quinones Variant Cover), AR
Batwoman #39, $2.99
Constantine Volume 3 The Voice In The Fire TP, $14.99
Damian Son Of Batman TP, $16.99
Earth 2 World's End #20, $2.99
Fables #149, $2.99
Green Lantern New Guardians #39, $2.99
Green Lantern New Guardians Volume 5 Godkillers TP, $16.99
Infinite Crisis The Fight For The Multiverse #8, $3.99
Injustice Gods Among Us Year Three #10, $2.99
Justice League #39 (Babs Tarr Variant Cover), AR
Justice League #39 (Dustin Nguyen Harley Quinn Variant Cover), AR
Justice League #39 (Jason Fabok Combo Pack Cover), $4.99
Justice League #39 (Jason Fabok Regular Cover), $3.99
Kitchen #4 (Of 8), $2.99
Mortal Kombat X #1 (Ivan Reis 2nd Printing Variant Cover), $3.99
Multiversity Mastermen #1 (Aaron Kuder Variant Cover), AR
Multiversity Mastermen #1 (Grant Morrison Variant Cover), AR
Multiversity Mastermen #1 (Jim Lee & Scott Williams Regular Cover), $4.99
Multiversity Mastermen #1 (Jim Lee Black & White Variant Cover), AR
Multiversity Mastermen #1 (Yanick Paquette Variant Cover), AR
New 52 Futures End #42, $2.99
Red Hood And The Outlaws #39, $2.99
Scalped Deluxe Edition Volume 1 HC, $29.99
Sensation Comics Featuring Wonder Woman #7, $3.99
Supergirl #39 (Emanuela Lupacchino Regular Cover), $2.99
Supergirl #39 (Joe Benitez Harley Quinn Variant Cover), AR
Superman Wonder Woman #16 (Doug Mahnke & Jaime Mendoza Combo Pack Cover), $4.99
Superman Wonder Woman #16 (Doug Mahnke & Jaime Mendoza Regular Cover), $3.99
Superman Wonder Woman #16 (Francis Manapul Harley Quinn Variant Cover), AR
Teen Titans #7 (Kenneth Rocafort Harley Quinn Variant Cover), AR
Teen Titans #7 (Kenneth Rocafort Regular Cover), $2.99
Teen Titans Go #8, $2.99
Trinity Of Sin #5, $2.99
Wonder Woman #39 (David Finch & Batt Black & White Variant Cover), AR
Wonder Woman #39 (David Finch & Batt Regular Cover), $2.99
Wonder Woman #39 (David Finch Variant Cover), AR
Wonder Woman #39 (Phil Jimenez Harley Quinn Variant Cover), AR
DEVILS DUE PUBLISHING
Plume Volume 2 #3 (not verified by Diamond), $3.99
DYNAMITE ENTERTAINMENT
Alice Cooper #6 (Cover A David Mack), $3.99
Black Bat Omnibus Volume 1 TP, $29.99
Dawn Vampirella #3 (Of 6)(Cover A Joseph Michael Linsner), $3.99
Dawn Vampirella #3 (Of 6)(Joseph Michael Linsner Black & White Variant Cover), AR
Dawn Vampirella #3 (Of 6)(Joseph Michael Linsner Pure Line Art Ladies Variant Cover), AR
Dawn Vampirella #3 (Of 6)(Joseph Michael Linsner Red Variant Cover), AR
Evil Ernie #4 (Ardian Syaf Black & White Variant Cover), AR
Evil Ernie #4 (Cover A Tim Seeley), $3.99
Evil Ernie #4 (Cover B Ardian Syaf), $3.99
Evil Ernie #4 (Cover C Joyce Chin), $3.99
Evil Ernie #4 (Tim Seeley Black & White Variant Cover), AR
King Mandrake The Magician #1 (Of 4)(Cover A Darwyn Cooke), $3.99
King Mandrake The Magician #1 (Of 4)(Darwyn Cooke Black & White Variant Cover), AR
King Mandrake The Magician #1 (Of 4)(Darwyn Cooke Virgin Variant Cover)(not verified by Diamond), AR
King Mandrake The Magician #1 (Of 4)(Rob Liefeld Black & White Variant Cover)(not verified by Diamond), AR
King Mandrake The Magician #1 (Of 4)(Rob Liefeld Variant Cover), AR
King Mandrake The Magician #1 (Of 4)(Rob Liefeld Virgin Variant Cover), AR
King Mandrake The Magician #1 (Of 4)(Ron Salas Black & White Variant Cover)(not verified by Diamond), AR
King Mandrake The Magician #1 (Of 4)(Ron Salas Variant Cover)(not verified by Diamond), AR
Legenderry Green Hornet #1 (Of 5)(Cedric Poulat Bombshell Variant Cover), AR
Legenderry Green Hornet #1 (Of 5)(Cedric Poulat Bombshell Virgin Variant Cover), AR
Legenderry Green Hornet #1 (Of 5)(Cover A Joe Benitez), $3.99
Legenderry Green Hornet #1 (Of 5)(Sergio Davila Black & White Variant Cover), AR
Legenderry Green Hornet #1 (Of 5)(Sergio Davila Variant Cover), AR
Lone Ranger Vindicated #4 (Of 4)(Cover A Marc Laming), $3.99
Lone Ranger Vindicated #4 (Of 4)(Marc Laming Black & White Variant Cover), AR
Mercy Thompson #5 (Of 6)(Cover A Tom Garcia), $3.99
Mercy Thompson #5 (Of 6)(Tom Garcia Black & White Variant Cover), AR
Pathfinder Origins #1 (Of 6)(Cover A Stjepan Sejic), $4.99
Pathfinder Origins #1 (Of 6)(Cover B Tom Garcia), $4.99
Pathfinder Origins #1 (Of 6)(Cover C Sebastian Cichon), $4.99
Pathfinder Origins #1 (Of 6)(Cover D Andrew Huerta), $19.99
Red Sonja #100 (Cover A Ed Benes), $7.99
Red Sonja #100 (Cover B Robert Hack), $7.99
Red Sonja #100 (Cover C Andrew Pepoy), $7.99
Red Sonja #100 (Cover D Ken Haeser), $7.99
Red Sonja #100 (Cover E Pablo Marcos), $7.99
Shadow Year One Omnibus HC (Matt Wagner Signed & Remarked Edition), $300.00
Shadow Year One Omnibus HC (Matt Wagner Signed Edition), $39.99
Solar Man Of The Atom #9 (Cover A Marc Laming), $3.99
Solar Man Of The Atom #9 (Cover B Jonathan Lau), $3.99
Solar Man Of The Atom #9 (Jonathan Lau Black & White Variant Cover), AR
Solar Man Of The Atom #9 (Marc Laming Black & White Variant Cover), AR
Terminal Hero #6 (Of 6)(Cover A Jae Lee), $2.99
Twilight Zone #12 (Cover A Francesco Francavilla), $3.99
Twilight Zone #12 (Francesco Francavilla Virgin Variant Cover)(not verified by Diamond), AR
Vampirella Feary Tales #5 (Of 5)(Cover A Jay Anacleto), $3.99
Vampirella Feary Tales #5 (Of 5)(Cover B Joyce Chin), $3.99
Vampirella Feary Tales #5 (Of 5)(Cover C David Roach), $3.99
Vampirella Feary Tales #5 (Of 5)(Jay Anacleto Black & White Variant Cover), AR
Vampirella Feary Tales #5 (Of 5)(Joyce Chin Black & White Variant Cover), AR
EAGLEMOSS PUBLICATIONS
DC Batman Automobilia Figurine Collection Magazine #51 (Detective #233 Batwoman Bike), $20.00
DC Batman Automobilia Figurine Collection Magazine #52 (Batman Forever Movie Boat), $20.00
DC Superhero Chess Figurine Collection Magazine #75 (Green Lantern John Stewart White Bishop), $16.00
DC Superhero Chess Figurine Collection Magazine #76 (Atomica Black Pawn), $16.00
DC Superhero Chess Figurine Collection Magazine #77 (Kid Flash White Knight), $16.00
Marvel Chess Figurine Collection Magazine #26 (Quicksilver White Pawn), $16.00
Marvel Chess Figurine Collection Magazine #27 (Green Goblin Black King), $16.00
Marvel Fact Files Special #6 (Incredible Hulk), $32.95
Star Trek The Official Starships Figurine Collection Magazine #34 (Vulcan Surak Class), $20.00
Star Trek The Official Starships Figurine Collection Magazine #35 (Early Klingon Bird Of Prey), $20.00
FANFARE PRESENTS PONENT MON
Walking Man 10th Anniversary Edition HC, $25.00
HARPER COLLINS PUBLISHERS
Crazy Hair SC, $6.99
Gris Grimly's Frankenstein SC, $16.99
Gris Grimly's Sherlock Holmes A Study In Scarlet HC, $17.99
HUMANOIDS PUBLISHING
Barbarella And The Wrath Of The Minute-Eater HC, $34.95
IMAGE COMICS
Autumnlands Tooth And Claw #4 (Cover A Ben Dewey), $2.99
Autumnlands Tooth And Claw #4 (Cover B Karl Kerschl), $2.99
Bitch Planet #3, $3.50
Criminal Volume 2 Lawless TP, $14.99
Deadly Class #11, $3.50
Drifter #4 (Cover A Nic Klein), $3.50
Drifter #4 (Cover B Rafael Albuquerque), $3.50
Fuse #10, $3.50
Goners #5, $2.99
Invincible #117, $2.99
IXth Generation #2, $3.99
Lazarus #15, $3.50
Manifest Destiny #13, $2.99
MPH #5 (Of 5)(Cover A Duncan Fegredo), $4.99
MPH #5 (Of 5)(Cover B Declan Shalvey), $4.99
Peter Panzerfaust #23, $3.50
Reyn #2, $2.99
Rumble #3, $3.50
Savage Dragon #202, $3.99
Secret Identities #1, $3.50
Thrilling Adventure Hour Presents Sparks Nevada Marshal On Mars #1 (Of 4)(Cover A J. Bone), $3.99
Thrilling Adventure Hour Presents Sparks Nevada Marshal On Mars #1 (Of 4)(Cover B Jamie McKelvie), $3.99
Thrilling Adventure Hour Presents Sparks Nevada Marshal On Mars #1 (Of 4)(Cover C Cast Photo), $3.99
Umbral Volume 2 The Dark Path TP, $14.99
INSIGHT EDITIONS
Art Of Evolve HC, $39.99
Art Of Home HC, $45.00
KODANSHA COMICS
Cage Of Eden Volume 17 GN, $10.99
Manga Dogs Volume 3 GN, $10.99
LEGENDARY COMICS
Epochalypse #4, $3.99
Tower Chronicles Dreadstalker Volume 1 TP, $14.99
LOCUS MAGAZINE
Locus #649, $7.50
MARVEL COMICS
All-New Captain America #4 (Phil Noto Variant Cover), AR
All-New Captain America #4 (Stuart Immonen Regular Cover), $3.99
All-New Captain America Fear Him #3 (Of 4), $3.99
Amazing Spider-Man Who Am I HC, $24.99
Avengers World #17, $3.99
Axis Carnage And Hobgoblin TP, $19.99
Black Widow #15 (Phil Noto Regular Cover), $3.99
Black Widow #15 (Phil Noto Variant Cover), AR
Captain America And The Mighty Avengers #5, $3.99
Civil War Prelude New Warriors TP, $19.99
Daredevil Volume 2 West-Case Scenario TP, $19.99
Deathlok #5 (Mike Perkins Regular Cover), $3.99
Deathlok #5 (Phil Noto Variant Cover), AR
Iron Fist The Living Weapon #9, $3.99
Legendary Star-Lord #9 (Andrea Sorrentino Cosmically Enhanced Variant Cover), AR
Legendary Star-Lord #9 (Paco Medina Regular Cover), $3.99
Legendary Star-Lord #9 (Phil Noto Variant Cover), AR
Loki Agent Of Asgard #11, $3.99
Magneto #15, $3.99
Marvel Universe Guardians Of The Galaxy #1 (Of 4), $2.99
Miles Morales The Ultimate Spider-Man #10, $3.99
Moon Knight #12, $3.99
Ms. Marvel #12, $2.99
Nova #27, $3.99
Rocket Raccoon #8 (Justin Ponsor Variant Cover), AR
Rocket Raccoon #8 (Phil Noto Variant Cover), AR
Rocket Raccoon #8 (Skottie Young Regular Cover), $3.99
Savage Wolverine Volume 3 Wrath TP, $19.99
She-Hulk #12 (Final Issue)(Kevin Wada Regular Cover), $2.99
She-Hulk #12 (Final Issue)(Kris Anka Final Issue Variant Cover), AR
Silk #1 (Dave Johnson Regular Cover), $3.99
Silk #1 (Skottie Young Variant Cover), AR
Silk #1 (Stacey Lee Variant Cover), AR
Silver Surfer #9, $3.99
Storm #8, $3.99
Storm Volume 1 Make It Rain TP, $15.99
Ultimate X-Men Ultimate Collection Volume 5 TP, $34.99
Uncanny X-Men #31, $3.99
Wolverines #7, $3.99
X-Men Volume 4 Exogenous TP, $17.99
MICROCOSM
Yo Miss A Graphic Look At High School GN, $14.95
MOONSTONE
Doc Savage The Frightened Fish Novel HC, $19.99
ONI PRESS
Letter 44 #14, $3.99
Terrible Lizard #4 (Of 5), $3.99
PAPERCUTZ
Ariol Volume 6 A Nasty Cat SC, $12.99
LEGO Legends Of Chima Volume 4 The Sting Of The Scorpion Tribe GN, $7.99
Nancy Drew Diaries Volume 4 The Charmed Bracelet And Global Warning GN, $9.99
PERFECT SQUARE
Pokemon The Movie Diancie And The Cocoon Of Destruction GN (not verified by Diamond), $9.99
REBELLION
Dredd Urban Warfare HC (not verified by Diamond), $20.99
RED 5 COMICS
Atomic Robo Volume 9 Atomic Robo And The Knights Of The Golden Circle TP, $17.95
RED ANVIL
Mighty Titan #4, $3.99
REDAN PUBLISHING
Ultimate Spider-Man Magazine #2 (not verified by Diamond), $4.99
SEVEN SEAS ENTERTAINMENT
Lucifer And The Biscuit Hammer Omnibus Volume 2 TP, $18.99
SHH PRODUCTIONS
Doktormentor Jail Babe Surgeon Gift Box, $59.95
SOLO PUBLISHING
Cinema Retro #31, $11.99
STARLOG GROUP
Fangoria #339, $10.99
THUNDERS MOUTH
Marvel The Avengers Vault HC, $34.95
TITAN
Sleepy Hollow The Official Magazine #2, $9.99
TITAN COMICS
13 Coins #5 (of 6), $3.99
Captain Stone #3 (Of 6), $3.99
Doctor Who The Tenth Doctor #7 (Verity Glass Regular Cover), $3.99
Doctor Who The Tenth Doctor #7 (Subscription Photo Cover), $3.99
Mono #3 (Of 6), $3.99
TOR BOOKS
Robert Jordan's The Eye Of The World Volume 6 HC, $25.99
UDON ENTERTAINMENT
Street Fighter World Warrior Encyclopedia HC, $34.99
VALIANT ENTERTAINMENT
Ivar Timewalker #2 (Cover A Raul Allen), $3.99
Ivar Timewalker #2 (Cover B Brian Level), $3.99
Ivar Timewalker #2 (Cover C Pere Perez), AR
Ivar Timewalker #2 (Cover D Ramon Villalobos), AR
Unity #15 (Cover A Raul Allen), $3.99
Unity #15 (Cover B Jenny Frison), $3.99
Unity #15 (Cover C ChrisCross), AR
Valiant #3 (Of 4)(Cover A Paolo Rivera), $3.99
Valiant #3 (Of 4)(Cover B Jeff Lemire & Matt Kindt), AR
Valiant #3 (Of 4)(Cover C Francesco Francavilla), AR
VERTICAL
Cardfight Vanguard Volume 5 GN, $10.95
Witchcraft Works Volume 3 GN, $12.95
ZENESCOPE ENTERTAINMENT
Charmed Season 10 #5, $3.99
Grimm Fairy Tales Presents Realm War Volume 1 TP, $15.99
Grimm Fairy Tales Presents Robyn Hood #7 (Cover A Manuel Preitano), $3.99
Grimm Fairy Tales Presents Robyn Hood #7 (Cover B Tony Brescini), $3.99
Grimm Fairy Tales Presents Robyn Hood #7 (Cover C Jason Metcalf), $3.99
Grimm Fairy Tales Presents Robyn Hood #7 (Cover D Alex Kotkin), $3.99
Grimm Fairy Tales Presents Tales Of Terror #8 (Cover A Richard Ortiz), $3.99
Grimm Fairy Tales Presents Tales Of Terror #8 (Cover B Marat Mychaels), $3.99
Grimm Fairy Tales Presents Tales Of Terror #8 (Cover C Eric J), $3.99