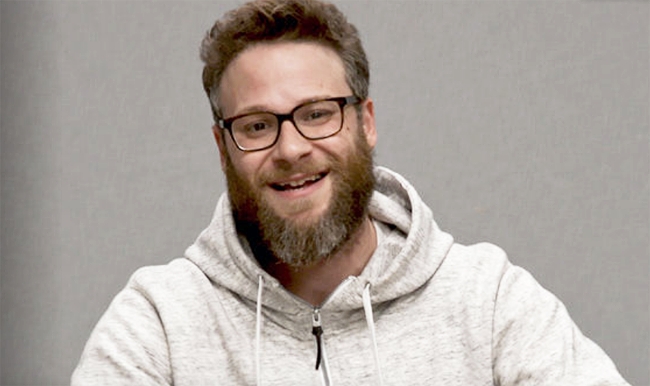 2018's April Fool's Day might be the oddest one in recent memory. Not only is it once again on a Sunday for the first time since 2012, that Sunday also happens to be Easter. We won't get another double "holiday" like this until 2029, but it remains to be seen how brands will handle the strange combo. Netflix's option was to bring in Seth Rogen and couple it with his upcoming charity special that premieres on the platform April 6th. Hilarity For Charity is hosted by Rogen and his wife, Lauren Miller Rogen, features a selection of comedic talents coming together to raise money for Alzheimer's in a variety show over the past four years.
The sixth annual variety show is the focus of the Netflix special, featuring Tiffany Haddish, Kumail Nanjiani, Sarah Silverman, Nick Kroll, Sacha Baron Cohen, Michelle Wolf, John Mulaney, Jeff Goldblum, Michael Che, and more according to Deadline. The April Fool's stunt is just a fun way to promote the event and the good cause, all while poking fun at Rogen and his career, describing him as a "world-renowned Canadian person, prolific marijuana-doer, and winner of the 2015 MTV Movie Award for "Best Kiss."
The press release for the prank is heavy with jokes, including one about Zack And Miri Make A Porno that might make you think it isn't as beloved as you'd hope according to Variety:
"I have known Seth for many years" said senior Netflix Development Executive Jareth Chumley. "After a wrap party in late 2017, Seth approached me and said something like 'Jesus Fucking Christ Jarbear, I would sell my soul for a fuckin enchilada right now.' And so basically that was how the idea was born. In the end we settled on a price a little higher than a standard Chili's To-Go entree, but I'll be damned, not by that much."

"As a general rule, I don't really 'read' anything before I sign it," replied Rogen when asked about the deal, spilling some beer on his own head as he does the finger-symbol equivalent of air quotes. "That's what Danny is for, he handles that for me, mostly," gesturing toward an elderly man in a poncho sleeping on the couch behind him. "Hey Danny!" he shouts, unable to wake his senior contract advisor. "I really hope he didn't fuck this up. He's the reason that Zach and Miri Make a Porno exists."
There are also plenty of jokes about Rogen's career tossed in, including his string of awards "wins" and his Hollywood friends:
Seth P. Rogen is the celebrated writer / actor / director of such highly acclaimed films as Superbad, Pineapple Express and Sausage Party – one of the first films ever to anthropomorphize various kinds of processed meat products. He can regularly be found rubbing elbows with entertainment's elite, ranging from auteur Tommy Wiseau to famed actor James Franco, famed actor James Franco's brother, and famed actor James Franco's mom.

Rogen was first discovered by acclaimed producer and director Judd Apatow for his television series Freaks and Geeks, an interaction Seth insists he does not remember. He is also the winner of many, many awards, such as the MTV Movie Award for "Best Jawdropper," and has been nominated for even more, including a 2008 Blimp Award, a 2009 Teen Choice Award for "Worst Beard", and a bunch of Canadian Awards that aren't on the web yet because of Canada's well-publicized internet shortage. He is often lauded in Hollywood circles for his fancy "Blunts and Jizz Jokes" cocktail parties, and is regularly featured on the popular website "Twitter."
You can check out the full press release over at Variety and enjoy a six-minute short about the acquisition over at Netflix. At this point, we can't be far off from this becoming a reality and replacing the old studio system. Directors and actors will be getting baseball contracts to sell their entire being to Netflix and Hulu, leading to some sort of Seinfeld-vision when viewers can insert their favorite talents into any show they please.