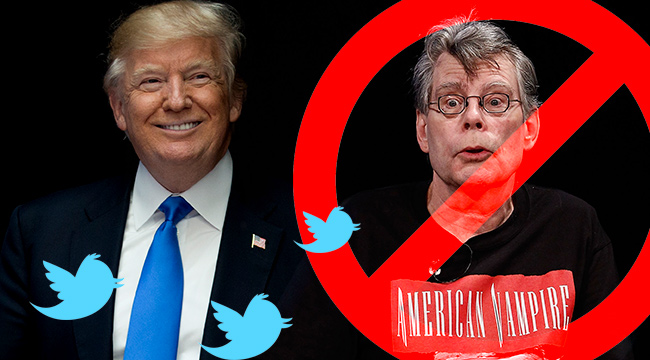 The first line of one of Stephen King's most famous novels, The Shining, reads, "Jack Torrance thought: Officious little prick." That's also what Donald Trump thinks of Stephen King and J.K. Rowling, and Stephen King and J.K. Rowling think of Donald Trump. No one let the three of them stay in the same hotel.
Earlier this week, King informed his millions of Twitter followers that the president "blocked me from reading his tweets. I may have to kill myself." (This was after the Firestarter novelist called Trump an "idiotic president," and asked "Can we have Obama back?") The King of Horror will still be able to keep up with Trump's typos and out-right lies, though, thanks to Harry Potter author J.K. Rowling, who offered, "I still have access. I'll DM them to you."
She kept her promise, and made it public.
After Trump tweeted, "They made up a phony collusion with the Russians story, found zero proof, so now they go for obstruction of justice on the phony story. Nice" (he says that every time he notices the "6" and "9" on his phone), Rowling wrote to King, "On a sliding scale of Annie Wilkes to Cujo, what level of delusion do you reckon we're at today?" King has yet to respond, probably because he's still so sad about the president blocking him. He's licking his wounds with VoteVets.org, Star Trek: The Next Generation actress Marina Sirtis, and Honest Trailers creator Andy Signore, among many others.