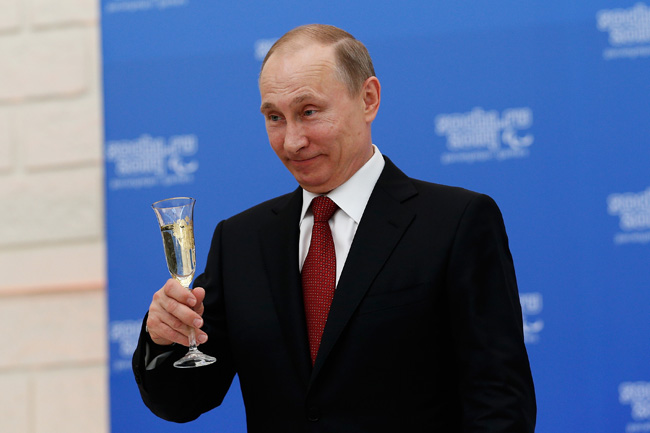 Valiant's Divinity miniseries was an old-school bit of trippy comic-book weirdness. A former Soviet cosmonaut, Abram Adams, was accidentally sent beyond the bounds of reality and returned with godlike power. Ultimately, it ended by pointing out godlike power doesn't mean you're unrestrained by morals, and Divinity voluntarily stepped away from his plan to remake the Earth more to his liking.
Of course, no superhero ever gets a vacation, and Abram has a new problem to deal with: Miska, his copilot. Unlike Abram, she's still very much a believer in the old-school Soviet ideology, and apparently, she'll be recruiting none other than Vladimir Putin to help her bring back that good ol' Cold War. Yes, Putin is finally achieving his seeming life-long goal of being a comic book supervillain, or at least the sidekick to one, in Divinity II.
Valiant comics, especially recently, have a taste for geopolitics. In Imperium, Joshua Dysart is currently exploring the idea of an all-powerful supervillain building a nation from scratch in an attempt to define the future of humanity, while currently in X-O Manowar, Robert Venditti is exploring some fascinating ideas by having alien refugees crash on Earth and putting X-O Manowar in the middle of a conflict that is as much about diplomacy as it is about warfare. And Matt Kindt, the writer behind Divinity, is no stranger to espionage and diplomatic thrillers, but still, this is an unusual touch for Valiant and comic books in general.
That said, it's not particularly out of line for Putin, either. Russia has shown a desire to be more prevalent on the world stage and to "accept" the return of its former satellites back into its bosom, or possibly Putin just really enjoys Bond movies, if recent allegations are true. And if Putin is unhappy with how he's depicted in the comic, he should just remember it could always be worse. We'll find out just what he has to say to a Soviet god April 20.
(Via The New York Daily News)