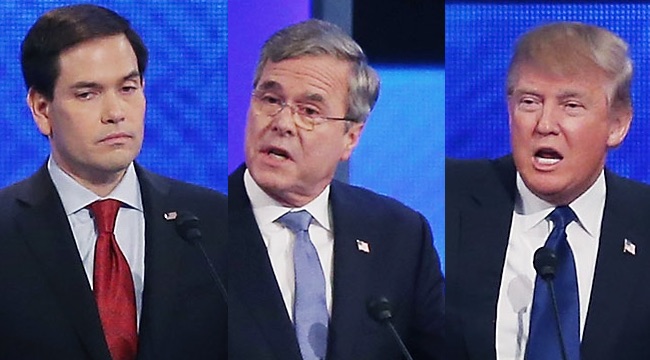 Ahead of the New Hampshire primaries, the seven surviving GOP presidential candidates — Donald Trump, Ted Cruz, Marco Rubio, Jeb Bush, Ben Carson, Chris Christie, and John Kasich — took the stage on ABC. The evening didn't start well when the men couldn't properly walk onstage, and one of the better (if discounted) moments happened when Ted Cruz issued a slimy apology for covertly sucking up Ben Carson's Iowa votes. Things got pretty real with a bizarre discussion of favorite torture methods, but the most central theme of this debate revolved around inner-party takedowns.
Mostly, the top three (Trump, Cruz, and Rubio) tried to maintain while three others (Bush, Carson, and Christie) tried to yank them down. All the while, poor Kasich kept assuring the audience that he felt honored to be included. Kasich has been lobbying hard in New Hampshire, which has been his main focus and has rewarded him with a 13% poll rating going into the Saturday night circus. He may have kept that percentage, but we'll see what happens. In the meantime, here are the biggest takedowns from this debate.

Donald Trump vs. Jeb Bush
Trump engaged in a strange discussion with himself over property rights. In doing so, he used the term "eminent domain" several times, which was his way of asserting private interests for public use as an "absolute necessity" for government infrastructure. After several moments of Trump explaining first-year level law student fare, Zombie Bush had enough. Trump attempted to tie in the privately built Keystone pipeline to illustrate public use, but Bush pointed out how Trump took an elderly woman's Las Vegas property and turned it into a "limousine parking lot," which is not public use.
Trump belittled Bush by saying, "Jeb wants to be a tough guy tonight." He progressed to shushing his rival: "Let me talk. Quiet." The audience audibly expressed displeasure, and Trump reacted by telling everyone how rich he is: "The reason they're not loving me … They're booing because I don't want their money." Trump then accused the audience of being full of Bush's special-interest donors.
Jeb's expression was the greatest possible take from this exchange.
Chris Christie vs. Marco Rubio
The governor of New Jersey apparently sees Rubio as his greatest rival, which may have been a smart tactic if taken by Cruz and Trump. Instead, this debate saw a major altercation between Rubio and Christie, who believes that electing a first-term senator into office (again, as with Barack Obama) would be a huge mistake. Christie previously gave a "fool me twice" sort of speech, and now, Christie lectures Rubio on his lack of experience in making consequential decisions.
Rubio responded, "I think experience is not just what you did but how it worked out." This was a pointed takedown of Christie's governorship, and then Rubio moved onto Christie's recent snowstorm tantrum. (Christie chose to spend time in New Hampshire while telling an attendee that he wasn't going to "mop" up his state.) Rubio pointed out, "You didn't even go back. They had to shame you into going back, and then you stayed there for 36 hours." Kid has a point, but not for long.

Marco Rubio vs. Marco Rubio
After Christie had his way with Rubio, Bush piled on by calling Rubio a "gifted politician," but he warned away from placing trust in mere "eloquence." Bush was speaking of Obama while trashing Rubio, which was pretty crafty for a Bush playbook method. There's something to this criticism. Rubio is generally unflappable, but he may have felt overconfident after his Iowa surge.
Rubio didn't prepare well enough for this New Hampshire debate, so he kept repeating himself. This allowed Christie to criticize Rubio's "canned" rhetoric: "The drive-by shot at the beginning with incorrect and incomplete information and then the memorized 25-second speech that is exactly what his advisers gave him." Was Christie out of line? As Think Progress points out, Rubio sounded like a broken record in these three segments:
Rubio simply must fuel up and add a few more speech writers to his repertoire before next weekend's CBS debate.
All Candidates vs. The Middle East
In this instance, the candidates tried to demonstrate wartime prowess but, again, aimed at each other. We already watched the bizarre discussion of preferred torture methods by the GOP candidates. Trump also engaged in a spirited speech about how the Middle East could be tamed if we "bomb the oil and take the oil." Trump said that seizing funds should be a secondary attack method, for "nobody knows banking better than I do." Together, these two elements will help the U.S. defeat enemies because "between the oil and the banking, you will dry them up." To all of this, Carson wryly added his take while saying he's "not just here to add beauty to the stage." Carson was a massive shademaster all evening, and this issue was no exception.
This video clip begins with Cruz discussing his famous "carpet bombing ISIS" platform under the guise of this question: "What does 'overwhelming U.S. Force' against ISIS look like?" Cruz explained how the "overwhelming airpower" of the U.S. is a "blessing," and his desire to carpet bomb is "not indiscriminate." Cruz does, however, want to take out the infrastructure, communications, and bridges in Raqqa. He's also not a fan of the "jihadist university" that must be crushed. Meanwhile, Rubio spoke of ISIS as an "apocalyptic group." Much later in the debate, Christie claims that he "stood on the front lines" against terrorists after 9/11.
The GOP vs. The NFL
This subject didn't see a coordinated attack, but let's be honest. These guys still ended up pointing fingers while answering a lighthearted question about Super Bowl 50. The moderators asked the candidates to choose sides, and Kasich and Trump both went for the Carolina Panthers. Bush admitted to rooting for the Denver Broncos, but he's only doing so because Peyton Manning likes him. This caused Rubio to flip flop — which is something he does on important issues — and root for the Panthers. Christie stuck with the Broncos, Cruz didn't know what to say, and Carson went diplomatic by saying one of the two teams will win. The GOP does not do football well, and they don't even care enough to pretend.