What is climate justice?
Climate change is the issue of our era. As we wrote previously, "climate change is directly affecting migration patterns; a vast number of environmental disasters directly impact people of color and poor people in the U.S.; and you can't talk about health care without talking about how climate change is going to worsen health outcomes for many Americans." According to the U.N., "The impacts of climate change will not be borne equally or fairly, between rich and poor, women and men, and older and younger generations."
This is where climate justice comes in. It is, first and foremost, a framework. It's a means of understanding the impact human-caused climate change is having on the world: that climate change is not just a vacuum-sealed matter of ecology and the environment, of melting ice caps and polar bears struggling to survive in far-flung places, but a political and social issue that has and will affect everyone, but especially those most economically and politically vulnerable.
When you look at the effects climate change is having on hurricanes, for instance, using a climate justice framework acknowledges that these ever-more disastrous storms are having an outsized impact on poor communities. Take 2017's Hurricane Maria, for example. Puerto Rico was ravaged by the storm, and many people living in the interior are still using tarps instead of roofs and struggling to rebuild, while areas with more money are well on their way to recovery.
Climate justice is also a call for equitable and radical change that holds powerful polluters accountable and protects vulnerable nations and people from the worst consequences. Taking Maria as an example yet again, were the U.S. government to use a climate justice framework to develop policies, they would have provided more disaster relief funding — and provided more funding to rebuild infrastructure in order to prevent future disaster on the same scale.
Who are the young activists fighting for climate justice?
Fiery speech by Thunberg aside, the U.N. Climate Action Summit left youth activists wanting more. According to VICE, one 19-year-old attendee who helped organize the New York climate strike said, "We had a useful discussion, just not through the U.N. And nothing here produced anything tangible that could be handed to our world leaders on Monday from the youth movement."
The climate justice movement is, above all else, youth-led and action-oriented. Here are just a few faces leading the charge.
Greta Thunberg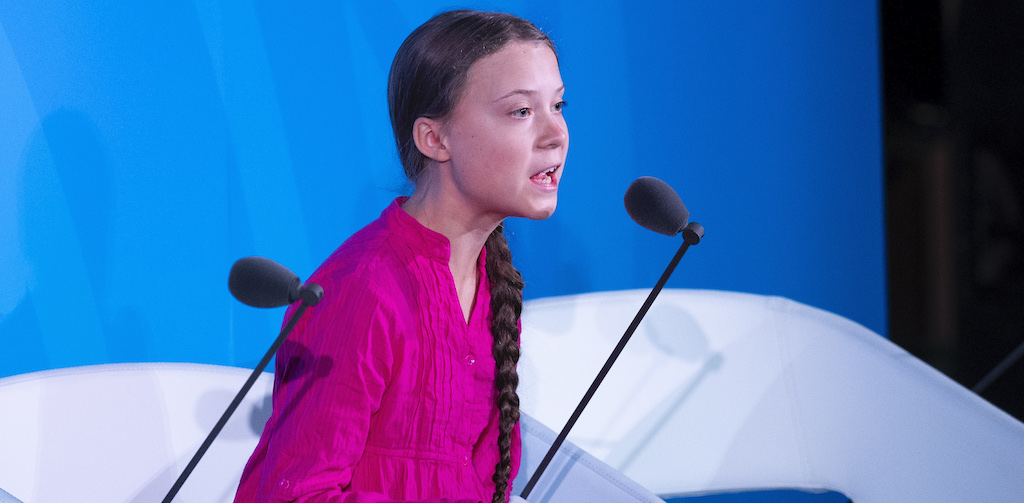 There's a reason Thunberg has become, in many ways, the face of the youth-led climate justice movement. In August 2018, she started a one-person protest on the Swedish Parliament steps in Stockholm, standing for three weeks with a sign demanding action. Her action inspired a global strike last March in which more than 1.4 million people participated, and during a climate summit in Poland in December 2018, she said, "I don't care about being popular. I care about climate justice and the living planet."