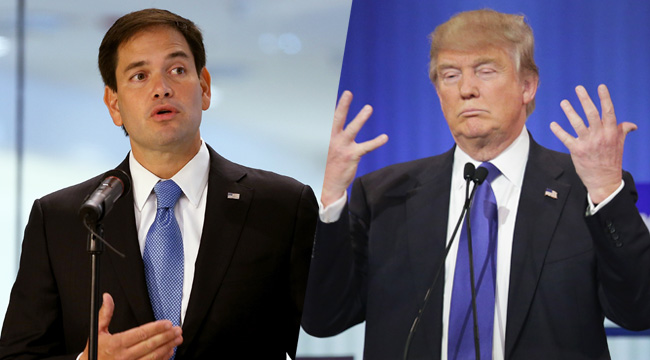 Marco Rubio's steadily reaching the "acceptance" stage after his dramatic withdrawal from the presidential race and a final kick in the water jugs from Trump. The Florida senator stayed quiet for awhile, surfacing only to address his unbound delegates, but nothing could stop Trump's arrival at the magic 1,237 number last week. Towards the end of Rubio's bid, he grew visibly disturbed by the thought of nominee Trump, but he's coming around to what can no longer be avoided. He surfaced a week ago with a spunky Twitter rant, which addressed the silliness of all those Vice Presidential rumors. Indeed, it's hard to imagine Trump selecting "Little Marco" or for Rubio to agree to such an arrangement. He's begrudgingly supporting Trump as the nominee, but that gotta be as far as it goes for this pair.
What is happening, however, is that Rubio is starting to stick his feet into the possibility of running for Senate reelection. He previously expressed the desire to become a private citizen at the end of this year, but Republicans are nervous about losing their narrow Senate majority, so they're urging him to stay. Even Trump publicly encouraged the same last week. And now Rubio is publicly apologizing to Trump for making fun of his "small hands." Actually, that's not entirely accurate. Rubio's revealing that he already apologized to Trump, almost immediately after the comment happened. This revelation landed on Jake Tapper's lap during a Sunday morning visit to CNN:
"I actually told Donald — one of the debates, I forget which one — I apologized to him for that. I said, 'You know, I'm sorry that I said that. It's not who I am and I shouldn't have done it.' I didn't say it in front of the cameras, I didn't want any political benefit."
Rubio also admitted falling into Chris Christie's trap at the Houston debate, and the mess devolved into Rubio going full robot with canned rhetoric. The Florida senator insists that he's learned memorable lessons throughout the past year, and he'll use them for the future. Rubio pays lip service to possibly using his newfound negotiating knowledge in the business world, but surely, he's got other designs. Whether the crystal ball reveals a future presidential run (likely), a continued Senate bid (possibly imminent), or a spelling bee moderator (why not?), only Rubio knows what he's doing right now.

Here's that Sate of the Union clip featuring Rubio with Tapper.