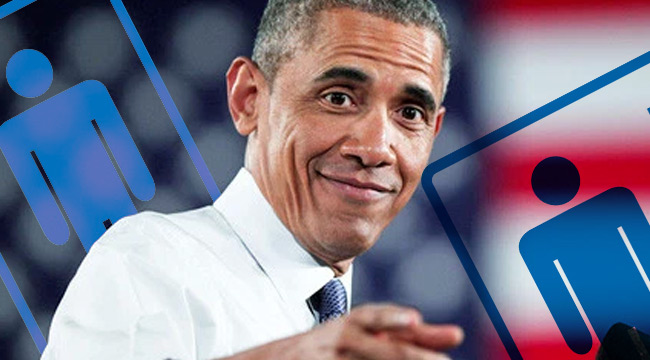 On Friday morning, the Obama administration made good on their promise to send a directive to all public schools, which must now allow transgender students to use the bathroom of their choice. The New York Times forecast the instructions as a "sweeping directive," which doesn't carry the power of the law. Rather, this is an interpretation of Title IX of the United States Education Amendments of 1972. Schools are free to defy the entire directive, but they risk the loss of federal funding and could gain lawsuits from transgender students and their families.
This federal move is a direct response to the tidal wave of anti-LGBT bathroom bills. About 20 states — as part of a vast project from Liberty Counsel — have either put laws into place or are in various stages of doing so. This group consists of representatives and attorneys in every state and is led by founder and chairman Mathew Staver. He represented Kim Davis in her fight to stop issuing marriage licenses to LGBT couples in Rowan County, Kentucky. So, it's no surprise that the Liberty Counsel took up the related cause of banning transgender people from the bathroom of their choice.
Much of the action with these bathroom bills falls into North Carolina. Gov. Pat McCrory and the federal government now hold dueling lawsuits, which arrived after the feds declared that House Bill 2 violates Title IX of the Civil Rights Act. In addition, a Virginia school received word of their discriminatory transgender bathroom practices. Obama's directive seeks to nip all these instances in the bud and applies to public schools in all fifty states.

What The Obama Administration's Directive does
One important distinction with this directive is that it isn't law, nor is it an executive order that bypasses Congress. Such a move would create a firestorm that eclipses what we're already seeing. Obama's tally of executive orders does not outnumber those of his predecessors dating back to Jimmy Carter with the exception of George H.W. Bush. However, Obama's use of the tool generally gets noticed, especially in his last year of office where he's been accused of overreaching (with a gun-control plan and a veto on the Affordable Health Care Act repeal). However, his administration's chosen method for this bathroom-rights directive could be as powerful as an executive order because — ultimately — money is at stake.
The U.S. Departments of Justice and Education framed the directive as a "Dear Colleagues" letter, which runs about eight pages long (including extensive footnotes to Title IX). The letter stresses the prohibition of sex discrimination in any school that receives federal funding. It also provides "significant guidance" for compliance with Title IX. In its simplest terms, the letter states, "a school must not treat a transgender student differently from the way it treats other students of the same gender identity." The only requirement for trans students to activate this directive is to have their parents communicate with the school about their children's gender identity. No medical proof is required to protect against sex discrimination.
Overall, the letter aims to create a "safe and nondiscriminatory environment" for transgender students. This includes requirements for extracurricular activities, privacy concerns, use of sex-segregated locker rooms, and the use of pronouns that align with a student's gender identity. The directive functions as an implicit threat for school districts who choose not to comply with these guidelines, and time will tell whether districts will take that gamble under these twin excuses: (1) Religious liberty; and (2) Protecting children from predators.

Texas Is Already Rebelling
Ahead of the directive's release, Governor Greg Abbott of Texas campaigned on Thursday at the Texas GOP Convention. He specifically addressed HB2 and vowed to support similar bathroom bills: "I am working with the Governor of North Carolina and we are going to fight back." He told ABC 13 in Houston that he finds the need for this debate to be ridiculous. Yet he insists the same fight is necessary "to protect the women of Texas." Abbott believes this issue should rise to the top of his state's GOP priorities, and he appears intent upon zeroing in on transgender people.
Abbott's also pretty tight with Texas Senator Ted Cruz, who entered the tail leg of his presidential campaign by saying transgender people should use their home restrooms. Cruz believes trans individuals should forget about peeing in public, especially "when there are children involved, you don't have a right to impose your lifestyle on others."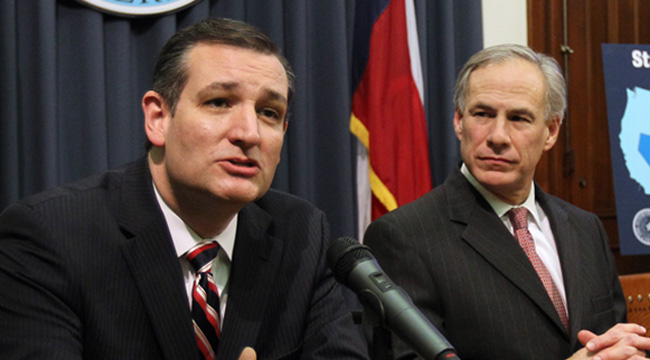 After Obama's directive landed on Friday, Abbott announced that Texas "is fighting this. Obama can't rewrite the Civil Rights Act."
Likewise, Texas Lt. Gov. Dan Patrick told NBC 5 in Fort Worth, "This will be the beginning of the end of the public school system as we know it." And Fort Worth Independent School District spoke to 12 News with more drama:
"[Obama] ain't my President and he can't tell me what to do. That letter is going straight to the paper shredder. I have 5 daughters myself and I have 2,500 girls in my protection. Their moms and dads expect me to protect them. And that is what I am going to do. Now I don't want them bullied… but there are accommodations that can be made short of this. He is destroying the very fiber of this country. He is not a leader. He is a failure."
The policymakers and politicians in Texas are raising hell, but what will come of every other state?

The Battle Of Wills Has Only Just Begun
Portions of Indiana are also bubbling up with rebellion. Superintendent Zach Rozelle of College Corner Joint School District in Liberty, Indiana has condemned the Obama administration's move as an example of federal overreaching:
"Another example of government [and] politicians using the public schools to promote their own political agenda – little to no regard for the real impact on the right to privacy … security for all children."
Rozelle (like proponents of the bathroom bills) believes that the government tramples on the rights of others while catering to transgender people. Yet these critics engage in the same practice that they condemn by infringing upon others' rights under the guise of "protection" and religious freedom. This vicious cycle likely sees no resolution in the near future, if ever.
Obama's directive aims towards long-term resolution. Bathroom bills keep popping up in various states, and this letter addresses all public schools in a speedy fashion. He's also allowing schools the freedom of choosing to defy the guidelines. One small slice of common sense would inform anyone that any crime committed anywhere — including a bathroom — should be taken seriously. However, those in favor of bathroom bills and discriminatory practices in schools are blaming an entire community of people. Transgender people also want safe bathrooms, and they don't deserve the fingers being pointed in their direction.
(Via New York Times, Justice.gov, ABC 13 Houston & Fox 59 Indianapolis)