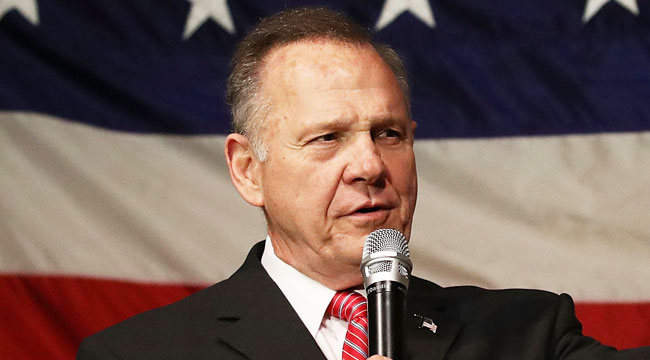 Roy Moore still hasn't conceded to Doug Jones after the Alabama special election was shook up by revelations that Moore might have a history of forcing himself on teenage girls. But according to Alabama's secretary of state, his chances of even getting a recount, much less actually snaking the victory back from Jones, are about as good as a snowball during a Birmingham summer. Now all the numbers have been crunched, and the math is not on Roy Moore's side.
Doug Jones beat Moore by 20,715 votes, or roughly the population of Selma, Alabama. According to the Secretary of State, 485 overseas ballots and 4,967 provisional ballots were received, adding up to just 5,452 additional votes. Even if all of those voters chose Moore, it wouldn't be enough to tip the balance in the Republican's favor. In fact, the numbers don't even add up to a recount — Moore would need the be within .5% of Jones to trigger that, and right now the difference is 1.5 points. The only way a recount could take place is if Moore wants to pay for it out of his own pocket, and Moore hasn't made any indication he'd take the route of a recount on his own nickel.
Instead, he seems more focused on throwing money at supposed voter fraud, taking a page from Trump's own playbook after losing the popular vote to Hillary Clinton last year and stepping into the Oval Office via the electoral college. Moore isn't the only one who isn't giving up, by the way. His accusers are refusing to back down and still want to seek justice for the alleged sexual misconduct they say Moore inflicted on them as teenagers. So while Moore continues to wait for divine intervention, it seems his lawyers will be busy with the fallout.
(Via Alabama.gov & Washington Examiner)