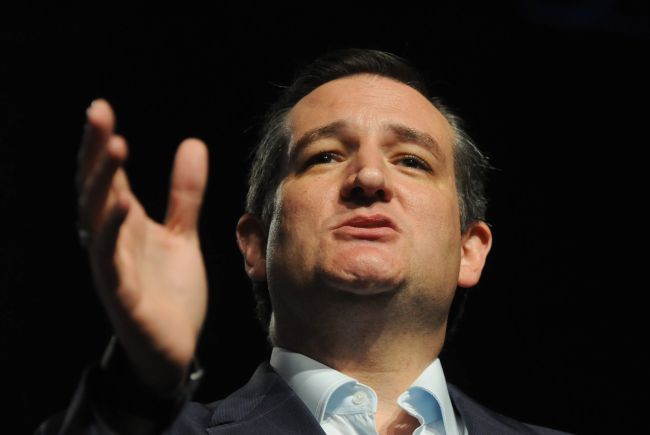 Have you ever watched Republican presidential candidate Ted Cruz speak and thought, "God, what a supremely loathsome shItbird, an arrogant, slimy snake-oil salesman of a politician, the type of politician I would definitely not like to have a beer with." Well, if so, your instincts appear to be correct! A number of pieces have been written about how almost everyone who knows Ted Cruz thinks he's a terrible human being. The stories are both hilarious and alarming, considering Cruz seems to be rising steadily in the polls (though Donald Trump still holds commanding leads in all of them).
In 2013 the Daily Beast spoke to a number of people Cruz went to college with at Princeton, including Craig Mazin, Cruz's former college roommate. About Cruz, Mazin said, "We should be afraid that someone like that has power…I would rather have anybody else be the president of the United States. Anyone. I would rather pick somebody from the phone book."
Earlier this week New York Times columnist Frank Bruni detailed some of the Cruz hate he's caught wind of, most interestingly by members of his own party who've worked with him in Washington.
So does Cruz's experience in the policy shop of George W. Bush's 2000 presidential campaign. After Bush took office, other full-time advisers got plum jobs in the White House. Cruz was sent packing to the Siberia of the Federal Trade Commission.

The political strategist Matthew Dowd, who worked for Bush back then, tweeted that "if truth serum was given to the staff of the 2000 Bush campaign," an enormous percentage of them "would vote for Trump over Cruz."

Another Bush 2000 alumnus said to me: "Why do people take such an instant dislike to Ted Cruz? It just saves time."

…

Asked about Cruz at a fund-raiser last spring, John Boehner responded by raising a lone finger — the middle one.
Also this week Politico ran a story about how Cruz's GOP colleagues in the Senate are scrambling to support Marco Rubio. Why? Because they all hate Ted Cruz.
The movement toward Rubio appears to be as much about anxiety over the possibility of Cruz going up against Hillary Clinton as it is affection for the Florida senator. The idea of Cruz as the nominee is enough to send shudders down the spines of most Senate Republicans.
And last night the Daily Show, in addition to having some fun with that Ted Cruz raw footage, did a segment on people hating Ted Cruz which included a great clip of Mazin, a screenwriter, talking about his former college roommate on a podcast.
Here's the full segment…
[protected-iframe id="73d66bd90e11eecd0a01ee9d4b3e456e-60970621-60429128″ info="http://media.mtvnservices.com/embed/mgid:arc:video:comedycentral.com:e2f6f9a8-8a8f-45ef-a193-6b2fed94eea2″ width="650″ height="400″ frameborder="0″]
To summarize: Ted Cruz appears to be exactly the staggering asshole you thought he was.