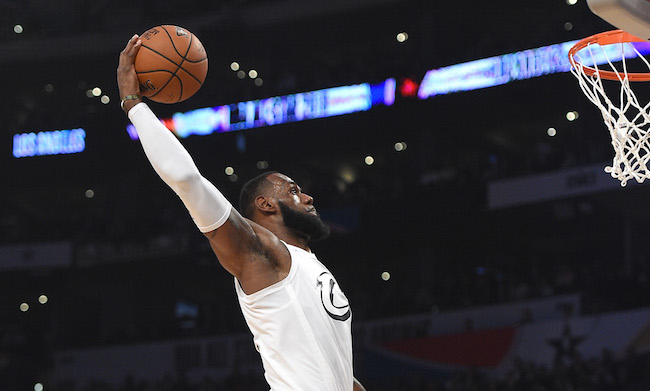 The first year of the NBA All-Star draft process has to be considered a success, although there are still improvements that could be made like televising the draft, as Team LeBron topped Team Steph 148-145 in the most competitive All-Star Game in recent memory.
Team Steph looked like it would run away for a brief moment in the first half, but a late rally before halftime made it a two-point game at the break. In the second half, it was more of the same, as Team Steph jumped ahead by double digits before LeBron's squad rallied back to make things interesting again late.
The game still featured plenty of highlights and good old fashioned All-Star chucking, but it was clear that the two teams cared more and wanted to put forth a better effort on both ends. The play of the night may have been Victor Oladipo's reverse dunk in transition in the third quarter off of a steal.

The game got tightened to a tie game in the fourth and both squads traded buckets down the stretch and played actual defense as things felt like a legitimate basketball game for the first time in years. LeBron James starred for his team in an MVP-winning performance, dropping a near triple-double with 29 points, 10 rebounds andeight assists, and it was clear late that his chemistry with Kyrie Irving is still there.
Kyrie was rather ridiculous late, with a few incredible drives to the rim and passes during the Team LeBron comeback effort.

For Team Steph, it was Damian Lillard that lit it up from downtown to help extend their lead in the early fourth quarter.
Joel Embiid also had a big night for Team Steph with 19 points, eight boards and four blocks, including quite the first half sequence against his nemesis Russell Westbrook.

The game was tied at 144-144 with a minute to play and both teams made some defensive stands, like this late Embiid block on Paul George.
DeMar DeRozan split a pair of free throws to put Team Steph up one with 40.2 to play, giving him 21 points for the game. Team LeBron quickly took the lead back with some great ball movement from Russ, Irving and LeBron, who finished a layup in traffic to take a one point lead. Team Steph had two chances to go back ahead, but a missed Harden three and a turnover on a pass by DeRozan gave it back to Team LeBron.
Westbrook then darted down the court for a layup and Team Steph failed to get a shot off before the buzzer as LeBron's squad locked down on Curry in the corner for the 148-145 win. Afterwards, Westbrook confirmed that there was a different vibe and that the guys wanted to win way more.
LeBron said this year "had a real game feel to it," and that it "starts with us" to determine whether the All-Star Game is competitive. The draft worked and upped the pride level in the game. Now, the last thing to do to perfect this model is to televise the draft and let us see how the teams are built.