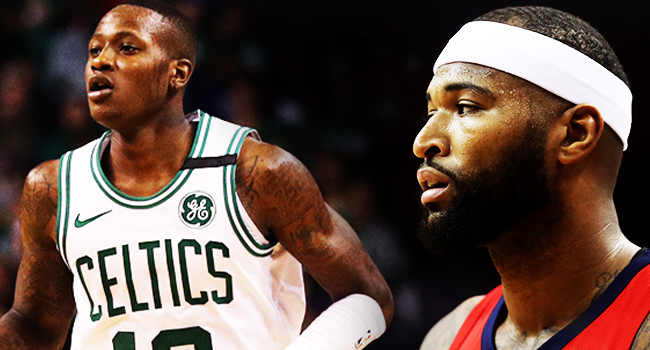 The NBA is the coolest sports league in the world. We decided that, in an attempt to contextualize the coolness, we'd ask our pal and noted Weird Celtics Twitter member @HebertOfRiffs to come discuss the concept of cool. We swear, this piece has been edited.
Occasionally in my life as a Scholar of Coolness, something will come across my timeline on Twitter that is genuinely upsetting to me, forcing me to become uncharacteristically Mad Online. Most recently it was a SLAM Magazine article proclaiming Klaythompson to be the coolest player in the league. SLAM is usually very good, but to me, this was an outrage and an assertion grounded in spurious scholarship.
https://twitter.com/HebertofRiffs/status/976641510430199808
To me, Coolness is defined by your demeanor, your deeds and your reactions to rarefied situations where it may be revealed that you are a Turd. Often, the Cool NBA Player has situational indicators that are identifiable to any educated evaluator. These players often possess a style of play which can be described as Funky. They often do not take mess from players they perceive to be Nerds. They have a natural feel for style and wearing Shades and manage to not dress like a Dictator who assumed power through a military coup or a Pained Magician
It occurs to me that the act of assessing a players Coolness is abstract to a developing analyst. For me, it is much easier to communicate this process to the reader by putting forth an evaluation. As such, I have decided to go about picking the Coolest NBA Players from the remaining playoff teams and breaking them down by displaying "The Riff," or the corresponding lyric or groove which best captures their essence, followed by an analysis of what makes them Cool. Here are my selections.

Houston Rockets: Geraldgreen
"Spaceships don't come equipped with rearview mirrors
They dip as quick as they can
The atmosphere is now ripped
I'm so like a Pip, I'm glad its night
So the light from the sun would not burn me on my bum
When I shoot the moon high, jump the broom
Like a premier out the womb
My partner yellin' "Too soon! Don't do it! Reconsider!
Read some literature on the subject
You sure? F*** it" — Big BoifromUGKbigboiandrethreethousand track International Players Anthem, alternatively known as The American National Anthem Whenever America Decides To Stop Being Uncool And Throws Francisscottkey Trash Boat Song In The Trash
Now, Geraldgreen might not be the best player on the team or in the NBA, but that doesn't matter. In fact, in most instances being Good at a star level makes you Uncool. Look at his teammate Chrispaul. Some things just aren't worth it

Not fulfilling your potential is one of the coolest things to do. Why read the pick and roll when you can jump Insanely High on Dunks? Who wants to work at defense when you can blow out a cupcakes candles while the cupcake is resting on the rim? Basically just Chrispaul.
Gerald may not have been an Allstar or a decorated champion, but who cares. He was a man who had hot chocolate delivered to him during many Celtics games last year, he can take whatever shot he wants because his coach Mike-Dan Tony is also Insanely Cool, he's gotten paid without having to really deal with any sort of media pressure that takes the joy out of your life to where you have burner accounts on Twitter to slander Cool Pointguards, he executed a full on siege of the Clippers locker room within a day of being on his hometown team, and even has the logo of his hometown Rockets braided into his hair. You can have your stars with "max contracts" and "achievements" and all the other accolades won in the Victories of Soundrels. I'd rather hang out with this guy.
Boston Celtics: Terryrozier
"Super Stupid bought a five cent bag
Thought it was coke but it was skag
Super Stupid took a one and one
Then his eyes began to book nose started to run" — FunkadelicGeorgeclintonandotherVariousFunkmen
In the popular movie Pulpfiction, the character Miawallace finds herself ignorantly mistaking two vastly different, uhh stuffsandthings, in a moment of reckless grandiosity and out of an unfounded sense of invulnerability, only to wake up disasterously in a random strangers home covered in sweat and puke, not knowing what the hell happened. The basketball equivalent of this scenario played itself out the last two weeks in Bucks-Celtics, when Ericbledsoe made the grave mistake of identifying Terryrozier as a nobody when actually he is the Coolest Celtic.
Now, Bledsoe is not the first person to miscalculate who and what Terryrozier is. When the Celtics took Rozier 16th after striking out on star acquisitions, the pick was universally panned and mocked. When DannyaingefromDeals refused to include him in trades for players perceived to be far more valuable in the present and longterm, Rozier Trade Jokes became go-to's for anyone online who was looking to Own Dannyainge. In Celtics Twitter, the constituents took to irony with regards to Terry to cope with it.
But like the lyric in SuperstupidfromFunkadelic and in the Miawallace adrenaline scene, many people found out the hard way that Rozier was in fact dope. Per Basketball-coolnessreference, Rozier is in the 98th percentile at Wearing Shades, leads the league in Posting and is shooting 69.420 percent on clutch threes. His true arrival on the national stage came in the first round of the playoffs, where he worked Ericbledsoe to such an extent that he became a meme and multiple TV analysts outright scolded Bledsoe. It was shocking to many, but anyone who knows about Being Cool saw this as a logical conclusion.
Coolness is all about transcending public perception, which is often dictated by The Least Cool Among Us, and ultimately owning them for it, while at the same time refusing to be consumed by the chip on your shoulder and maintaining your sense of humor. Terryrozier is a Master of the Form.
Toronto Raptors: Pascalsiakam
"I'm the one who's gotta die
When it's time for me to die
So let me live my life
The way I want to" — JimihendrixfromIf6was9(Nice)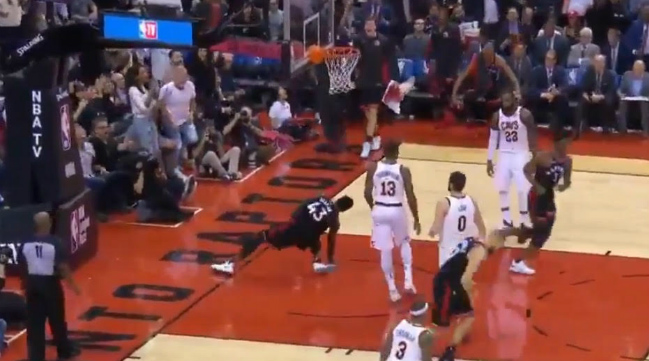 If you've watched the Raptors, you know that in past years they were Cold McDonalds, a term developed by Coolness Theorist Ice T fromBodycount. Cold McDonalds, as Dr. Ice describes it, is something that at first seems good but once it sits for a bit and cools down is Wack.

This season, the Raptors are not Cold McDonalds. They're a fresh batch of fries that managed to win its first game of the postseason and their whole series without having a Catastrophe. This is perhaps the best Raptors team ever and at the heart of their improvement is the bench. And the key of that, to me, is their coolest bench player, Pascalsiakam.
Siakam worked his way up from the G League, which is the NBA equivalent of being in a punk band when the form was still vital. And if anyone in the NBA plays the game in a fashion similar to that of the legendarily masochistic punk frontman, it's gotta be Pascal. There is a level of artistic freedom that can only be unlocked when you truly don't care whether you live or die. HE has at least four falls a game where it's a toss up as to whether or not his ligaments are going to explode.
Now, I know literally know zero about Siakam as a person because he's on the Raptors and no one really covers them or televises them, but I'm gonna make the executive decision and say that his life away from Basketball is Insanely Badass. Like he's lifting weights, riding choppers, lifting weights while riding choppers. All the good stuff. He's earned the benefit of the doubt by risking Life and Limb to be Cool at playing Basketball.
Cleveland Cavaliers: J.R. Smith
"I wasn't lookin' too good
But I was feelin' real well" — KeithrichardfromCigarettes in the song BeforetheymakemeRun
His resume speaks for itself:
Utah Jazz: Quinsnyder
"My little China Girl
You shouldn't mess with me
I'll ruin everything you are
I'll give you television
I'll give you eyes of blue
I'll give you men who want to rule the world" — IggypopdavidbowiefromFuntime
I know absolutely nothing about Quinsnyder I just don't want him to kill me.

Philadelphia 76ers: Joelembiid
"I go to parties sometimes until four
It's hard to leave when you can't find the door" — GoodJoewalshfromRiffsandnotBadjoewalshfromPoliticstwitter
Joelembiid probably has more fun in one day than the average uncool turd has in their entire life. He loves to eat, he loves Shirley Temples, he loves to call Hassanwhiteside "Ass," he loves Sports, he loves Videogames, he loves posting directly after a surgery comedown, he loves upgrading himself from 69 percent healthy to 81 percent just to make Jalenrose genuinely upset on live television. These are all empirically good things. No matter your opinion of the strategy that yielded this Sixers squad, we can all agree that the pursuit of Coolness is important and he's getting after it. Let this young man have a Real Cool Time, like IggypopfromStooges in the song Real Cool Time.
Golden State Warriors: Mychalthompson
Now if Klaythompson was Cool, which he isn't, the reason for it would be because of his proximity to Mychalthompson.
As such he is the Coolest Warrior, who makes active contributions to the team by Posting at an Elite Level of Efficiency and by watching Klays dog while on road trips.
New Orleans Pelicans: Boogie Cousins
"Fire on the Bayou
Down in New Orleans
Boogiecousin mom definitely
Legally named her son Boogie
And nothing starting with D
Or ending in emarcus
Kind of like Slash
The riffsmans worldview
Is hinging on this
Fire on the Bayou" — The Meters actual lyrics from the actual song Fireonthebayou
His mom was literally so Cool that she had the foresight to know that her Large Son would grow up to be Historically Cool, and as such she literally named him Boogie Cousins. It begins and ends there. As a lifelong Pelicans fan since 1969, I would like to thank Boogies mom for revolutionizing all of our lives and raising a Cool Young Man and definitely legally giving him the name Boogie, which definitely wouldn't shatter the hope in my life, where my frail concept of a Cool World would be deconstructed if I were to find out it wasn't true.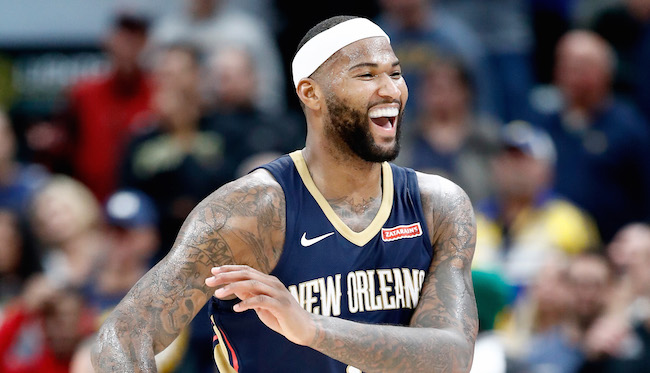 Now, those of you who managed to get through this without Having An Aneurysm should be able to analyze NBA Player Coolness so long as you remain objective in your evaluations and if you continue to listen to more Funkadelic and IggypopfromStooges. If you are interested in furthering your studies, I will be including a link to a Gofundme linked to the account of Definitely A University Official And Not A Callous Grifter, who will definitely eventually send you your materials lol.