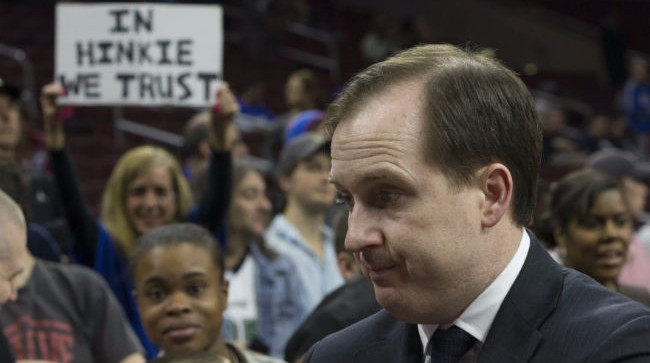 Sam Hinkie may or may not be taking his Process to Sacramento soon. Or maybe never. It depends on whether you believe Adrian Wojnarowski or the Kings.
Reports surfaced on Monday night that the Sacramento Kings reached out to Hinkie to join the team's front office. Both Marc Stein and Adrian Wojnarowski reported the team's interest in Hinkie, but Woj went the extra mile when the Kings released a statement saying they weren't interested by saying they were full of crap.
Wojnarowski doesn't flat-out say the Kings are liars, but he does say they're not telling the whole truth. With at least two different outlets reporting the same thing, it's clear they're looking for a new front office executive and seems pretty clear that looking at Hinkie is part of the … process. Sorry, sorry.
NBA Twitter replied to the tweet with the usual silly gifs and whatnot, but the overwhelming feeling was that Woj put on his best Ron Howard impersonation with the tweet.

Great minds and whatnot here.
Another Tweeter brought up a fair point: Sacramento said they weren't trading Boogie Cousins, either.

Some suggested that Woj was working a bit of a Jedi Mind Trick on the Kings front office, who will fall for just about anything at this point.
The saddest tweets, of course, came from Kings fans who trusted the reporter to say the right thing more than the people running their team.
Whether anything comes of the whispers it is yet to be seen, but it's fun to see a Woj bomb come with a healthy side of shade. This world has enough misinformation in it. We need our NBA reporters committed to the truth.