Bad As I Wanna Be was the title of Dennis Rodman's 1996 autobiography. A fitting caption for arguably the craziest, most talented rebounder the NBA has ever seen. Dennis the Menace was a distinctive individual on and off the court. His craziness wasn't just relegated to the dyed hair, the piercings, the cross-dressing, the Madonna dating, the Carmen Electra marrying or the copious amounts of partying he purportedly participated in both during and after a Hall-of-Fame NBA career.
No, Dennis is that unique flavor who defies description or category. A true renaissance man of zany who actually contains multitudes. Does he contradict himself? All the time, but Whitman would have loved Dennis Rodman, and the NBA world would be a lot more dreary and monotonous if he never blossomed before our eyes on Detroit's Auburn Hills court, then added his traveling carnival act to the second three-peat of Michael Jordan's reign.
Here's a look at just some of the wild things he's been a part of, both on and off the court…
He brought a shotgun to a Pistons practice. 
In February of 1993, Dennis Rodman showed up to the Detroit Pistons practice facility at the Palace of Auburn Hills with a shotgun. In his autobiography, The Worm said, "I killed the Dennis Rodman that had tried to conform to what everybody wanted him to be."
It's a sad story, and one that's entirely complete. Rumors swirled at the time that Rodman learned of a teammate sleeping with his wife, which ultimately led to the meltdown. The rumors, of course, were never confirmed, but Rodman was shipped out of town eight months later.

He sang "Happy Birthday" to one of the world's most ruthless dictators.
Dennis Rodman and Kim Jong-un, together at last, together as two.

In eight years, the cops were called more than 70 times to his Newport Beach home.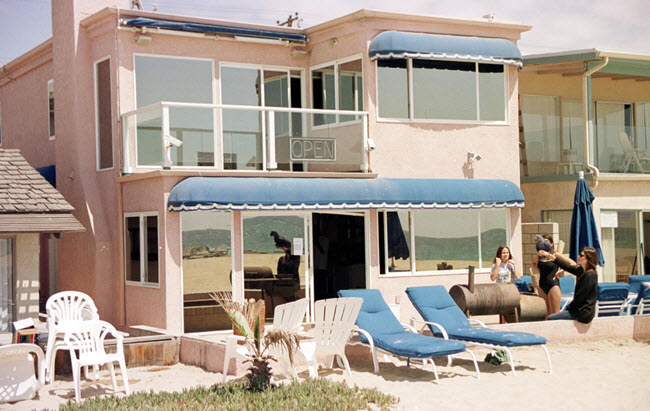 In 1996, Dennis Rodman purchased a house in Newport Beach, Calif. for $825,000. For the next eight years, Rodman threw party after party, often driving through the neighborhood with a "Humvee painted with naked women." Police were called to the house at least 70 times to break up parties, fights and to issue noise violations.
But things weren't all that bad, as one neighbor told the L.A. Times:
Divorce drama aside, neighbors near Rodman's beachfront home are divided over his departure. Some say they'll relish the expected peace and quiet, while others say they'll miss the distinctive flair of his neighborliness.