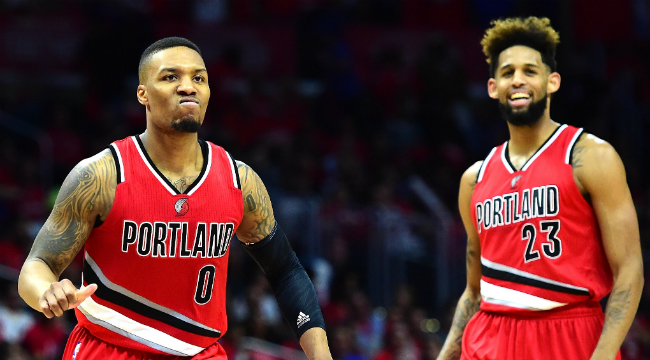 It looks like Allen Crabbe will be heading to Brooklyn next season, after the Nets signed him to a four-year, $75 million offer sheet that the Portland Trail Blazers will find very difficult to match.
Nearly $20 million per year is a ton for a player who's spent his first three years in the league as a reserve, but this is the salary-cap situation in which we live, and the Nets need to do everything in their power to get younger without the benefit of many draft picks. Even though Crabbe would have been a crucial rotation piece in Portland, taking a starting role and a huge contract is an eminently understandable decision — though not everyone sees it that way, apparently.
When the news broke, Blazers guard C.J. McCollum tweeted his congratulations, and Crabbe responded in heartwarming fashion.
But Damian Lillard, the Blazers' leader and signature star, was not as impressed, based on the emoji laid on top of Crabbe's tweet: The dreaded eye roll.
Lillard obviously saw big things coming this year, as he does every year with his unbridled ambition. Crabbe could have been a sizable part of it, and someone like Lillard who works so hard to make everyone on the team feel involved and important could easily feel hurt by a teammate spurning those efforts. We're sure Dame will either get over it or use it as fuel for his fire.