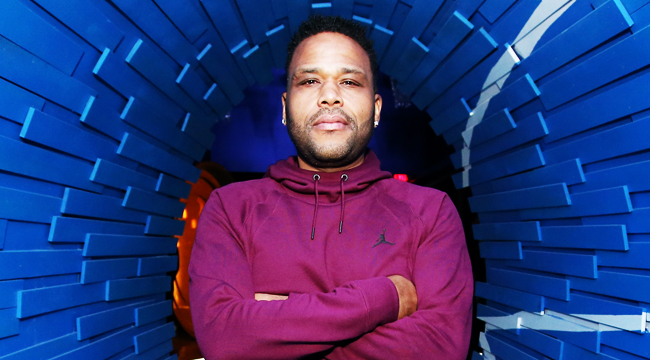 On Friday, the NBA will present the annual All-Star Celebrity Game as part of All-Star Weekend in Los Angeles. If you believe Wikipedia, the Celeb Game has only been around since 2003, but most longtime NBA fans know that isn't true. One such fan is Anthony Anderson, star of ABC's Black-ish, who has moved beyond "fixture" of the Celeb Game, and is practically an institution.
We caught up with Anderson at the American Express Experience in Downtown L.A. on Thursday, a pop-up location for fans that features basketball-themed art installations, including an exploded hardwood floor tunnel and an infinity cube for bizarre selfies, basketball hoop crystal chandeliers, and — vital to Los Angeles hoops fans — a Lakers vault, which includes a Lakers throne and crown, James Worthy's 10,000-point game ball, and a replica of the 2002 Larry O'Brien Championship Trophy.
UPROXX: We're in a pretty wild space right now. You mind explaining to our readers where we are?
Anthony Anderson: We're here at the American Express experience, man. What I love about American Express is that they give their cardholders an experience like no other, in just the things that … they do yearly, but in particular here at All-Star [Week]. I mean, giving your cardholders this experience, to come in here and you know … Shoot a hoop and whatnot, and they're having Kendrick Lamar perform, and he's a great performer. I think that's a beautiful thing.
You enjoying being at All-Star Weekend so far?
Always man, always … and fortunately this year it's in our backyard. I'm L.A. bred and born, born and raised in Compton. Normally I have to travel for All-Star … Me and my sons, that's where we bond, so we don't have to go too far this year.
And you're going to be in the Celeb All-Star Game on Friday. You're an old vet at this point.
Right. Why did you have to preface the "vet" with "old?"
Sorry! You're a crafty veteran of the game.
There, thank you. Yeah, I started man, 21 years ago. That was my first Celeb All-Star Game. Yeah, man. 21 years ago. I was working on this Saturday morning show called Hang Time, and it was about a high school basketball team. I was Teddy Bear. That year [All-Star] happened to be in Cleveland for the 50th Anniversary, so it was a huge event.
So how many Celeb All-Star Games is this for you now?
21 years ago? [thinks] I probably played maybe about … 15 or 16 of them. I had to miss a couple, due to work, but maybe 15 or 16 of them.
Do you try to make a point of going to it every year?
I do … One of my best friends, Jerry, he goes with me, and then I take my son as well, who is an avid basketball player and fan, so we hang out.
Does it bother as a 21-year veteran of the Celeb All-Star Game that Kevin Hart gets all of the publicity?
[laughs] Not at all. Kevin has a huge fan base, and I think Kevin pays his fans to vote for him. No, not at all … Kevin is good for the Celeb Game, good for the sport of the Celeb Game. And he brings some excitement that isn't always there. I can honestly say, Kevin is definitely missed when he does not play.
Who do you think is going to give you a run for MVP this year?
You know, Michael Rapaport talks a lot of trash. He talks a lot of trash, so we'll see. We'll see.
He sort of specializes in talking trash.
He does — we both do — but he really talks it, so it's my job to shut him down. I don't even know if he's playing [in the Celeb Game]. All I know is that white men can't jump, and Michael Rapaport is white … And can't jump.
If he's on the sidelines, are you going to find a way to fall into him?
Oh, of course! Of course!
Who are you most looking forward to getting on the court with this year?
You know what, man? Miles Brown, who plays my youngest son on Black-ish. We're teammates this year, and for the last couple of weeks, all he's been talking about is, "Hey, we gotta work on this Black-ish pick-and-roll man, we gotta work on the Black-ish pick-and-roll!"
He's only about three foot six man, he really thinks he's going to the NBA. But I will tell you this: He's got shot, and he can handle the rock, so I'm interested to see what he does on this stage. On an All-Star stage.

So you're from Compton, and we've got a NFL stadium about to hit Inglewood. What are your thoughts about the NFL coming to town?
You know what? It's about time that we welcome an NFL team back to L.A. I was hoping it was going to be the Raiders, because I am a Raiders fan.
Sure, but Vegas is close.
Yeah it is, but it's not Inglewood! But I haven't had a chance to go down and check out the Rams or the Chargers play. Cause I feel like I'm cheating. I flew to Mexico City to see the Raiders and the Patriots play. Before, I would drive down the street from my house to see the Rams or the Chargers. You know, Chargers — San Diego, man. It's where my wife is from, I got family down there, and my daughter goes to University of San Diego. I got to San Diego to watch a Chargers game, you know?
I really wanted the Raiders to be back in L.A. Maybe someday. But what's the running back's name for the Rams? [Todd] Gurley. I love that brother, man. I bumped into him in L.A. when he first got here, welcomed him to the city, let him know that I'm a fan of his But I'm also a Raider fan — but I like what he's doing, and I like what the team did. I was hoping they would have gone a little further in the playoffs than what they did. I'm pretty sure I'll go to some Rams games while they're here, just because I'm a fan of Gurley's and what they did this year.
Talking about the NFL … with what's going on with the NFL, and with NBA surging in popularity, and you being on such an important show — such a pivotal show that a lot of people find important — to you, what's the importance of the NBA in young people's lives right now?
First of all, I've always loved what NBA did in the community, and how they service the communities that they were in. Not only stateside, but around the globe … I loved how they go into inner cities and they impact lives, and they change lives, with not only their money, but being hands-on, from the top to the bottom. From Adam Silver, to players, to coaches, and things like that. I love how they're fostering communities and fostering community centers and individuals, not only to play the game, but to be a force in their community, and to be leaders … Outside of basketball. So that's what I applaud the NBA for doing.
Do you see a difference in today's youth, looking up to the set of people that are in the NBA and how the NBA is treated in popular culture, as opposed to like during the Detroit Pistons Bad Boys era, and how they had to make a TV movie out of Isiah Thomas?
I don't know. I like what the players are doing now, asserting their independence in the era of free agency. I love how they're showing the next generation of players how they can take control of their own destiny and sort of call the shots when they can call the shots, and not have shots being called for them. I like that.
You look at people, you look at the players that I grew up watching, … Magic Johnson never would have left the Lakers and gone to Boston, and things like that, but you look at what these players are doing now, and it's different. It's a different era. These kids grew up playing with one another, from across the country, and so they forged friendships. You know this because they're on different teams, and the rivalry between those teams should not come in between their friendship. I think that's what these players are showing these young kids. It's like, "Look, we can go some place and win together. If we're not winning here, we can form our own supergroup."
And I'm not mad at them. It's a business decision that they're making for themselves. I can never be mad, or upset, with somebody making a business decision that's going better their station in life, and their family's stations in life, and their community's stations in life, so no.
Do you tend to root for players or for teams in the NBA?
Players. I'm an L.A. boy, and people look at me like I'm crazy when tell em I'm a Laker and a Clipper fan. It's like, how? It's like … I grew up with being a Raiders fan and the Clippers were a JV team, and the JV team became a Varsity team, and I always like to root for the underdog … and because I have friends that play for them. I started rooting for them, and then I was like oh, I like this team. I like how scrappy they are. I love [Chris Paul], even though he's no longer here with us, and [DeAndre Jordan] and Blake [Griffin]. Now he's gone, [too].
And being in this industry and traveling in the circles that I travel in … I root for my friends, but if I have a home team, my home is the Clippers, but I root for my friends.
My last question for you: Do you think Kyrie Irving really thinks the Earth is flat? Or is he just trolling us?
[laughs] I want him to go into outer space, and look back at the Earth, tell us if he sees a prism, or if he sees something flat.
We should have had him drive the Tesla, right?
Yeah, exactly.
The American Express Experience runs through Saturday, and fans can reserve a walkthrough of their own at this link. The Celebrity All-Star Game tips off at 7 p.m. ET on Friday, and you can watch the whole thing on ESPN.