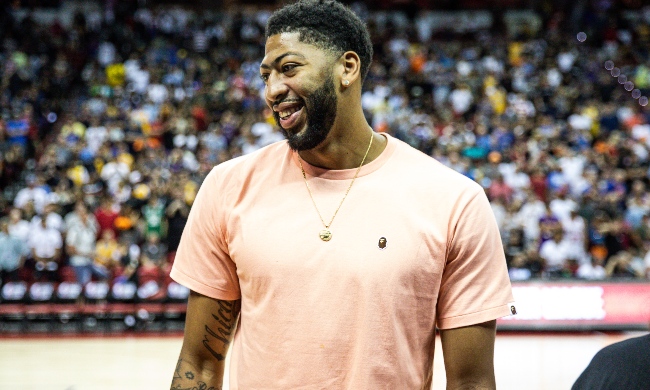 It feels ages ago that we were engulfed in Anthony Davis trade pandemonium, given how many other seismic shifts the NBA has seen since the star big man was finally dealt from New Orleans to Los Angeles.
Davis' trade to the Lakers was the first major domino to fall back in June, and in the weeks since, the Lakers have seen their in-house rivals add two superstars of their own, while plenty of other teams in the league positioned themselves to be a championship contender. With the dust almost all finally settled, it appears as though we're set up for one of the best and most intriguing regular seasons in recent memory, something that has players like Davis excited about as well.
"This is one of the first years you can say you really don't know who's going to win because there's a lot of great teams in the league," Davis told Dime. "I think it's going to help the league. The fans are going to love it. The players are going to love going in and competing every night with teams. It's going to be a fun season. I'm pretty sure everyone's looking forward to it and we'll see what happens."
As Davis gets ready for his introductory press conference with the Lakers on Saturday, he spoke with Dime on Thursday on behalf of Ruffles' Sneaker Stash Giveaway. We talked about how he learned where he was going via Instagram because he had been watching a movie when it happened, his thoughts on the Lakers roster, conversations with LeBron and DeMarcus Cousins, his reaction to the other wild moves in the NBA this summer, sneakers, and much more.

Where you were when you found out the trade was happening and that you were indeed headed to the Lakers?
I was in Los Angeles. I don't remember what I was doing, I think I was watching a movie, and after I just went on Instagram and started looking and, obviously the way society has it set up, I saw it there.
It was a long saga going back to the trade deadline and before, what was the reaction once you finally knew where you'd be playing next year?
That was the biggest thing, just where I was going to be. Whether I got traded or New Orleans kept me, I just wanted to know what it was going to be and where I was going to be to start the season. I think just knowing where I was going to be was a huge thing for me, just so I could start planning, like where to live and stuff like that. So, that was just the biggest thing was figuring out where I was gonna play.
You live L.A. during the offseasons. What made L.A. a preferred destination for you?
I just think the organization, the way they carry themselves. Obviously playing with a guy like LeBron and being able to compete for a championship, and now with the team that we've assembled this summer. I think it's the perfect opportunity for me to go out there and check that box of winning a championship, and I think I can do that this year.


You were with LeBron in Vegas during Summer League and I'm sure you've spent plenty of time with him in L.A. as well. What have you two discussed in recent weeks about what your pairing will look like on the court?
We haven't had much talk about that, honestly. Since the trade happened the most we've been talking about is trying to put the team together and what we can build this year. Trying to find the right pieces to fit around us, and now that we've got that, we haven't really had a lot of time to talk about the team and how we want to go about the team and rotations and stuff like that. So, I'm pretty sure in the next couple of weeks we'll be having that discussion.
One of those pieces the team's added is DeMarcus Cousins, who you'll get to reunite with. What have you two been able to discuss about getting to play together again?
It's definitely fun playing with him. We had some success when we were in New Orleans, but obviously the achilles injury stopped that early. Even the year he left, he told me he wanted to continue playing with me no matter where it was. The situation wasn't a good situation for him after the injury, so he had to leave, but now that he was a free agent, we definitely had talks about him coming to the Lakers and playing together again and possibly winning a championship. He loved the idea of it and was able to sign with us as well.
The squad for next year is mostly set, with Danny Green and other guys joining as well. What do you think of the roster they've built out around you and LeBron?
I like the roster. I think we have a complete roster. We have guys who can shoot, guys who can defend. We can play fast, we can play small, we can play big. I think we have a lot of different looks we can throw at teams on both ends of the floor, so I'm excited about it.
You were a big part of it as the first big domino to fall, but has this been the craziest offseason you can remember in your time in the league?
Yeah I think it has been one of the craziest offseasons. It's good for the league cause a lot of guys got paid and guys deserve it. But, I think the whole thing that shocked everybody this summer was the Paul George thing. I think that was the shock of the summer, but I think it's going to be a fun year. I think the way the league has played out this summer as far as trades and free agency, the league is wide open and guys are gonna play that way and compete for a championship.


You are partnered with Ruffles for their Sneaker Stash Giveaway. First, how can fans get in on this and what can they come away with?
It starts now through August 4 and we're giving away 42 pairs of shoes. One each day for six weeks, and it's going to be a fun contest. You can enter at RufflesSneakerStash.com and try to get a pair of sneakers. I'm excited to see who wins and we have some cool things for them.
Yeah I was looking at the list earlier, and there are some killer sneakers — Gamma 12s, Thunder 4s.
Yeah, yeah.
What are your favorite sneakers on the list that some lucky fans will away with?
I hand-picked all those and a lot of those are my favorites, so I'll say all 42. It's hard for me to choose sneakers cause I love sneakers. I don't really have a favorite pair I just kinda wear them all to have a different variety of flavors of each shoe.
OK, so you don't have a favorite pair now, but what was the first pair of sneakers you got that you were really excited about?
I think the first basketball shoe I was excited to have was the LeBron VIII. The red and black ones. I think those are my favorite shoe and I wore 'em to like every game, every practice, that was the only shoe I had. I felt like I was unstoppable with those shoes for sure.