Anthony Davis is on his way out of New Orleans. The question that exists now is a matter of when that happens — you can make the case that the Pelicans should move immediately, just as easily as you can make the case that they should wait until the summer rolls around. In fact, we decided to do that!
Our own Bill DiFilippo and Brad Rowland went back and forth to discuss how aggressive the Pelicans should be in trying to move him soon as the Feb. 7 trade deadline approaches.
BILL: Bradley, hello. Today, we're debating what the New Orleans Pelicans should do with Anthony Davis. He wants out, which is something we've all probably known to one extent or another for months, but now, he's reportedly requested that he's sent to a winning team. It's unclear whether he wants out by the time the trade deadline rolls around, or if he's happy to play out the rest of this year — and, potentially, next season, his last one under contract in New Orleans, as absurd as that would be — but Davis wants to win championships and doesn't think that's possible in his current situation.
So, now, the ball is in the Pelicans' court. They can act now or wait until the summer rolls around to make a deal. I am taking the side of the former. You are taking the side of the latter. Let's debate: Why is it best, in your estimation, for New Orleans to wait this out for a few more months?
BRAD: It comes down to options. This is a scenario in which Davis has another year on his contract and that opens a lot of doors. In a vacuum, a player of any caliber would have more value with more time on their contract but, for a player on the level of Davis, he is going to command a monster return at any time. During the season, salary matching becomes more difficult and, with that in mind, the pool of available teams that can (and would) make a credible offer tightens.
That's just the reality but, this time around, the looming carrot of the Boston Celtics makes things even MORE interesting. The Celtics can't credibly trade for Davis during the season (because they can't have both Davis and Kyrie Irving on the roster on their current deals) but would have a very intriguing package available over the summer. It isn't just about Boston, but that's a headliner when it comes to New Orleans taking offers now, but ultimately waiting.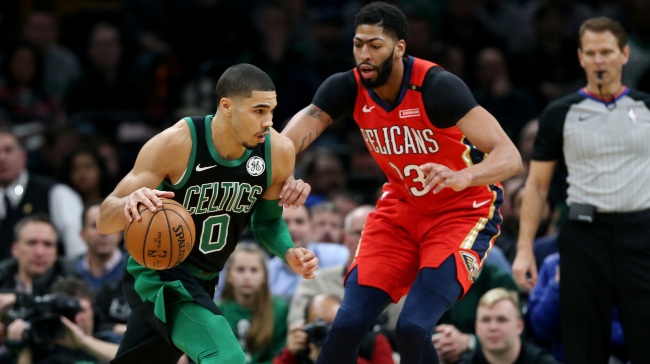 BILL: I think that stance is, more or less, a fancy way of saying "The Pelicans should wait until the Celtics can acquire Davis." The obvious exception here is if the team that gets the No. 1 overall pick decides to get into the race for Davis, because potentially a decade of having Zion Williamson is awfully appealing, especially if, say, the Knicks get it and offer Kevin Knox, Frank Ntilikina, and the pick, or the Suns get it and offer Deandre Ayton and the pick, etc.
I do agree that, right now, the Celtics potentially have the best package of picks and players should they decide to go all-in. I cannot imagine who could touch a combination of, say, Jayson Tatum, one or two other young players, and one or two picks. That's especially true of New Orleans could get an Al Horford or a Gordon Hayward back as a veteran presence to raise the floor that the team would have post-Davis.
My thoughts, beyond the fact that making New Orleans fans sit through the next few months has the potential to go horribly, are twofold: 1. The Pelicans could, potentially, stir up an awfully robust market and strike while the iron's hot as 28 teams do everything they can to get Davis before Boston can get involved and, 2. Banking on Boston is extremely risky, because if Danny Ainge decides to not go all-in (i.e. include Tatum AND other exciting young players), I'm not certain that they'll have one of the best deals on the market, especially because the possibility exists that other teams suddenly get a little more stingy with assets if the Celtics decide to slow play this. Thoughts?
BRAD: Don't get me wrong here. If the Pelicans can make a value deal before Feb. 7, they should absolutely do it and not give a single thought to waiting on Boston or anyone else. I'm skeptical that the kind of deal they should be seeking will present itself, though, which is why waiting until the summer would open doors.
It goes well beyond Boston and, as you note, the holder of the No. 1 overall pick (and the rights to Zion) might be a player in this whole thing. It has to be noted that other squads come into play, however, as the amount of salary cap space around the league jumps exponentially and, by proxy, it becomes a lot easier to build deals around young players with cheap contracts and draft picks, without the fear of having to including 8-figure deals to make the math work.
A Boston-focused strategy is absolutely risky, as you note, because the Celtics have a lot less ammunition if they actually decide to make Jayson Tatum unavailable in the discussion or if Ainge goes full Ainge in low-balling the Pelicans. New Orleans would probably have interest in one of Boston's high-dollar players but, considering the Pelicans may be staring down a rebuild, youth is key.
They should be scouring the market for a package that makes sense for them but, before that even happens, an organizational decision has to be made. Are they going to try to stay relevant and build around Jrue Holiday and whatever they can get for Davis in an attempt to make another playoff run next year? Or do they admit that it's time for a prolonged reset? That makes a difference with regard to what kind of package they're looking for and what they need to be considering with the other pieces on their current roster.
It's almost as if this might be complicated, Bill.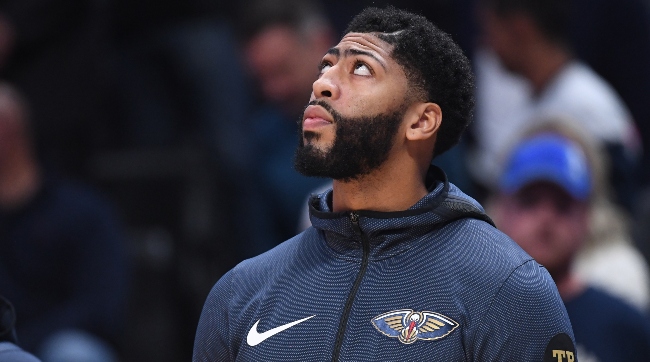 BILL: It is absolutely complicated. For all the comparisons that may exist between, say, Kawhi Leonard or Paul George hitting the market the last few years, you could make the case for why it wasn't worth going all-in on them (the former had a weird injury issue and reportedly wants to play in one place, the latter seemed hell-bent on playing for one specific team before we learned that wasn't the case). For Davis, though, there is no reason to not go all-in if you're capable of doing so, because once LeBron James gives up this mantle in a year or two, he is the person in line to be crowned the best player in the world.
If you are one of the teams that has the pieces to make a move for him, I have to think you know this and you're going to spend the next, oh, week or so putting together your best potential offer and bring it to the table. It is presumptive of me, sure, but with Boston looming and a team with a shot at the No. 1 pick in a position to, potentially, shake it all up (either now or when the lottery happens in a few months), it's worth going for broke.
We do agree on making a play if the price is right, and we do agree on waiting it out if you can't get to that point, I just think the difference is what we expect to happen once the deadline rolls around. I am of the belief that the Pelicans should take the best deal on the table come Feb. 7, because it's going to be an awfully good deal no matter what, and basically let that dictate their next steps with regards to guys like Jrue Holiday and Nikola Mirotic, either now or once the summer rolls around. There's just too much that can happen between now and then that can kneecap your chances of getting a really great deal — for example, let's say it comes out that Davis would only sign an extension with two or three teams, or some of Boston's good young players see their value go down the tank a bit a la what we've seen out of the Lakers' young players this season, or Williamson suffers some sort of injury (please, God, don't happen), etc. Also, and I cannot stress this enough, the potential for a Pelican fan revolt is awfully high. Would New Orlea
To end, let's both list out the following things with a sentence or two explaining them:
1. Your favorite potential Davis deal, within reason.
2. Your favorite potential Davis deal that is not within reason, but would be a blast.
3. What you think the deal for Davis will end up being?
BRAD: I think my favorite potential Davis deal is to Philadelphia for Ben Simmons and the required filler. Embiid and Davis would be insanely interesting and fun, and I'm not sure the Pelicans could reasonably do better.
If we're going off the reservation entirely, I'd like to see Davis in Utah or Denver. Both teams would immediately become at least pseudo-contenders with Davis on board and, while he probably wouldn't stay in either spot, it would be a ton of fun for the next season and a half.
Lastly, I'm going to say that Davis ends up in Boston for a deal centering on Tatum and filler (Marcus Smart?). It certainly wouldn't surprise me if he was dealt to Los Angeles in the next 10 days and, if the Pelicans do that, I would hope they'd get all three of the Lakers' young players plus a first round pick or two. In the end, though, I'll say they hold the line until July and Boston makes the best offer at that point.
BILL: We agree on the within reason deal. This is not to say that it's definitely going to happen, but man, I cannot think of a better prize within reason than Simmons. I can absolutely see a scenario where this call gets made — my favorite variation on it is we get totally insane and make it Davis and Holiday for Simmons and Jimmy Butler (along with some pieces) — it's just an awfully narrow scenario. Also: The Sixers need to call and offer Butler, Markelle Fultz, at least one future first-round pick, and, like, Jonah Bolden. The Pelicans should say no to that, but at least put it on the table.
I'd also like to hone in a little more on that Denver scenario for the "not within reason, but would be a blast" one. Pairing Davis next to Nikola Jokic would be a damn joy, even if this would absolutely cost the Nuggets at least one of Jamal Murray or Gary Harris, perhaps even Paul Millsap. It would be awfully silly, but man, imagine pairing those two delightfully funky big men together.
As for the deal I think happens, I'll stick to my guns and say the Lakers make something happen. I'll go completely off the rails — because it's a hypothetical and nothing matters because climate change will destroy humanity if we don't do something quickly — and say the Lakers get Davis, the Phoenix Suns get Jrue Holiday and Kentavious Caldwell-Pope, and the Pelicans get Ryan Anderson's contract, T.J. Warren, Lonzo Ball, Dragan Bender, Kyle Kuzma, and a pick or two from the Lakers. I don't know. This is all very silly.