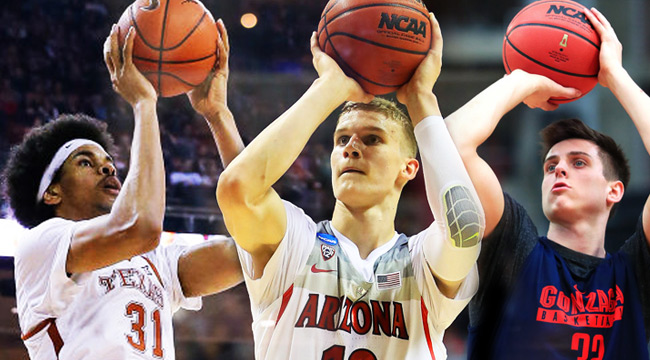 Center was once the glamour position in the NBA. For decades, conventional wisdom dictated that the best teams absolutely had to feature a dominant big man in the post and, for the most part, that was the case. In today's league, though, bigs are marginalized more than ever before with few dominant offensive players and an increasing focus on athleticism, versatility and rim protection.
In fact, you can count on one hand the amount of effective teams that regularly use two legitimate big men at the same time.
When it comes to the 2017 NBA Draft, there is an interesting juxtaposition, as there are a ton of first-round quality players that are, effectively, pure centers. Is there enough demand to take on this tremendous supply when many teams are actively looking to dump big men to clear their books? We'll see, but that won't stop several soon-to-be NBA rookies from providing a ton of intrigue when June 22 rolls around.
Today, we are tasked with unearthing the five best center prospects in this class and, for clarity's sake, anyone who is a pure big man with the game is played today is a center in my book. We'll get to the list now, with a hat tip toward some honorable mentions that couldn't quite crack the top quintet.
Honorable Mention (In Alphabetical Order)
Bam Adebayo, Kentucky – It's entirely possible that Adebayo is being slept on to a degree in the draft process because of his limited skill set. What the Kentucky freshman can do, though, is almost certainly useful as an NBA role player. Frankly, he could make us all look silly in becoming a starting center.
Ike Anigbogu, UCLA – Anigbogu's evaluations are all over the place, with pundits placing him in the mid-1st round and virtually out of the draft entirely. He's a full-blown enigma as a fringe role player at UCLA but the tools are there. We just have no idea.
John Collins, Wake Forest – I'm lower on Collins than most, as he would almost certainly be in the top five in a lot of center rankings. The collegiate production was tremendous and he'll probably be a quality rebounder and effective scorer in the NBA. The problem comes defensively (where he is quite bad) and in that Collins' game is more of a throwback with little in the way of versatility.
Jonathan Jeanne, France – Jeanne is a fast-rising prospect after a stellar week in Chicago at the NBA Draft Combine. He has center size with perimeter skills and the Rudy Gobert comparisons exist largely due to the French connection. He's not that kind of defensive monster but the ceiling is immense … if he can reach it.
5) Harry Giles, Duke
Giles might be the biggest enigma in this entire class. The one-and-done big man from Duke was once considered the consensus No. 1 player in his high school class but massive knee concerns and a thoroughly underwhelming freshman season in Durham place him here. In truth, Giles will likely seem either wildly overrated or wildly underrated by this positioning based on his medicals.
If the 6'11 rim-runner checks out with full health for his knees and regains the crazy athletic burst that existed in high school, Giles is likely going to provide a team with a wild value in the mid-to-late first round. If the explosion never returns, it is entirely possible that Giles simply never gains traction in the NBA. The upside is real but the downside is terrifying.
4) Justin Patton, Creighton
Offensively, Patton might be the second-best center prospect in this class. He was wildly efficient (67.6 percent shooting) at the college level and Patton displays real touch around the rim with the ability to step out and shoot a smooth jump shot from distance. Patton's athleticism is an open question but he certainly isn't a bad athlete and that manifests itself in a nice way offensively with the way he can run the floor.
On the defensive end, though, the questions appear. Can he be a legitimate rim deterrent? Is he capable of being an average rebounder for the position at the next level? Patton is solidly a first round prospect but, if he fails those tests, the 6'11 center might be an offensive-minded bench big.
3) Jarrett Allen, Texas
Allen profiles as a very nice fit for the modern NBA game at the center spot. He is a tremendous athlete that has shown the ability to run the floor and play effectively in transition on the defensive end. If anything, Allen was playing out of position at Texas, where he was asked to play some power forward, and the guard play exhibited by the Longhorns did not do him any extensive favors from a development standpoint.
His offensive upside is a concern in that we just haven't seen it, but Allen did come on strong down the stretch of his only college campaign and he appears willing to act as a selfless pick-and-roll player. The defensive side of things is where Allen stands out, as he effectively uses a 7'5 wingspan in rim protection and is at least willing to battle on the glass. There is a chance he isn't a full-blown starting center but it is hard to see Allen washing out completely given his skill set.
2) Zach Collins, Gonzaga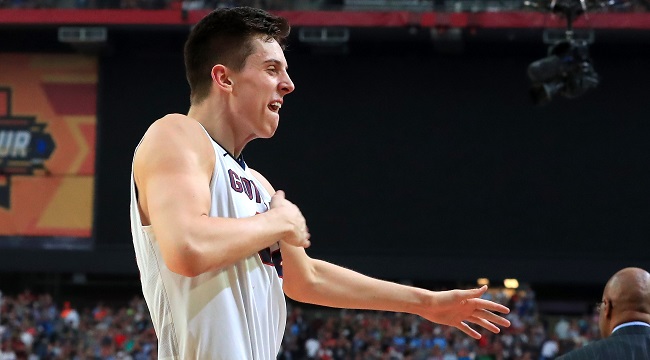 The NCAA Tournament made Zach Collins a lot of money and that is usually a red flag. In this case, though, I completely buy it. Collins is extremely skilled, with a high basketball IQ and the ability to really step out and make defenses pay with a sweet shooting stroke. In addition, the seven-footer is a throwback in the way that he can cook on the low block with quality (and varied) post moves and there is a chance we haven't seen his full gamut given a relatively limited role at Gonzaga.
Defensively, he isn't always as physical as you might like but Collins won't turn 20 until November and it is easy to see him adding to his strength profile. Rim protection also isn't a concern in any way from what we've seen on tape and Collins put together strong rebounding numbers within his role. For me, the gap between No. 2 and No. 1 on this list is quite small and, while that isn't necessarily the consensus, it is a testament to the prospect value of Collins.
1) Lauri Markkanen, Arizona
What we know about Markkanen is that he is a tremendous shooter. The 7-footer from Finland converted 42.3 percent of his three-point attempts at Arizona and, while he has legitimate center size, Markkanen attempted more than four threes per game. It isn't as if he is simply a standstill shooter, either. Markkanen has the ultra-rare ability to shoot on the move at his size and there is basically no way that he flames out as an offensive prospect given the massive utility of that skill in today's NBA. The issue, though, is with almost every other part of his game at the moment.
While Markkanen isn't the dreadful defensive player that some want to project, he certainly does not profile as even an above-average defender at the NBA level at any point in his career. As a shot-blocker and rebounder, there are flashing warning signs with Markkanen and his athleticism is relatively limited within the confines of being a consensus top-10 pick. Positionally, he is usually in the right place and that matters but, if he is the only big man on the floor in the NBA, teams will need to game plan around him with a strong, rim-protecting force at the power forward position.
If nothing else works, Markkanen could compare to a player like Channing Frye and, while useful, that would be a disappointment given his draft position. If everything goes well, he could be a tantalizing offensive weapon along the lines of few big men in the NBA. The jury is out.