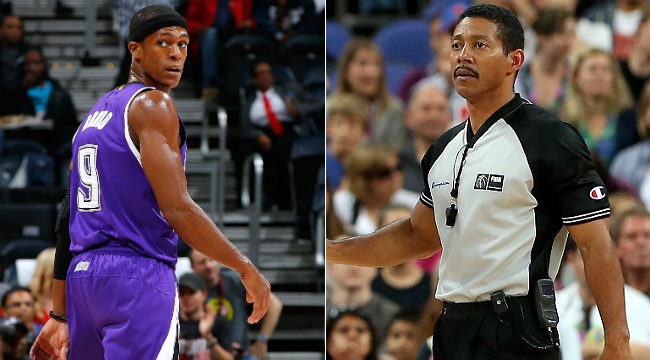 When Rajon Rondo was given a second technical foul and ejected from a game for staring down referee Bill Kennedy, he reportedly let loose with a series of homophobic slurs at Kennedy before leaving the court. That, as it turns out, is what got him suspended for one game (to be served Tuesday night when the Sacramento Kings play the Houston Rockets). Now, Kennedy has taken this moment as an opportunity to come out as gay.
When the suspension was handed down on Friday, the league office said it was for "directing a derogatory and offensive term towards a game official and not leaving the court in a timely manner." Rather than leave it up to speculation, Kennedy has commendably stepped up to identify himself and what he stands for, and in doing so publicly shames Rondo for using hate speech to vent his frustrations in the most inappropriate and immature way possible. Kennedy coming out hammers home that Rondo's words were not just random profanity, but targeted at Kennedy to shame him for who he is. Kennedy has smartly turned that on its head.
https://giant.gfycat.com/LateShadowyAdamsstaghornedbeetle.gif
And in case you want to give Rondo the benefit of the doubt that he was ignorant of Kennedy being gay, consider this from Haralabos Voulgaris:
Voulgaris is referencing the well-known discontent between Doc Rivers and Kennedy, stemming from Rivers using a similar slur years ago. Though Kennedy has just come out publicly, it's an open question whether Rivers knew of the referee's sexuality back then. Either way, one can understand why Kennedy doesn't have good feelings for the coach — and it certainly makes Rondo's behavior less forgivable.
Hopefully going public with the issue will prevent further incidents like this from happening, as players and coaches now know that the league will thankfully stand by its official when he is harrassed.
(Via Yahoo Sports)