Blake Griffin has been involved with USA Basketball since before he began his collegiate career. Despite dominating at the NCAA level for two years and establishing himself as one of the best players on Earth in the interim, though, the Los Angeles Clippers superstar has yet to officially suit up for the red, white, and blue.
Why? Injuries and a general concern for wear and tear have sidelined Griffin at multiple turns just before he was primed to make his long-awaited debut with Team USA. He was named to the 2012 Olympic team but was ultimately forced to stay home due to a knee injury, and withdrew from consideration for the 2014 FIBA World Cup squad six weeks before competition to focus on preparing for his subsequent season with the Clippers.
Could the unique circumstances behind Griffin's current hand injury prompt him to miss yet another opportunity to play for his country at this summer's Olympic Games? Not according to USA Basketball Chairman Jerry Colangelo.
Griffin, of course, punched Los Angeles staffer and close friend Matias Testi following an argument in late January. He had immediately had surgery to repair a broken fourth metacarpal in his right hand and has been sidelined ever since.
Though there's timetable for the five-time All-Star's return to the floor, he's expected to appear for the Clippers before the playoffs begin in mid April. Assuming he quickly regains the all-court offensive prowess that's made him one of game's most devastating playmakers over the past couple years, Griffin's potential presence for Team USA will surely warrant serious scrutiny when it comes to the forthcoming Games in Rio de Janeiro.

Still, his chances to debut for USA Basketball this summer may be somewhat slim – even though he participated in the national program's minicamp last August.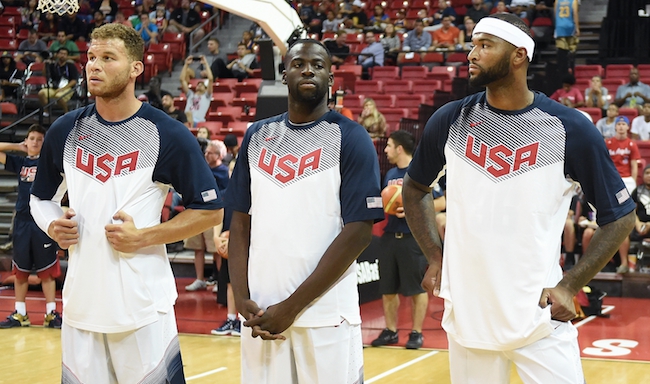 It's no secret that Colangelo, Mike Krzyzewski, and company value commitment and loyalty to a high degree in choosing the 12 players who will represent the country. LeBron James, Carmelo Anthony, Kevin Durant, and Anthony Davis are virtual shoo-ins for Team USA given that reality combined with their esteemed talent levels, and it's fair to say DeMarcus Cousins, Andre Drummond, and Paul George may be ahead of Griffin in the frontcourt pecking order, too. Then there are USA Basketball upstarts like Kawhi Leonard and Draymond Green to consider.
Griffin's path to Rio, basically, is more difficult than his standing in the NBA hierarchy suggests. He's gifted enough to represent his country this summer; we believe he'd be a member of the best possible Team USA roster, in fact. But there's nothing guaranteed for Griffin with regard to the 2016 Olympics, even if his unfortunate off-court run-in ultimately won't affect him one way or another.