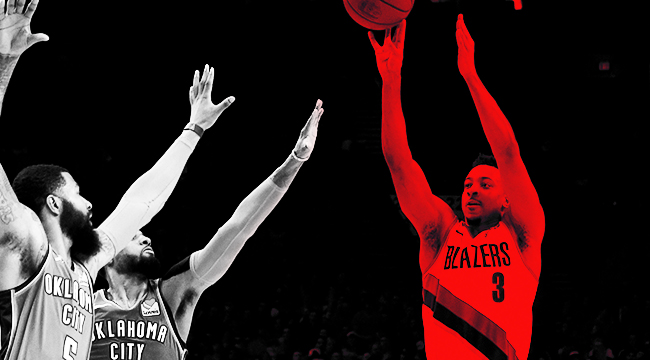 PORTLAND – In many ways, overreacting to a single game in an attempt to form a narrative is the whole raison d'etre of the NBA Playoffs — it's not hard to find a think-piece questioning the longevity of the Warriors' dynasty, because even though it has been historically successful, Golden State lost in historic fashion to the Clippers in Game 2.
The same was true after the Blazers' opening salvo versus the Thunder. In a series where they were supposed to be doomed by the loss of Jusuf Nurkic, they threatened to take a hatchet to the narrative that they were overmatched against Oklahoma City. Playing Enes Kanter at center full-time was supposed to be a death sentence. Instead, Kanter breathed life into Portland's playoff aspirations by doing the exact opposite of what we expected.
Every postseason, there's a player who comes out of nowhere and has a monster game that dominates the news-cycle for a few days. After opening weekend, that player was Kanter. It was even more poetic that it came against his former team, particularly his former coach, who was famously caught on camera proclaiming Kanter's unplayability in the postseason because of his well-documented liabilities as a defender.
Despite his big game, those deficiencies still caused plenty of skepticism about whether that was sustainable. The problem with surprise performances like that is that they're no longer a surprise anymore. Opponents have time to regroup and clean up some of their mistakes. They're usually ready the next time around, especially with Kanter and his former team, who understands the weaknesses in his game better than anyone.
So it wasn't a surprise when Oklahoma City went at Kanter early and often in Game 2 via Steven Adams, forcing him to commit fouls or give up easy buckets. By the start of the third quarter, Kanter had already picked up his fourth foul and was, for all intents and purposes, done for the game. He finished with six points and five rebounds and was mostly a non-factor.
Yet this is a series that is all about shifting narratives, and not just the one surrounding Kanter. The Blazers snapped a 10-game playoff losing streak in Game 1 behind 30 points from Damian Lillard. Through the first two games this year, he's putting his indelible stamp on this series, as is C.J. McCollum.
On Tuesday night at the Moda Center, the pair combined for 62 points in a dominant 114-94 win in Game 2 to take a 2-0 series lead heading back to Oklahoma City on Friday.
The Blazers' intrepid backcourt duo was a virtual no-show last year against the Pelicans when they got swept right out of the first round, which naturally resurrected the long-standing debate about whether the two were capable of finding success together. Terry Stotts was once again asked to comment on whether the thinking on their future together has changed after their hot start this series.
"I don't know who has that debate," Stotts said. "I haven't been part of that debate. When you have two guys who can create their shots, who can create problems for the defense, it makes their teammates around them better. Scoring is important. When you have two guys like that, it's hard to replicate that. They complement each other. They have different styles of game, even though they both can score. They're both unique in what they can do."
Lillard and McCollum put their powers on full display Tuesday night, particularly Lillard, who continued his audacious shooting from long-range against the Thunder. Lillard went 4-for-8 from downtown, including this long bomb to end the third quarter over PDX-pariah Raymond Felton, who incidentally was booed mercilessly every time he touched the ball.
McCollum had plenty of opportunities to shine as well, as he posted a game-high 33 points to go along with eight rebounds and five assists. That dual attack has long been a hallmark of this partnership. Even when he and Lillard have struggled to put all the pieces together, it was never because of jealousy or an unwillingness to let the other have the spotlight. McCollum chalks that up to the bond they've developed along their NBA journey.
"I think it's a combination of a lot of things," McCollum said. "From our upbringing, how we were raised by our parents, what we've gone through to get to this point, going to small schools, how we have a similar story. We've been friends since before we became teammates. Both broke our fifth metatarsal, both had the same question marks coming into the NBA: Can they make their teammates better? Can he score at this level? Can he score at all three levels? Can he be an All-Star? Can he win in the playoffs? And we're both competitive, hungry, and willing to do whatever it takes to win, and I think that's why we play well together because I don't really care how I do individually. I just want to win, and I think he feels the same way, and that's what makes us get along so well."
Indeed, as Stotts said, scoring is important — just ask the Thunder, as they haven't been able to do much of it this series with any kind of efficiency. Russell Westbrook's nightmarish shooting continued on Tuesday with a 5-for-20 outing, and despite Paul George's 27 points, he was a no-show in the second half while the Blazers staged a third-quarter rally that put them ahead for good.
A big reason has been the Blazers' pesky defense, particularly at running Oklahoma City's shooters off the three-point line. They've hounded the Thunder into 15 percent from downtown in Game 1 and just over 17 percent in Game 2. Playing lockdown defense is yet another new narrative thread for these Blazers, namely Lillard, whose feistiness when guarding Westbrook boiled over into a brief scuffle between two players with shared antipathy for one another.
Now the Thunder face a new narrative of their own. Down 2-0 in a series they were ostensibly favored to win, they're left looking for answers. Westbrook is due for a bounce-back performance, and he'll have a chance to do that at home. But will the Thunder still be plagued by the same issues that have haunted them all season long, namely the glaring lack of any discernible offensive strategy beyond letting their two best players go one-on-one? And what will happen if OKC suffers another disappointing early-round exit?
Or, we might see the Thunder even things up at home and make this a series. You never know. The storylines change from day to day this time of year.