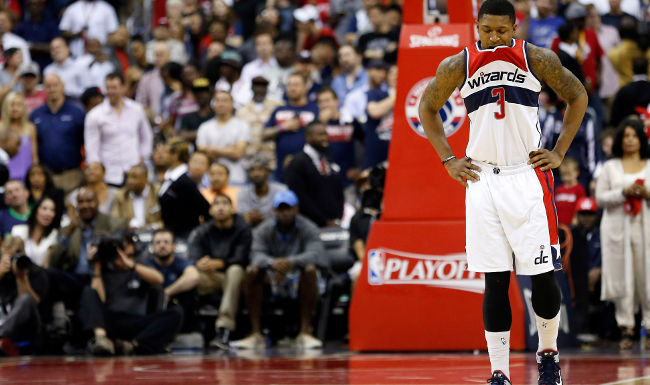 The Washington Wizards lost a gut-wrenching series against the Atlanta Hawks in an Eastern Conference Semifinals that could've easily gone their way had a few of the chips fallen differently.
It started with John Wall, who broke his hand/wrist in five places during Game 1 and was forced to sit out the next three games. The Wiz were somehow able to grind out the next one and steal a win in Game 3 to take a 2-1 series lead thanks to a vintage Paul Pierce buzzer-beater off the glass.
After dropping Game 4, Pierce was at it again with what appeared to be a game-sealing 3-pointer with 8 seconds remaining in Game 5, but his miraculous shot was quickly erased on the ensuing possession when Al Horford was able to come out of nowhere to snag an offensive rebound and get the game-winning put-back with less than 2 seconds on the clock.
Game 6, once again, came down to the final seconds, and Pierce, yet again, came through with what initially appeared to be a game-tying 3 at the buzzer but was soon waived off after review. Such are the breaks in the NBA. You have to be lucky AND good, and if it weren't for bad luck, the Wizards would have no luck at all. It's now been 36 years since the team has advanced to the conference finals.
It's enough to leave a sour taste in just about anybody's mouth, and Washington guard Bradley Beal is still particularly salty about the whole disappointing ordeal.
Wall and Beal can't do it all by themselves, and Pierce, who turns 38 this fall, has to be feeling a lot like Danny Glover in Lethal Weapon at this point, i.e. too old for this sh*t, although he has yet to announce whether he'll return for one last run next season.
The Wizards will have to do some serious soul-searching regarding Nene, who was an absolute tragedy during that series and has a bloated contract going into next season. In fact, they'll have to re-evaluate their whole front line of Nene, Marcin Gortat, and Kris Humphries, none of whom can stretch the floor and are relics in the pace-and-space era of the NBA.
They also can't put all their gold-plated eggs in the Kevin Durant free-agency basket next summer.
To be certain, there's a lot of reasons to be optimistic. According NBA.com's John Schuhmann, they were the most improved offensive team of the playoffs after ranking 19th in that category during the regular season. They also got a breakout performance from Otto Porter, who averaged career highs of 10 points and eight rebounds and showed tremendous strides as a defender.
However, they'll still face lingering questions about whether Randy Wittman is equipped to pilot this team into championship territory and whether the front office can effectively surround their promising young core with the right pieces to make the leap.