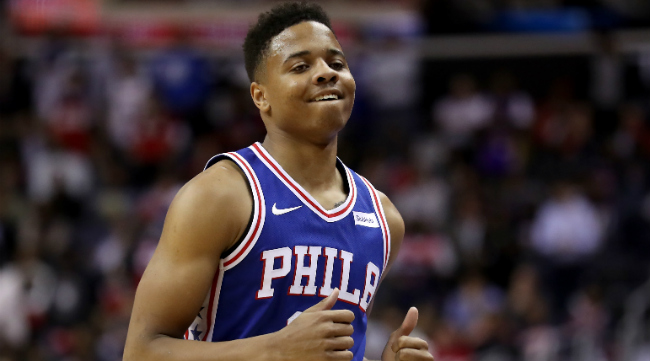 By now, you have probably noticed that all of us at Dime are fascinated with the ongoing saga of Markelle Fultz. The No. 1 overall pick in the 2017 NBA Draft suddenly forgetting how to shoot because of a mysterious shoulder injury isn't something that happens all that frequently, and Fultz having not played since October and the bevy of clips of his apparently broken jumper are not reassuring.
On Monday, Sixers coach Brett Brown gave his own take on what's happening with Fultz. Like everything else that has occurred with the 19-year-old out of Washington over the past three months, Brown's thoughts on his rookie point guard were not particularly inspiring and only add to the confusion surrounding him.

To Brown's credit, instead of toeing the company line and giving the press your normal coach speak, he went out and spoke his mind. Of course, speaking his mind made it sound like one of two things. Either he's been left completely in the dark by his organization, or he's trying to send a message to Fultz through the media. Neither thing is great when you're dealing with someone who is expected to be one of the pillars of your franchise going forward.
If you thought that was odd, here's an extended Brown quote, in which he speaks of Fultz's ability in the past tense a whole lot.

When you're saying things like "How do you find that again?" and "How we find what he was is what I'm most interested in now," and "We'll deal with that after we find home plate," about the shooting form of a teenager, you have to think that something is wrong beyond just getting into a rhythm after an injury. These are the quotes that a coach gives after a 35-year-old player suffers a horrifying knee injury, not what you'd expect the coach of a rookie that was shut down, officially, due to shoulder soreness. Whatever Fultz is going through right now, it sure seems like he's lost all of his feel when it comes to how to shoot a basketball consistently.
It's also possible that Fultz is a teenager who is really far in his own head right now as his rookie season isn't going the way he anticipated, and he's pressing, compounding his issues and digging himself further into a hole as he feels the pressure of getting onto the court. Either way, hopefully Fultz figures whatever he's going through out sooner rather than later, because this is easily one of the strangest NBA stories in recent years.