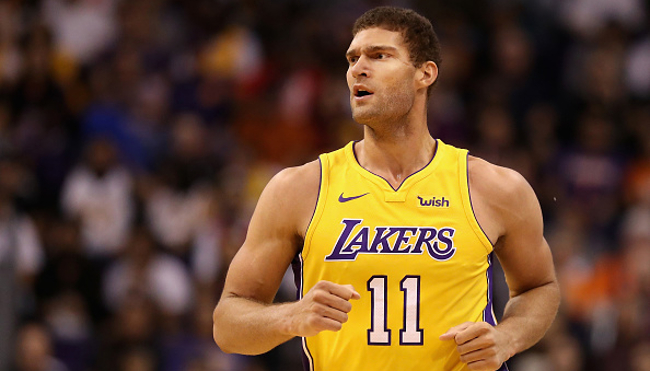 Car services these days will do just about anything. Not only will they transport you from A to B, they'll bring you beer and takeout, deliver your packages, and even drop a Christmas tree off at your doorstep.
And they won't stop there. Certain car service companies are now venturing into a potentially very lucrative untapped market: domestic pet search and rescue for the rich and famous.
That's precisely how Lakers center Brook Lopez was able to get his beloved cat, Poupin, to safety recently amid the Skirball fire engulfing the greater Los Angeles area. Lopez apparently hired the driver to retrieve young squire from his imperiled Bel-Air Crest estate and circumnavigate the fiery hellscape in order to ferry him to his mother's home in Fresno.
Via Tania Ganguli of the Los Angeles Times:
"I got a car service for my cat," Lopez said.

The driver then transported Poupin—riding inside a carrier—to Fresno. Not factoring in the first stop, the trek from Bel Air to Fresno spans over 200 miles and three hours.

"He got there safely, he got to my mom's house," Lopez told Ganguli. "It was a bad day for him because he probably didn't know what was going on, why he was in the carrier, then he had to go to the vet when he was in Fresno right away to get shots."
And you can expect car service companies to be much more involved in the domestic pet sector in the future. Uber, for instance, already celebrates National Cat Day by driving kittens around and letting riders cuddle them to raise money for local animal shelters.
In the meantime, we can all breathe a sigh of relief for sweet prince Poupin and send our thoughts to any other furry ones who might be affected by the California fires.
(Via Los Angeles Times)