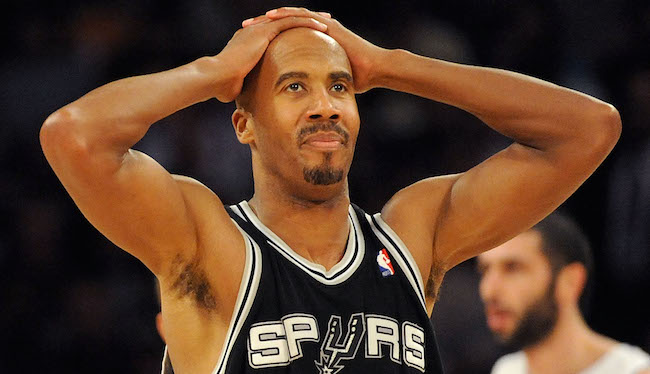 Game 2 of the Western Conference Finals between the Warriors and Spurs tips off on Tuesday night, but the conversation about the series is still focused on Game 1, specifically the foul from Zaza Pachulia that knocked Kawhi Leonard out of the game and likely out for Game 2.
After the game, there was discussion about whether the play was dirty, as it appeared Pachulia shuffled under Leonard's feet, causing him to land awkwardly on his already injured left ankle and roll it again. Pachulia, Leonard, and Kevin Durant all went on record claiming it wasn't a dirty play, but on Monday morning, Gregg Popovich launched into a tirade about Pachulia's history of questionable plays against the Spurs, which sparked the conversation once again.
Popovich's rant was met with mostly silence from the Warriors, eager to move on from the incident, but there was some resistance to Pop's complaints of dirty play, mainly pointing out that he coached Bruce Bowen, who was notorious for pulling the move Pachulia did and sliding under players' feet as they came down from a shot. Pop was called out for being a hypocrite after comments he made about Bowen in 2006 surfaced when he defended Bowen's propensity for having shooters land on him.

Bowen was blissfully unaware of all of this chatter until Monday afternoon, when he got off the golf course to find out that he was trending on Twitter. When he finally figured out why, he wasn't happy, as he told Bleacher Report's Mike Monroe.
"The thing is, now I've seen all the stuff going around on social (media) and all the things people are saying, and a lot of it involves me," Bowen said. "Well, I used to hate it when people called me dirty. I thought it was unfair when people just piggyback on what other people say. And I still do."
As for the Pachulia play, Bowen has seen it and if there were ever an expert in the field, he would be it, so when he says he felt there was some dangerous intentions to Pachulia's second shuffle under Leonard, that has to carry some weight.
"That play? I've watched it and, yeah, I thought he took an extra step," he said. "Plenty of time to stop where he did, but he continued moving in that direction of Kawhi. That seems like it's intentional and it's definitely dangerous. … What was his intent? You can rewind something five times and convince yourself of anything. What I saw, he kept moving in that direction after he contested the shot. You know you have to let a player come down. He kept walking into that space, so, for me, that says more about the intent."
That has been the main argument from most that have gone over the play like the Zapruder film. Pachulia closes out and offers the contest, but takes an extra step after the initial contest into Leonard's landing area, which is when Leonard lands on his foot and re-injures the ankle. Pachulia has continued to deny he's a dirty player or that was a dirty play, but not everyone is so convinced. At best, it was a reckless closeout that changed the course of the series. At worst, it's a malicious play targeted at the already injured ankle of the Spurs' best player.