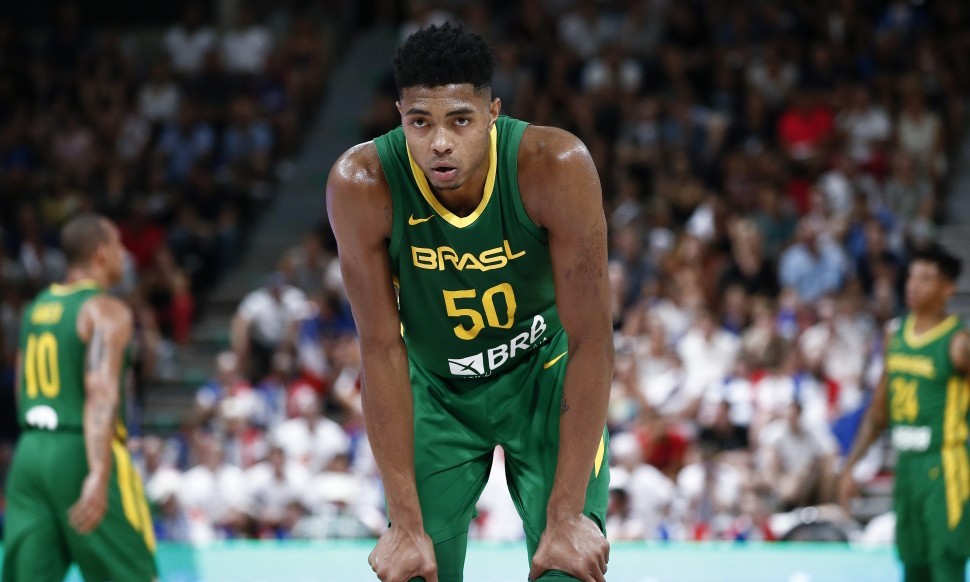 The FIBA World Cup entered its second day of the group stage in China on Tuesday, with early morning tips here in the U.S., and while Team USA found itself in a dogfight with Turkey, it was Greece and Brazil that stole the show.
Anderson Varejao, Leandro Barbosa, and Bruno Caboclo led Brazil to a 79-78 win over Greece to advance to the next round, handing Giannis Antetokounmpo and company their first loss of the tournament. Varejao led all scorers with a brilliant 22-point, 9-rebound performance, while Barbosa chipped in 13 points himself.
However, it was Caboclo that made the critical plays late in the game to preserve the win for Brazil and not allow Giannis and Greece to force overtime. With Brazil up two late, Greece drew up a lob play to Antetokounmpo on the inbound, but Nick Calathes was late throwing the lob and by the time he did, Caboclo had recovered from the back screen to be in position to deflect the ball away.

Barbosa split two free throws to give Greece a chance down three, and Brazil did the unthinkable, fouling a three-point shooter to send Kostas Sloukas to the free throw line (Giannis had fouled out forcing Barbosa to the line). Sloukas made the first two free throws, but his third bounced around on the rim and Caboclo took advantage of FIBA's no goaltending rules to make an incredible play by swatting the ball away while it considered dropping for the tying point.
This will only further entrench fans on either Team Goaltending or Team No Goaltending, depending on your preferred brand of chaos. If the NBA adopted this rule it'd be pretty incredible to see the athletes in the league just swatting balls off the rim and would make for some incredible drama on late free throws like this. We may never see that, but in FIBA competition, Bruno knew what to do and gave Brazil a big win.