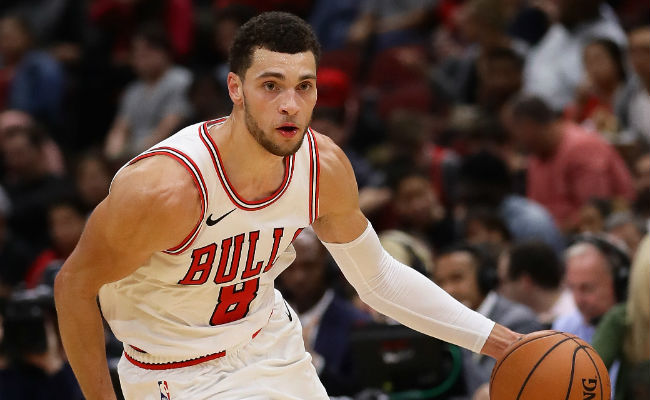 Friday night's game between the Atlanta Hawks and the Chicago Bulls just would not end. The game needed overtime, then another, then one more, and then, they needed five more minutes of basketball to determine a winner.
When the dust settled, it was a 168-161 win for the Bulls, operating as the 15th four overtime game in NBA history. As you can guess, this sort of outing leads to NBA records getting set, which was certainly the case between the two squads, albeit not always for good reasons if you're on the losing end.
For Chicago, the man of the evening was Zach LaVine, as their standout guard exploded against the Hawks defense. LaVine went for 47 points, nine assists, and nine rebounds in 55 minutes of action. The best moment came in the second overtime, when a tired LaVine walked on air, but on a night when the Bulls needed someone to come up huge, LaVine fit the bill.
On Atlanta's side, Trae Young was outstanding. The first-year guard finished with 49 points, 16 assists and eight rebounds in the loss, making him the first rookie to ever score 45 points and 15 assists in a game. Young was a menace on offense, getting the job done as a scorer and a distributor.
It looked like he had won the game for the Hawks with a huge three with 2.2 seconds on the clock that gave Atlanta a 124-121 lead. But the Bulls bounced back with three free throws from Otto Porter Jr. to tie the game and force overtime. From there, the game was a delightful and entertaining slog, as both teams kept getting more and more exhausted as things went on. There were plenty of ugly moments late, like this one between Vince Carter and LaVine.
Still, while Carter got trucked here, we did get to see off some of his hops at earlier in the evening, which was fun. Also: He played 45 minutes, which for someone who is 42 years old, is completely insane.

As the game reached its fourth overtime, the Hawks fell behind and couldn't force another period. Beyond LaVine, Lauri Markkanen and Otto Porter Jr. each had 31 points in the win, while six Hawks players other than Young scored in double-digits, led by a 24-point evening by Alex Len. Really, plenty of players on both teams had gaudy numbers after playing 68 minutes of basketball on Friday night. It may be a season to forget for both teams, but it will be tough to forget this game for a long time.