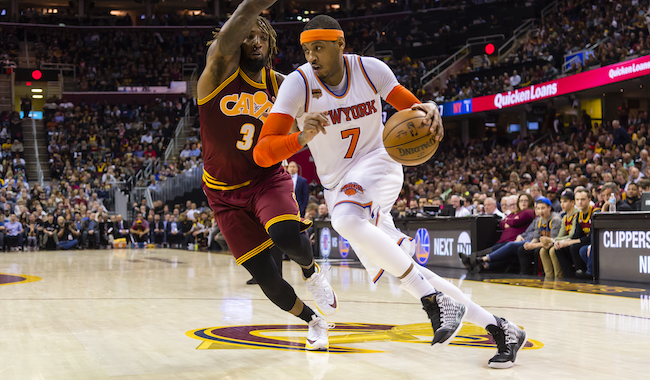 The New York Knicks are one of the preferred landing spots for Kyrie Irving and, as such, there has been a ton of speculation and conjecture as to what the team could offer to the Cleveland Cavaliers in a trade package. The obvious fit for what the Cavaliers want as value in return for Irving would be Kristaps Porzingis but, as many have noted, "challenge trades" of that sort don't often occur in the NBA and focus has instead shifted to packages centered on Carmelo Anthony for the most part.
However, Frank Isola of the New York Daily News poured all kinds of cold water on the possibility that Irving could be acquired using an Anthony-centric package, simply because the Cavs don't "have much interest" in such an idea.

The Knicks would love nothing more than to use Carmelo Anthony plus two picks to make a deal happen. Unfortunately, the Cavs don't seem to have much interest in Melo, who, like LeBron and Kevin Love, is another power forward.

Also, according to a source close to Anthony, his primary objective is to get moved to Houston. His camp is optimistic that a deal with the Rockets is going to happen.
It is also noteworthy that Anthony's goal seems to be making his way to Houston to join Chris Paul but, from a Knicks perspective, it would be virtually impossible to acquire Irving without including either Anthony or Porzingis. Because of the long-standing friendship between Anthony and LeBron James, the buzz will likely continue to exist but, if this report is accurate, there is no reason to believe that the Cavs are locked in on acquiring Anthony given the rest of their frontcourt make-up.
Carmelo Anthony might get moved before the season and, well, Kyrie Irving might as well. Don't look for the two players to be traded for one another, though, and that further complicates an already layered situation.