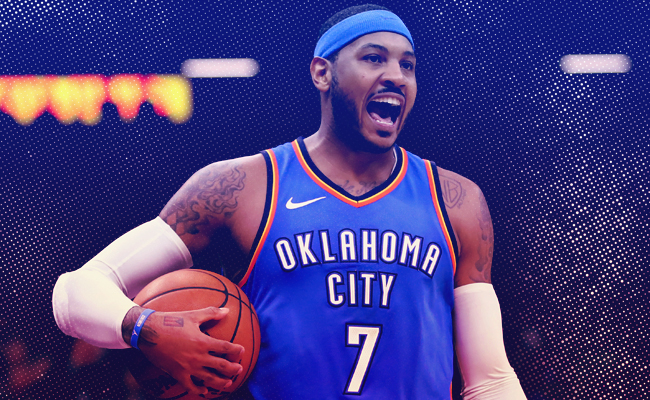 Age. It puts things in perspective. Once, life was a series of open windows, each and every one lined with an invitation to flights beyond your wildest dreams. But the onset of age brings aches and pains, a deep and profound awareness of your physical and mental and emotional limits, financial and social responsibilities that hold the head of your ambitions and dreams under the water until they stop thrashing and accept the fate they've been assigned.
This offseason, we've already seen one NBA player accept the end of his most glorious ambitions. LeBron James has exiled himself to Los Angeles, divorced himself from anything resembling a title contending core, opted out of the race for titles and sliding into a lane where he can pursue his post-playing career ambition of being a pizza salesman who produces movies. Homer won't write "Iliad 2" about it, but it will almost certainly make him successful and rich beyond the wildest dreams of any rational person.
Earlier this week, we saw the next one succumb and accept the knife of middle age, when it was reported that Carmelo Anthony and the Thunder, facing a colossal tax payment on his account, would part ways, either via trade or some other mechanism.
Melo spent his career seeking something different than titles or whatever. What Melo wanted was less grandiose but, in its way, more heroic: He wanted to be the man. Get the ball in his hands and let the man score. Beat that buzzer on TNT. Perform admirably in a seven game series that he loses with honor. It wasn't what society tries to tell players to do, especially in this quantitative age, but it wasn't for society, man. It was for Melo, it was for the art of being the man.
But it's over as hell. After a year getting utterly sidelined by Russell Westbrook and becoming more massive-cap-burden than man, Melo is washed, and it's time for him to play out the string on a team where he can sit back and enjoy himself in some weird milieu and just like, be washed and accept it about himself. Fifteen points a game on too many shots, occasional vintage revivals, chilling at nice restaurants and galleries, doing some speculative real estate purchasing. You know, all that older moderately wealthy guy stuff.
And so, in this time, we set aside and observe a few teams and cities, seeing if Melo could bring them something, but, more importantly, seeing is Melo can get something out of them, one by one.


LOS ANGELES
BASKETBALL FIT: Probably not great. LeBron is daddy on every team he is on, and he will try to demand excellence from Melo and be catty to the media if he doesn't get it. Melo doesn't need that kind of grief from a dude who is five years younger than he is or something. The Clippers would be a more than acceptable substitute from a please-stop-messing-with-me perspective, but it's hard to imagine their rebuilding organization is going to be looking to upgrade at dude-who-resent-playing-power-forward.
CULTURAL FIT: Then again, there is no city where you can get more being washed done than Los Angeles. Wine everywhere, restaurants you wouldn't believe, hat stores and art galleries like you wouldn't believe. Every rich person in L.A. just hangs out in front of abstract paintings with a glass of Rosé in their hands, pondering and dismissing regrets, and they all receive perfect psychic satisfaction in the act.
HOUSTON
BASKETBALL FIT: Just terrible. Melo and Mike D'Antoni hate each other and Chris Paul is too mean. Not to mention James Harden is the manifestation of all Melo's wildest dreams about himself, something that would haunt him as he lie in bed every night.
CULTURAL FIT: Houstonites are entirely too ambitious for Melo, with all the oil and the growth and the money and all that. My dude needs to relax. Avoid at all costs.
GOLDEN STATE
BASKETBALL FIT: They could use him for 15 minutes a game probably.
CULTURAL FIT: Then again, rich, half informed dudes who wear ostentatious hats are basically the kings of Northern California venture capital. Melo could very easily find himself at the forefront of a horribly intrusive app that sells your data to the highest bidder. Melo has to realize that if he wants to be a dude who people have to indulge at parties when he's 50, this is the way to get there.


BOSTON
BASKETBALL FIT: Nah. Playing behind a dude as boring as Jayson Tatum is just embarrassing, beneath the dignity of all people.
CULTURAL FIT: Hideous city that drives all people with good taste to madness and death. Stay away.
PHOENIX
BASKETBALL FIT: They're not good, so he could get a ton of shots up and tack on a few extra years on with the help of their fabulous medical staff. Could also probably psychically break Devin Booker, which would be good for everyone.
CULTURAL FIT: Basically Houston without the ambition, would be a bummer if everyone who lived there wasn't granted a free bottle of Xanax every two weeks or so. Honestly there are worse ways to live.
UTAH
BASKETBALL FIT: They could use a forward!
CULTURAL FIT: First glance, no, absolutely not. Hip-hop was banned there until 2007. But there comes a time when a man needs to settle down and be a soccer dad or something, and Melo is nearing that time of his life. Fatherhood is fulfilling, I've heard!
PORTLAND
BASKETBALL FIT: They could use a forward, and also a dude whose contract is shorter than those of Meyers Leonard and Evan Turner.
CULTURAL FIT: Look, man: There's nowhere in the world more finely tuned to the needs of the washed and the washed out more than Portland, Oregon. Failures the world over settle here, living in a nonstop playground of craft beer, wine, fabulous pizza joints, and legal weed. Honestly, I've been waiting my whole life to see Melo eating a Potatoes Bravas at Tasty n' Sons, and I think he owes me the pleasure.


DENVER
BASKETBALL FIT: I mean, Denver can always use talent, though I suspect Melo might have a hard time slotting into their Postmodernist Jokic Fueled high post nightmare world.
CULTURAL FIT: Denver is just down rent Portland. Don't at me.
NEW YORK
BASKETBALL FIT: Not really.
CULTURAL FIT: Hey: there's only one city in the world where you can wear a bathrobe in a bodega at like three in the morning.
SACRAMENTO
BASKETBALL FIT: Does anyone?
CULTURAL FIT: Could see Melo taking to calling himself "Ladybird" and being angry at his mother that he doesn't understand. Aside from that, no.
There it is. A definitive list. Congrats to Portland.